Fresh summer fashion on the stage of bTV fashion show Mirrors
* Top fashion brands presented their summer models during the gala-eve of Golden needle awards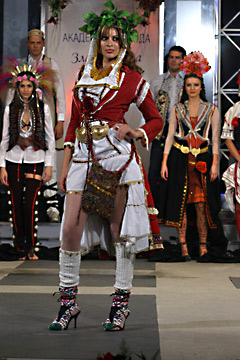 The studio of the bTV fashion show "Mirrors" turned into a glorious stage where the most trendy solutions for this summer season were presented. They were designed by many and famous Bulgarian and foreign brands. This fresh and colorful fashion show was a part of the "Golden needle" gala-eve held by the Bulgarian Fashion Academy.
In a couple of articles we will introduce you to some of the most interesting fashion trends.
PAOLA APSI Studio presented innovative models inspired by the idea of grace, elegance and femininity. The unique collection fascinates with an original style and a hidden magic. In a non-conventional way the fashion designer Paola Apsi interprets different elements of the Bulgarian folklore tradition as well as she mixes them perfectly with the actual fashion forms and patterns.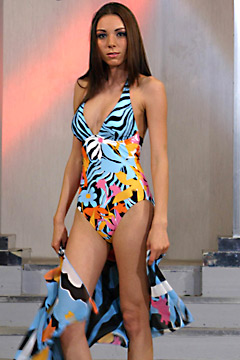 Summer 2007 will be exciting in the swim suits of TRIUMPH International. Very trendy striped and vivid colors obsess the beach. Unique decorative elements and accessories like beads, shells and ribbons give a special charm of the whole collection. Flowery materials are actual again as well as the pareos are an inevitable addition to every swimwear. Hit colors are orange, yellow, brown, blue, green and the classics – black and white.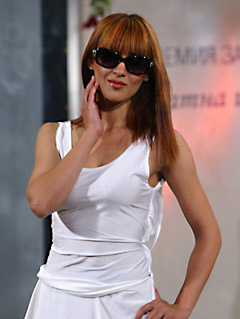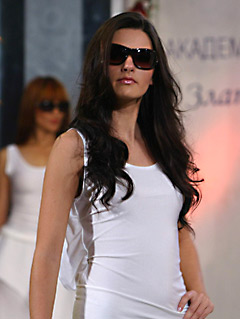 The new sunglasses line - KWIAT Exclusive, is the hit of our fashion market this year. The newest models of this Bulgarian optic brand completely meet the highest quality requirements. Summer models are much more extravagant and elegant than the base ones in KWIAT collection. They are decorated with Malaysian pearls, crystals and metal ornaments. Collection combines the traditional with the modern and it is assigned mostly to the fashion maniacs.

An unique ornament on the sunglasses frame is the decorative imitation of a small padlock. This Bulgarian optic leader is the only who offers such an original solution. Large glasses shape dominates. Sunglasses frames are attractive and comfortable.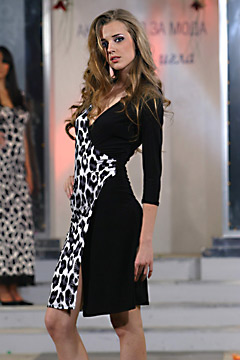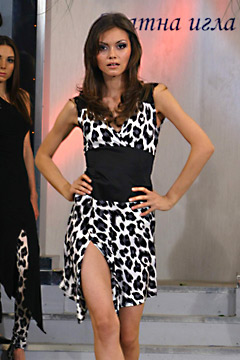 Author collection of the fashion designer Milena Tsoncheva specially made for the Fashion house MONRO uses one of the actual textile designs namely the leopard one which is combined with black. Toilets are made by sheer knitted fabrics which fall freely and softly following body shapes. Collection combines elegant feminine dresses with sensual slashes and fine upper parts as well drooped trousers with a low bottom and wide elastic belt around the ankle.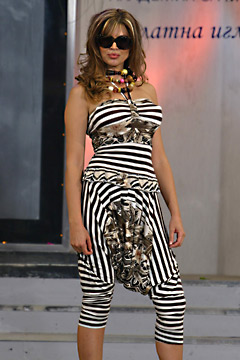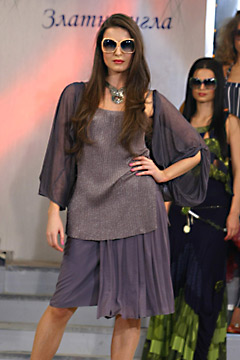 AIMS-G boutique presented the author collection of designer Petya Dimitrova. Non-ordinary design solutions are the clue of her style as a fashion designer.  She uses boldly her fantasy and the scissors. Some additional features of her design solutions are sensuality and the art playing with colors.

AIMS-G offered some more original ideas as those ones presented by the  Slovene Fashion house "October". Their models impress with a specific style that includes pure elegance of the silhouette and a high quality of the workmanship and materials. Retro vision is combined with romanticism. Accessories are the accent in October's collection: leather belts, gloves, brooches, necklaces. Their main colors for this season are black, beige, golden and purple.

 

Photos:
1. - 2. Models of PAOLA APSI Studio
3. - 4. Models of TRIUMPH International
5. - 6. Models of KWIAT
7. - 8. Models of MONRO Fashion House
9. Model of Petya Dimitrova for AIMS-G boutique
10. Model of Fashion house October


Hits: 20042 | Leave a comment