Isabel Zapardiez's Bridal 2016 collection
Isabel Zapardiez is a very versatile designer which has its main distinguishing in Bridal design. Her career has always developed under her own brand. First in Pret a Porter collections and latter in Haute Couture for brides, a professional turn that began in 2002, when she opened her first workshop in San Sebastián-Donostia.
Vision, creativity and technique identify fairly accurately the work of the Basque designer Isabel Zapardiez in the world of design and fashion.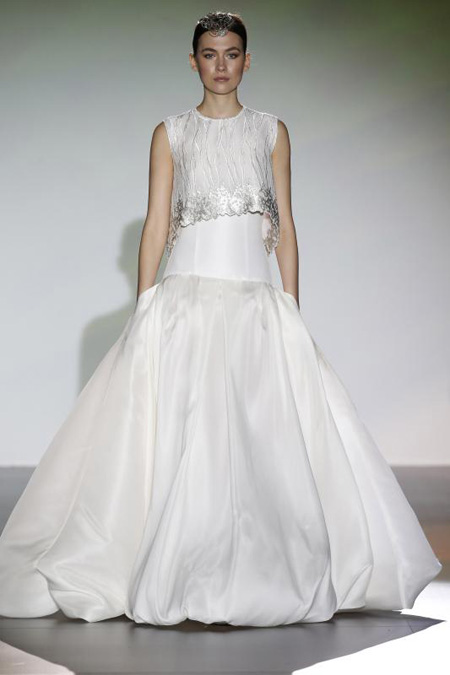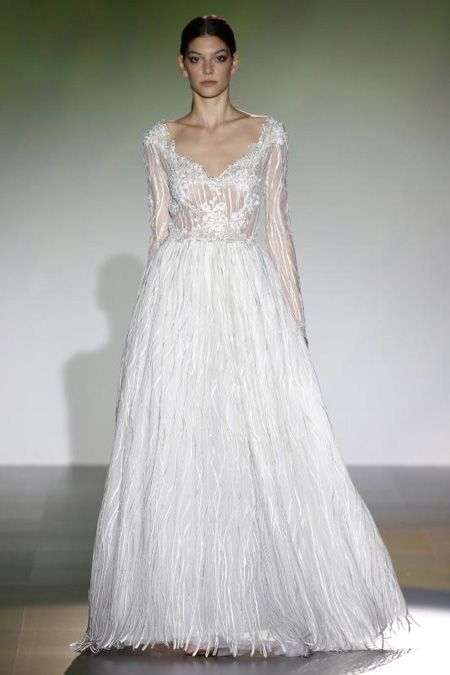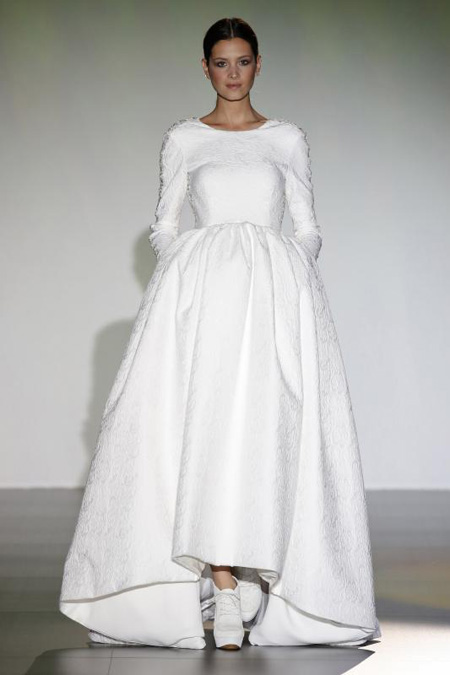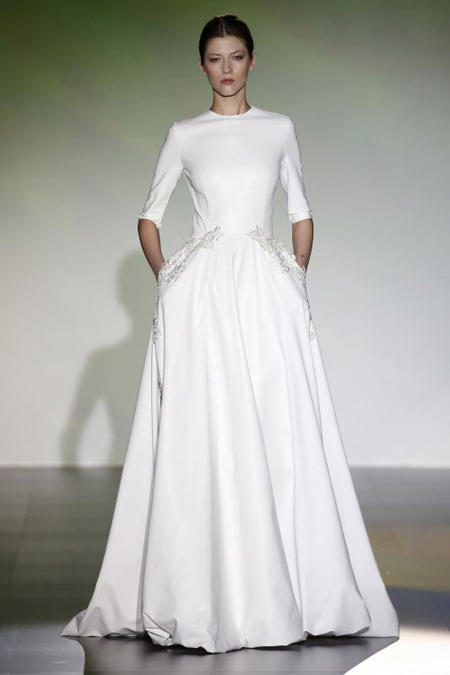 Inspiration
The sun rises. Light breaks through and the magic of the Aurora wraps reality transforming it into dreams. It is a diffuse space dominated by feelings, it is the border that makes available the most desirable.
Isabel Zapardiez invites us to travel to this dream world in her new collection, with a very cosmopolitan proposal, where the woman is the protagonist of her own legend. The designer shows a bride full of energy, with the characterizing strength she provides, always in a subtle way.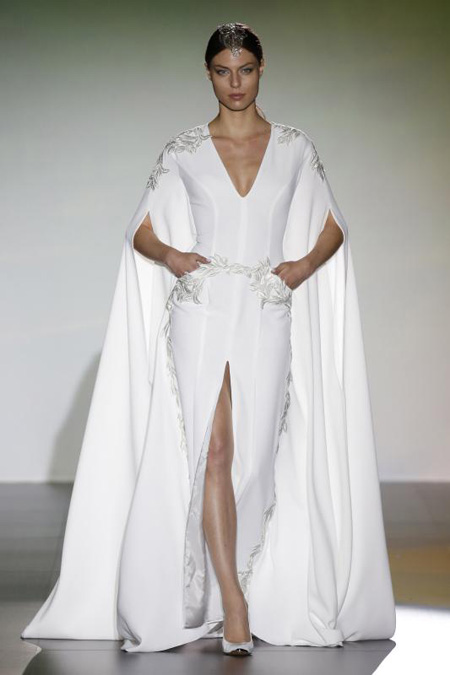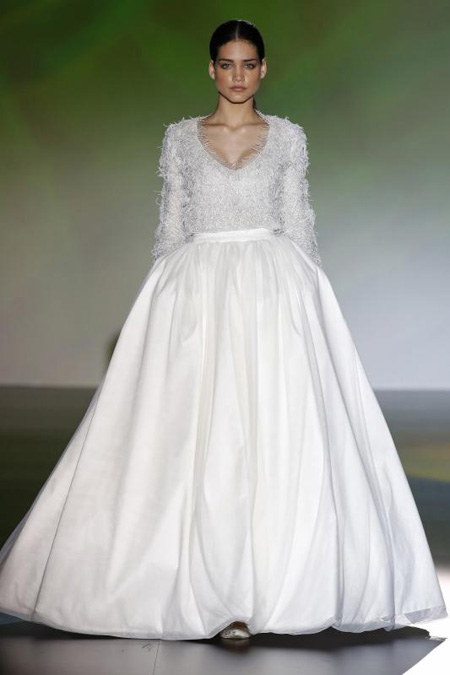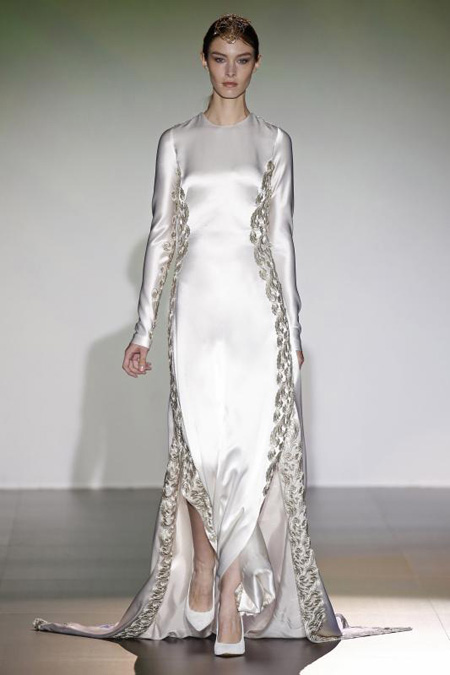 The brides shown by Isabel Zapardiez are princesses of fairy tales, mythological goddesses, heroines of action...they are what they want to be; they are all attitude, without false poses. They are wrapped in garments that are part of their nature and form of expression; they live their dreams and achieve their goals.
Dresses are conceived as flexible parts and blend together in a natural way without a clear distinction between party and wedding garments, with a destination open to the intention of the woman who wears it.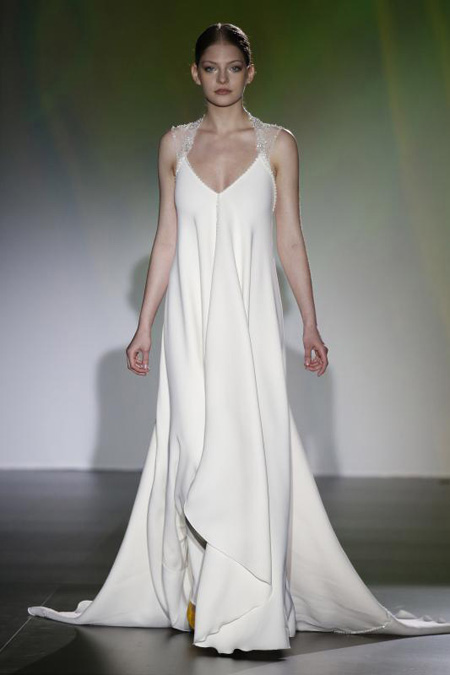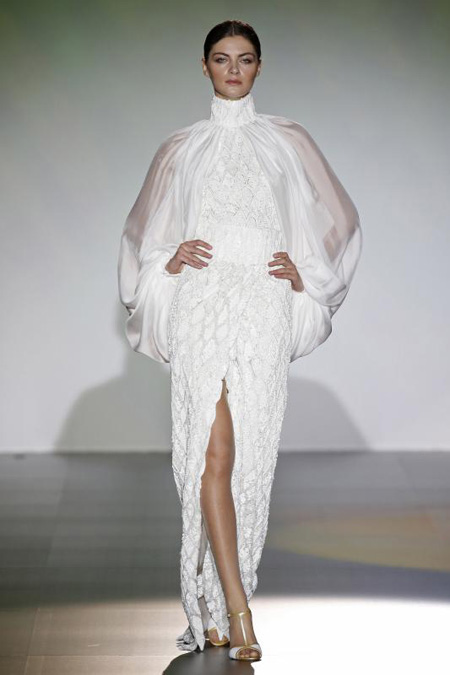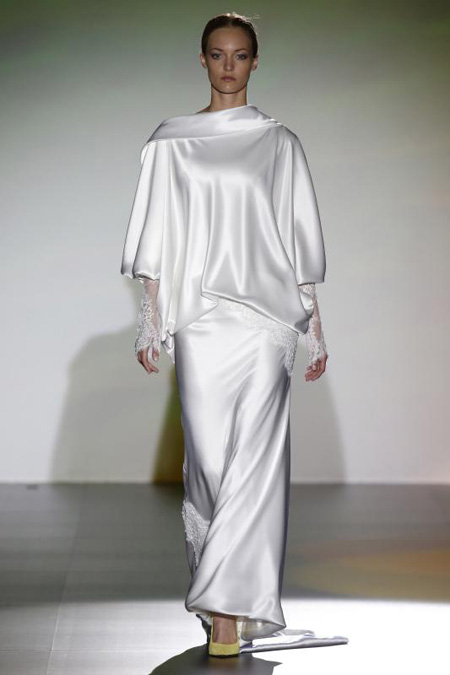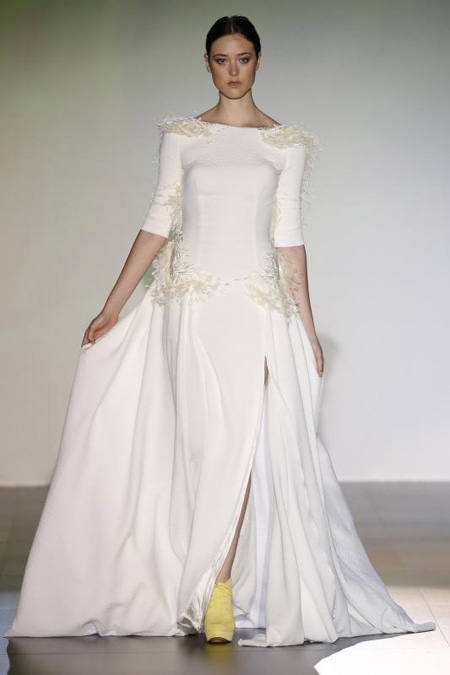 Forms
Femininity and diversity of proposals dominates in the collection. A wide variety of forms coexist that give room to all types of designs: high-volume skirts, siren line dresses, evasé designs of very fluid line.
True to her personal universe, the abundance of details fills the collection of brushstrokes and shades in necklines and shoulders, sleeves and waists.
Classical sewing patterns fuse together with an avant-garde vision of the pieces, proposing in a wide variety of designs a basic wardrobe for brides which include dresses, shirts, skirts and sweaters, among other proposals.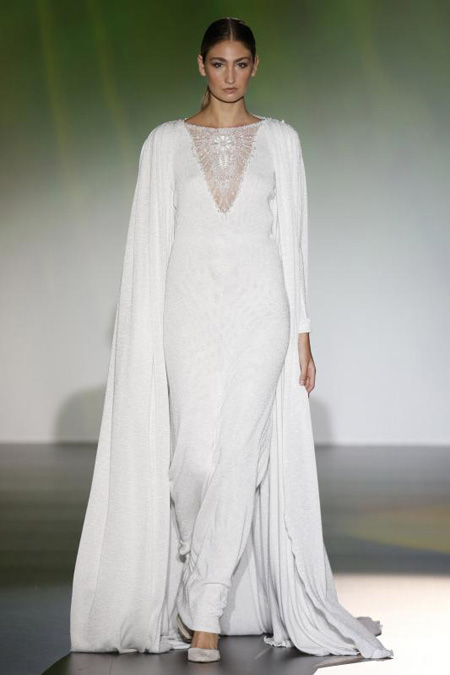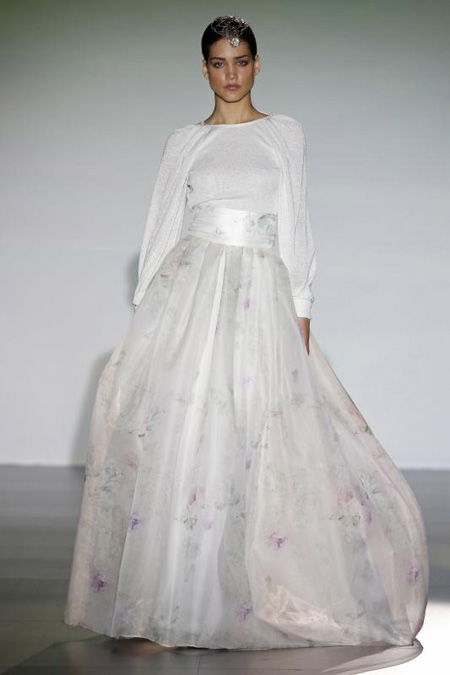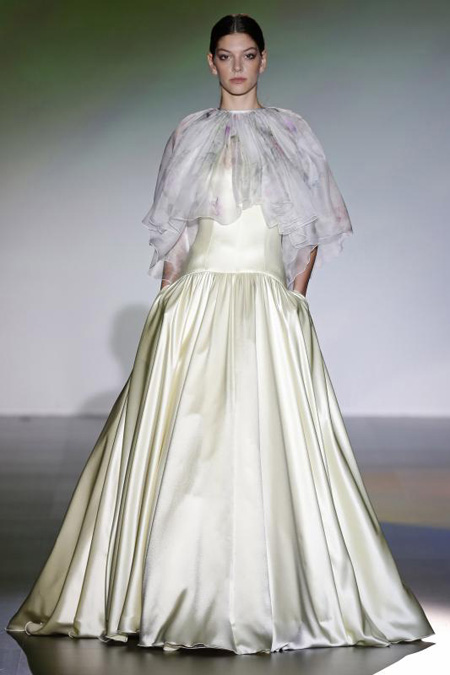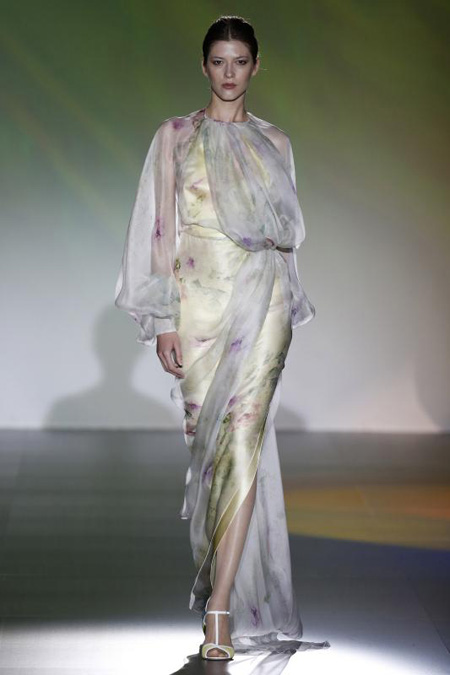 Fabrics
This diversity extends also to the use of fabrics, with a wealth of embroideries, lace, tulle, muslin, mikados, knit … A wide range of contrasts dominates, including light natural silk gauze that coexist with much heavier fabrics, such as the triple drap, a reinterpretation of nappa, with a smoking dress and coat made of this material.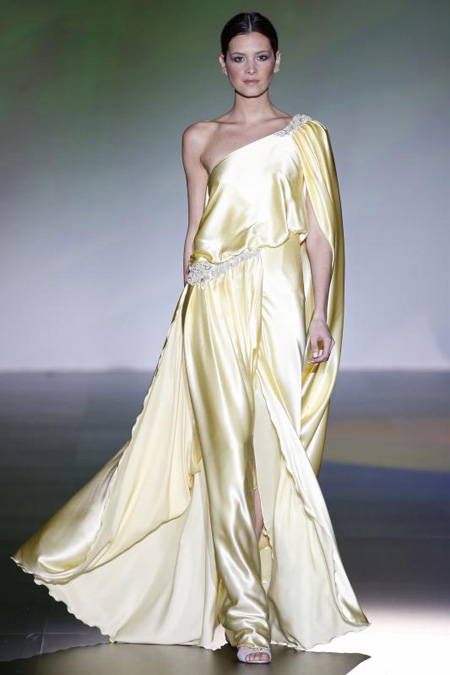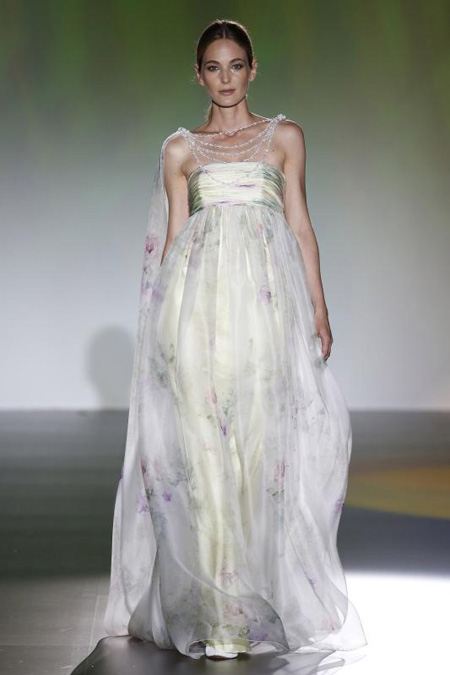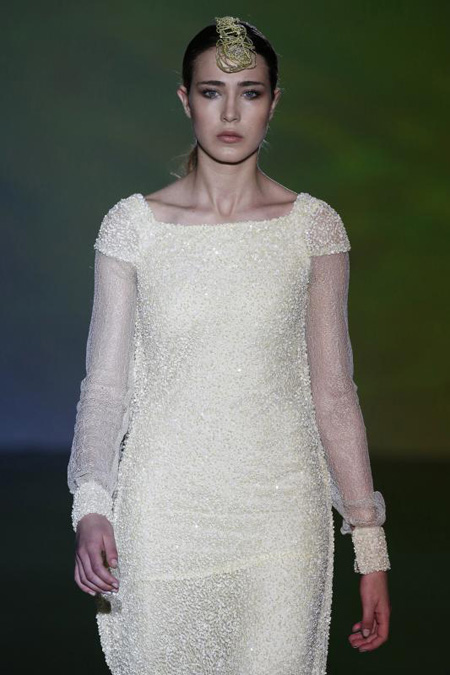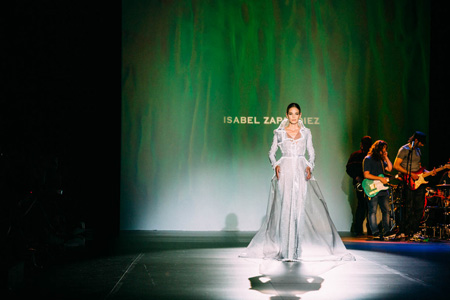 Tissues are expressed in movement, with games of textures and transparencies that are an essential part of the designs.
Colours
The range of hues abound in shades of white and yellow bursts forth, which floods brides in different ranges and shades with force. It is a symbolic colour, representing the brilliance of dawn and the light of dreams that envelops the entire collection. It is also the colour that identifies brides in the Greco-Roman classical tradition, a recurrent aesthetic world inspired by the designer.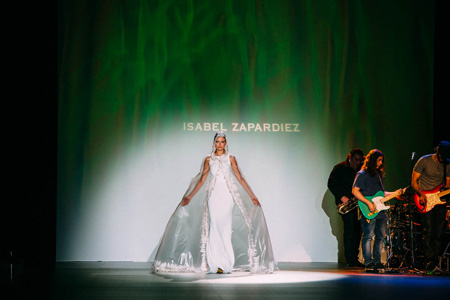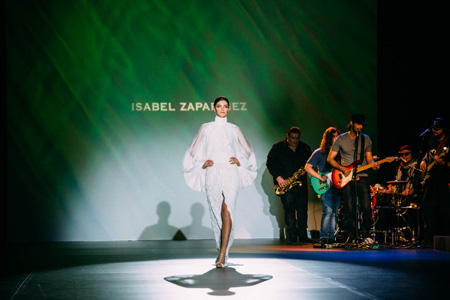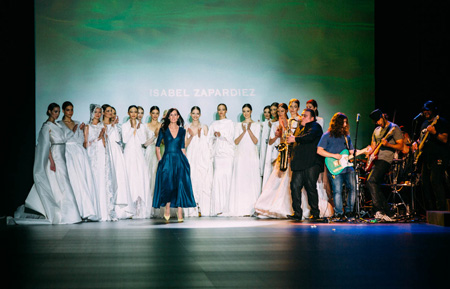 Hits: 8127 | Leave a comment