CCUOCO presents Spring/Summer 2016 Collection Persephone at London Fashion Week
After successfully launching her brand in 2014 at Fashion Scout in London, this season saw Candice Cuoco take to the runway once more to present CCUOCO's SS16 collection, Persephone.
The collection draws its inspiration from the darker side of romance. Named after the Greek goddess Persephone, who was the daughter of Zeus and the harvest goddess Demeter, and is the queen of the underworld. Homer described her as a formidable, venerable majestic princess of the underworld, who carried into effect the curses of men upon the souls of the dead.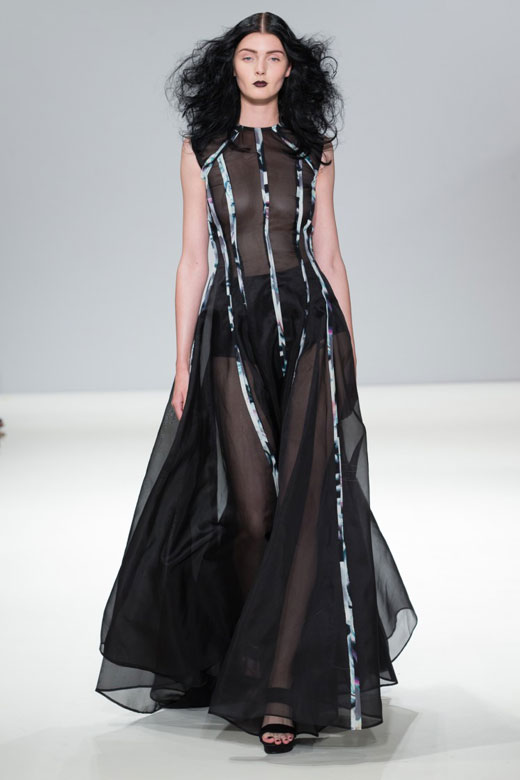 Candice personified her take on romance in this collection, the darker more sorrowful side love and beauty. Love is not always a fairytale and sometimes leaves a scar but scars can be beautiful. The collection shows the chaos that can come out of love and the passion that can produce something beautiful from something dark. The collection is a reflection of a woman in love, every woman's story looks, sounds and feels different, this collection represents one small story of many.

Many of the silhouettes were cut to flatter a woman's shape as Candice loves to play with lines on the woman's body. The silhouettes are a reflection of CCUOCO and have remained a strong core of the brand from its launch in 2014.

This season saw a more feminine side of CCUOCO, still using the CCUOCO statement material of leather but adding softer romantic fabrics including organza, silk satin and silk chiffon to compliment the Spring/Summer season. Colours this season included maroons, navy, creams and black but through the introduction of sheer fabrics and patterned materials the collection took on a new persona within the CCUOCO aesthetic. The collection also featured this season hand sewn embellishment using clear and black crystals and stud-work.

Candice Cuoco's personal favourite of the collection was the finale dress, a black long sheer gown that through its shape, material and colour embodies the entire collection. Dark and mysterious but elegant and feminine: the perfect combination of the qualities of the female race.


Hits: 7560 | Leave a comment