Re-inventing shoes exhibition
After its amazing launch in Milan and New York, the Re-Inventing Shoes project is now coming to London for Fashion Week and the London Design Festival!
UNITED NUDE - leading footwear brand, and 3D SYSTEMS - the inventor's and leaders of 3D Printing teamed up with five of the worlds leading architects and designers: Ben van Berkel (UNStudio), ZahaHadid, Ross Lovegrove, Fernando Romero and Michael Young explored and challenged 3D printing technology by designing 3D printed ladies high heels.
The Re-Inventing Shoes project is about exploring and pushing the boundaries of this rapidly developing technology by creating shoes with the largest amount of sculptural freedom. The production method used is the highest quality of 3D printing (Selective Laser Sintering) in a hard Nylon and all-new soft Rubber material. UNITED NUDE have developed a system to combine harder and softer 3D printed parts for creating fully functioning shoes. Each shoe will be produced as a limited edition run of only 50 pairs.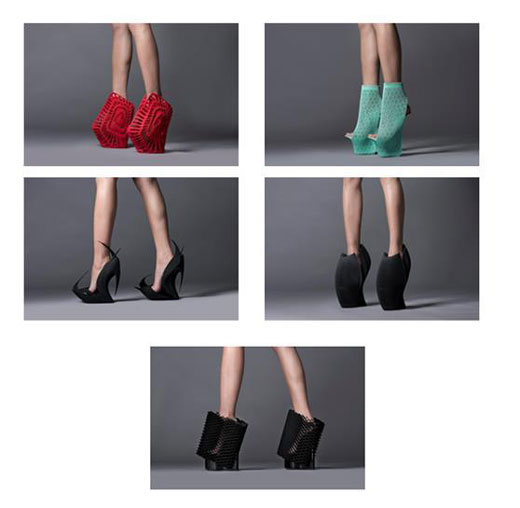 UNITED NUDE
A story that started with a broken heart, Architect Rem D Koolhaas (not to be confused with his uncle, the world famous architect) tried to get back his girl by downsizing architecture to its most venerable scale; that of a woman's foot.

In 2003, together with seventh generation shoemaker Galahad Clark, United Nude was launched. Turning dreams into reality, their first shoe 'the Mobius' was developed with the guidance of the great Sergio Rossi and technical shoemaker Maurizio Martignago in Italy. Ever since, United Nude has become the iconic brand at the intersection of fashion and design, creating products that are about clear concepts, elegance and innovation. While available in over 50 countries worldwide, United Nude has its own stores in Amsterdam, London, New York, Vienna, Tel Aviv and Tokyo.

3D SYSTEMS
3D Systems is pioneering 3D printing for everyone. 3DS provides the most advanced and comprehensive 3D design-tomanufacturing solutions including 3D printers, print materials and cloud sourced custom parts. Its powerful digital thread empowers professionals and consumers everywhere to bring their ideas to life in material choices including plastics, metals, ceramics and edibles. 3DS' leading healthcare solutions include end-to-end simulation, training and integrated 3D planning and printing for personalized surgery and patient specific medical and dental devices. Its democratized 3D design and inspection products embody the latest perceptual, capture and touch technology. Its products and services replace and complement traditional methods with improved results and reduced time to outcomes. These solutions are used to rapidly design, create, communicate, plan, guide, prototype or produce functional parts, devices and assemblies, empowering customers to manufacture the future.


Hits: 6712 | Leave a comment