From Tokyo to the garden of Eden: Christian Louboutin at Paris Fashion Week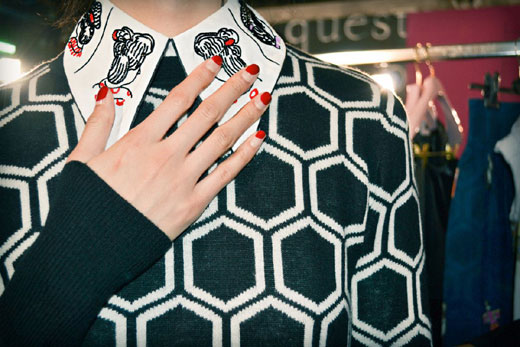 For SS16 from New York to Paris, Christian Louboutin shoes have traversed cultures and continents through the imaginations of our collaborating designers. From a Mediterranean paradise at Naeem Khan to a surrealist psychedelic party at Holly Fulton, it's been a wild ride back to Paris. But the voyage didn't end with our homecoming, instead, on arrival, Olympia Le Tan ushered us into "Hotel Olympia" - a collection that served as homage to the recently demolished Hotel Okura in Tokyo.
From Hello Kitty and My Melody, to sheer facemasks and traditional Hokusai illustrations, Le Tan brought to life a deeply personal portrait of Japan. Custom designed Christian Louboutin platforms inspired by traditional geta sandals worn by Geishas, were revisited through the eyes of iconic photographer Nobuyoshi Araki and the art of kinbaku robe bondage. Laced through open-toed suede uppers, black, red and white ropes criss-crossed elegantly over the top of the foot and coiled back around the ankles, illuminated over bright red stockings that created a bold pop gesture. For nail, a Beauté Louboutin manicure created exclusively for the show evoked the sun with a base created using Sweet Charity, topped off by an off-center disc of Rouge Louboutin Nail Colour accenting each nail.>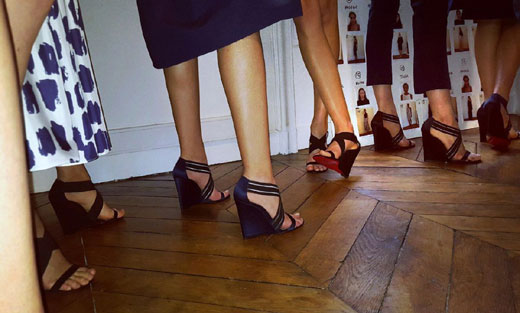 Martin Grant took us out to shore with a collection that conjured the ebb and flow of ocean tides, with deep blues, sandy hued coats and wide legged trousers. In a display of technical prowess, Grant used linen-wool blends to create the illusion of denim. Shredded silk organza created feathery tinsel on jackets and skirts that floated over structured separates. Custom made Christian Louboutin Elastagram pumps and wedges in blue satin and nubuck added the finishing touches.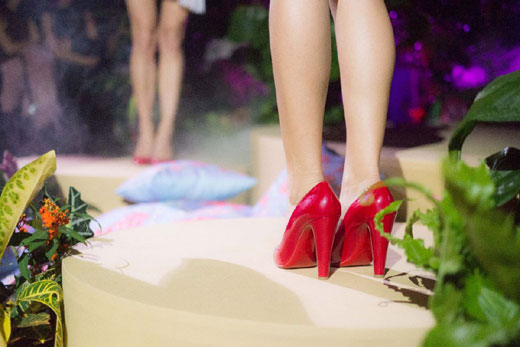 Paris Fashion Week ended in a sprawling Garden of Eden with accessory designers Yazbukey. Governed by sensual, shell clad goddesses draped in white silk gowns and pink flamingo leather gloves, the Aphrodite-esque models donned Yazbukey's tongue-in-cheek Plexiglass accessories. Surrounded by serpents, exotic flowers and drum playing temptresses, Yazbukey's girls danced and played in red and white patent Fififa 100, pumps finishing off the season in another paradise.

Photos and information: christianloubotin.com
Hits: 3873 | Leave a comment