Ambassador's Project - A celebration of the well-dressed gent and Merino wool
The Ambassador's Project is a collaboration between the Savile Row bespoke tailors, The Woolmark Company and Pierre Lagrange. It was started in June 2015. It's aim is to show the levels of skill that is required in manufacturing a bespoke suit by following the collaborative process between each ambassador and their respective partner tailor and fabric supplier.


Merino wool has a long and rich history with Savile Row, so much so that if you step inside any of the iconic tailoring houses along the sartorial strip, you are guaranteed to see luxurious suits and separates crafted by the premium, natural fibre.
With Merino wool as their muse, the tailoring houses teamed up with London Collections Men ambassadors, The Woolmark Company and Pierre Lagrange to create and host the Ambassador's Project, which champions the unique craftsmanship of British Bespoke Tailoring. Whilst Savile Row works to the tailoring techniques of yesteryear using the finest Merino wool cloth, the end result is relevant to the modern gentleman and aesthetics of today.

Actor, model, singer, designer, producer and philanthropist Hu Bing, British GQ editor-in-chief Dylan Jones, model David Gandy, television and radio presenter Dermot O'Leary and musician Tinie Tempah each teamed with a tailoring house to create a unique suit for the occasion.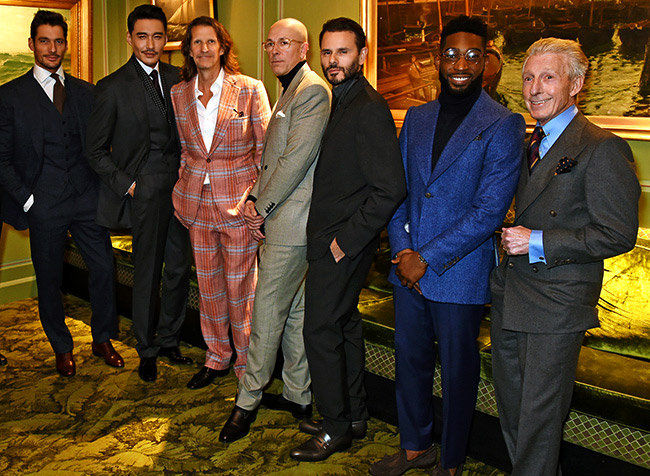 David Gandy, Hu Bing, Pierre Lagrange, Dylan Jones, Carlo Brandelli, Tinie Tempah and Edward Sexton
at the Ambassador's Project event in London


London Collections Men's multi-talented international ambassador Hu Bing elected for a charcoal three-piece Merino wool suit by Huntsman, with cloth from Scabal. With a double-breasted peak lapel, the inside of Hu Bing's suit was subtly embroidered with his initials in red silk referencing his connections with Asia, alongside monkey - a humourist take on the coming Chinese New Year.

Iconic British model David Gandy collaborated with the prestigious tailor Henry Poole to create a Merino wool window-pane check suit, complete with waistcoat featuring the Jaguar logo as a reference to his love of vintage cars, whilst Tinie Tempah appropriately partnered with Edward Sexton - the tailor to the world's most famous musicians - to imagine a contemporary split-suit, with a Donegal texture wool-rich jacket and narrow-leg Merino wool flannel trousers.

London Collections Men Chairman and Editor of British GQ Dylan Jones favoured the contemporary architecturally inspired design of Kilgour in a double-breasted travel performance Merino wool fabric, while in contrast television and radio presenter Dermot O'Leary chose a double-breasted two show two, peak lapel with flat-front trouser suit from Hardy Amies in a lightweight Merino wool flannel.


Source: www.woolmark.com


Hits: 4325 | Leave a comment