Automobili Lamborghini presented its 2016-2017 Fall-Winter collection at Pitti Uomo
The new corporate fashion trend is: Big companies from other industries create their clothing collections. As an example, see the automobili Lamborghini collection presented at Pitti Uomo 89 in Florence.

On the opening of Pitti Immagine Uomo, Automobili Lamborghini presented its 2016-2017 Fall-Winter collection at the Grand Hotel Villa Medici.
Champion Italian swimmer Marco Orsi was Collezione Automobili Lamborghini's special guest at the cocktail presentation during the press preview day. When out of the pool, Orsi - member of the Fiamme Oro, the Italian National Police athletic team - chooses to wear Automobili Lamborghini gear. Current 100m European champion and former runner-up world champion in 50m short course, Orsi recently won one gold and two silver medals at the 2015 European Swimming Championships. Holding Italian freestyle records for the past two years, he currently holds the Italian record in the 50 m freestyle.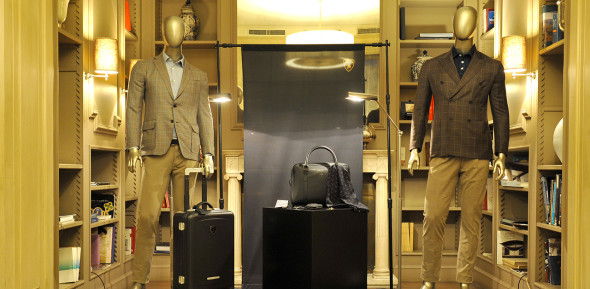 The 2016 Fall Winter collection

Classic Line Sartorial Voyager. Technical fabric trench coats and small leather items. A formal and functional collection to travel in style. Top quality materials for clothing and accessories exclusively made with Italian yarns, fabrics and leather.
The dark navy trench coat is made with high performance technical fabric. Breathable and stretch, on the inside the coat features a 'Y' pattern, with three Ys forming the classic Lamborghini hexagon.
The supple leather jacket is lined in lightly padded nylon with hexagonal pattern stitching.
The sartorial slim fit shirt with French collar comes in striped light blue cotton with a fil coup? pattern of small Ys.
A range of small leather goods in charcoal rubber-coated leather with a hexagonal weave come in a gun-metal grey matte finish and with the Automobili Lamborghini emblem.
Casual Line. Upper Sportswear. Premium materials assuring outstanding performance in terms of comfort. A sophisticated casual collection.
The m?lange cotton sweater features biker-style quilted sections and, on the front, the '1963 Eccellenza Superiore' motif complemented by the Lamborghini emblem.
The ultra-light down jackets are water-resistant and feature the distinctive hexagonal pattern stitching in cabernet red, dark navy and cadmium yellow. The jackets come with a pouch into which they can be folded.
Polo shirts and t-shirts feature graphics and prints dedicated to Hurac?n and Aventador as well as distinctive Lamborghini motifs, such as 'Bull LXIII', the international flags and 'Sant'Agata Bolognese'.
Fifty years on from the birth of Miura - the iconic Lamborghini model that reinvented the very notion of sports cars - the Collezione Automobili Lamborghini clothing line today presents a special edition, with a style embodying the charm and the contemporary luxury that this Lamborghini icon has represented since 1966.
The Casual Heritage special edition is thus inspired by Miura. This two-door Lamborghini car is the protagonist of this line of polo shirts, sweaters, tracksuit trousers and vintage wash-effect t-shirts.
Squadra Corse Line. Born to run. The Automobili Lamborghini racing spirit is fully expressed in the Squadra Corse collection, dedicated to Lamborghini's love for motorsport.
Garments feature high-tech materials resistant in extreme conditions, waterproof membranes and bold lines.
The outerwear jacket with lasered central zip fastening combines quilted Chevron nylon with softshell profiles on the sides and sleeves. It is also available in a super thermo-taped technical version, in breathable stretch fabric with a slim fit, collar with retractable hood, and waterproof coated zip fastenings.
The black sweater comes in light super stretch fabric while the m?lange version is in soft fleece. Both feature lasered zip fastenings and the 'Pilota Ufficiale' claim.

Special Editions
The Automobili Lamborghini and d'Avenza Collection

A collaboration between two brands sharing the same passion for the utmost quality, attention to detail and the use of exclusive techniques, to create a series of jackets combining d'Avenza sartorial quality with the quintessential Lamborghini spirit. The finest fabrics, the perfect handmade cut, the excellent fit and attention to detail, combine in the creation of unique clothes.

The expert hands of knowledgeable tailors create detailed jackets shaping exquisite sartorial garments: collars, double stitching and jacket seams are entirely finished by hand, and buttons and buttonholes sewn in silk thread.

The Automobili Lamborghini Ad Personal programme allows each customer to create his own 'bespoke' Lamborghini, customizing every single detail. Similarly, the Collezione Automobili Lamborghini with d'Avenza clothing line creates made to measure suits: a ma?tre couturier is available to take the customer's measurements and supervise the creation of the perfect suit, combining sartorial quality and super sports car identity.

What Lamborghini is doing is really the new trend in corporate wear and we highly recommend this formula for the brands from all industries. The new fashion in corporate apparel is that companies provide their employees, custommers and fans the made-to-measure experience by offering suits with incorporated company symbols (in the lining or as embroidery). In this way companies like Lamborghini make their clients real fans of the brand.




Hits: 5261 | Leave a comment