INDOCHINO with new Creative Director
INDOCHINO - the world's largest dedicated to made-to-measure menswear company, has announced the appointment of Michael Mayes as the brand's first Creative Director. A seasoned expert in branding and creative leadership, Mayes will be responsible for shaping the creative vision, brand voice and content strategy for INDOCHINO as it continues its mission to become a world-renowned fashion brand.
Working directly with the Chief Marketing Officer, Peter Housley, Mayes will lead the creative team at INDOCHINO to build global campaigns, develop creative marketing assets across its ecommerce and retail channels, and establish an engaging, inventive new voice for the brand.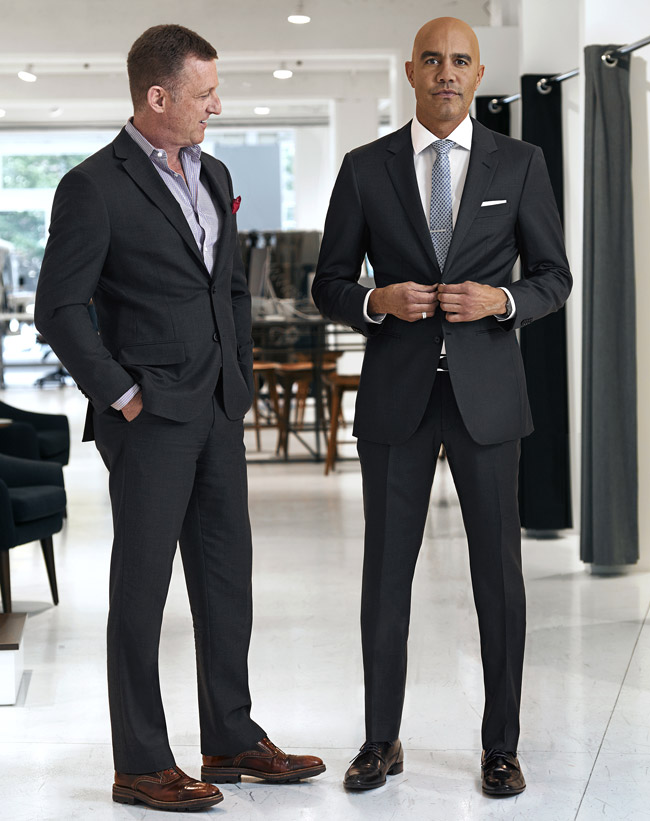 Peter Housley (L) and Michael Mayes (R) getting suited up in the INDOCHINO Vancouver Showroom

A business school grad turned writer, Mayes spent his early career at prominent Toronto agencies DDB, MacLaren McCann and TAXI, where he created campaigns for MINI Cooper, WestJet, Williams Sonoma, Nike and other international brands. In 2007, Mayes became Creative Director of the newly established TAXI Vancouver office, helping grow the team from zero to 25, crafting brand communications for TELUS, the Vancouver Aquarium, Crofton House School and other local clients.

"Michael's experience working with global, national and local brands, plus his ability to lead diversely talented creative teams is invaluable to us," said Peter Housley, INDOCHINO's Chief Marketing Officer. "His passion for marketing with style and insight makes him the ideal candidate to help us to fuel a global suit revolution."

Mayes' appointment follows a string of high profile hires including Chief Executive Officer, Drew Green, and Vice President of Technology, Clay Haeber, as the company further establishes its position as one of the fastest growing menswear brands in the world. INDOCHINO has achieved a growth rate of 81% year on year in 2016 and has 10 new showrooms planned this year, plus the launch of its largest collection to date, which will debut in July.


MORE ABOUT INDOCHINO:

INDOCHINO is at the forefront of a global suit revolution that is seeing more and more men suiting up once again. With the goal to open 150 retail stores globally and deliver one million made-to-measure suits a year by 2020, INDOCHINO makes it easy for men globally to purchase the highest quality made-to-measure suits and shirts at a great price.

INDOCHINO is the first online company to disrupt the retail and retail technology sector by delivering mass one-to-one apparel garments for its customers. The company's multi-touch customer experience allows men to order their made-to-measure clothing online, via mobile or in person at INDOCHINO showrooms in Toronto, Vancouver, New York, San Francisco, Philadelphia, Beverly Hills and Boston.

Photo: © Anthony Redpath
Source: indochino.com


Hits: 10382 | Leave a comment