Tom Ford launches private eyewear collection
Tom Ford announces the launch of the TOM FORD Private Eyewear Collection, a special edition of sunglasses and optical frames designed for the eyewear connoisseur.
Says Tom Ford, "These are the frames that I personally wear and in some instances originally designed only for myself. This is truly my own private collection. In most cases these editions of my favorite frames have been produced in new elevated materials that are uncommon in most commercially produced frames."
The eleven styles in the Private Collection commemorate Tom Ford's eleven years of making exceptional eyewear and are crafted using ultra-premium materials. Real buffalo horn is selected for its warm and luxurious finish and its natural pattern that gives each piece a unique quality. The highest-grade Japanese titanium is chosen for its ultra-light weight and sleek, progressive look. All sunglasses feature photochromic lenses that darken and lighten automatically, depending on the light conditions. Optical frames are lightly tinted in green, blue, or brown.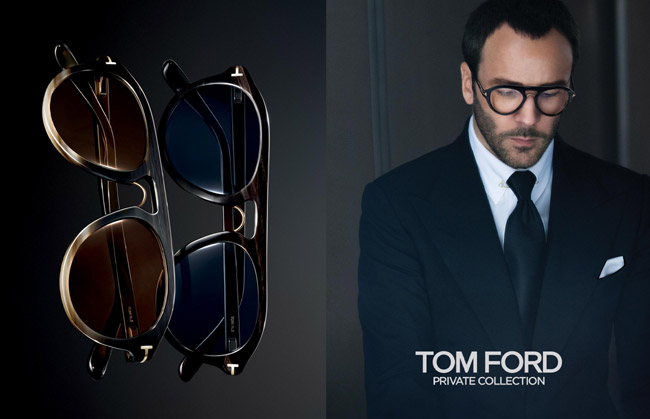 The five Private Collection Sunglass styles include the TOM N.2, a timeless style made of shiny black or shiny striped green horn and featuring the signature metal T at the temples. The new TOM N.8 is a generously rounded aviator shape with a thick bridge, offered in shiny black horn with light brown photochromic lenses. TOM N.10 follows similar lines but with a lighter and more spacious double-bar bridge. The curving, streamlined TOM N.4 and TOM N.6 reinvent the aviator from titanium in shiny rose gold, light ruthenium, and black. Their cross-front frames—a TOM FORD signature—and light brown or smoke-with-silver-mirror photochromic lenses create a head-turning look.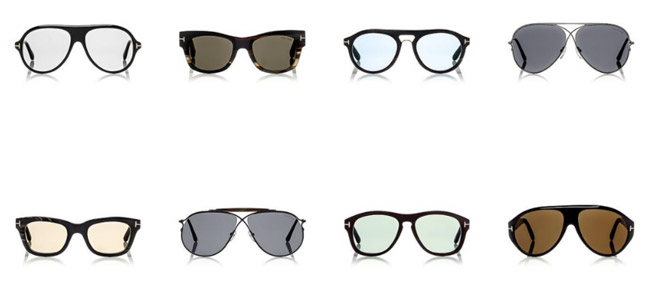 Six Private Collection Optical frames echo several of the sunglass styles, but in slightly more subdued form. TOM N.1 is an aviator shape made of black horn with light smoke optical lenses. TOM N.3 is a double-bar wayfarer, offered in striped dark brown horn with blue lenses, or light brown horn with light brown lenses. TOM N.5 is a classic style that was made iconic by Colin Firth in "A Single Man." For the Private Collection, it is offered in black horn with green lenses or striped brown horn with light brown lenses. A more rounded version of this silhouette, TOM N.7, is made of strikingly pale, light brown horn.

Photos and information: tomford.com


Hits: 6448 | Leave a comment