Merino wool the fibre of choice for Jason Wu Spring/Summer 2017
Two months before Jason Wu's Spring/Summer 2017 collection is sent down the runway at New York Fashion Week, the New York-based fashion designer was in Australia visiting the source of Merino wool - the natural, renewable and biodegradable fibre which lies at the heart of his latest collection.
The trip was part of the designer's recent partnership with The Woolmark Company, with Wu appointed as an ambassador for the global authority on wool. Visiting a wool-producing property in Marulan, New South Wales (two hours south-west of Sydney), Wu was able to experience the fibre first-hand as he journeyed to the heart of wool-growing country. Whilst in Australia Wu also sat on the judging panel of the International Woolmark Prize Australia regional final - the coveted award that nurtures the world's most promising emerging design talents.
"Merino wool has always played an integral role in my designs," explained Wu. "Yet partnering with The Woolmark Company really allowed me to further explore and develop wool for summer. What my Spring/Summer 17 collection does is push the boundaries with conventional seasons, creating year-round luxurious pieces, which I could achieve by working with wool."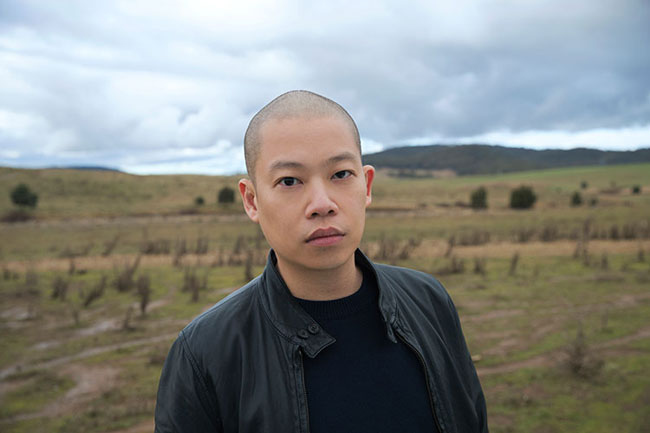 Wishing to produce a sophisticated, timeless and seasonless collection for Spring/Summer 17, Wu created a wool-rich collection with many of the pieces gaining Woolmark certification. Natural, breathable, next-to-skin softness and superb handle and drape, Merino wool provided Wu with a blank canvas for his collection. The move to include an increased number of Merino wool garments highlights Wu's desire to create trans-seasonal apparel, unrestricted by the limits of the four seasons.

The collection's knitwear pieces use fine Merino wool yarns in a combination of deep, saturated and vibrant hues.

For the woven pieces, Wu has used a fabric with a burnout technique creating a subtle and delicate dotted pattern in the fabric. He has also used a lightweight tailoring fabric with mild structure and modern hand. A third woven wool fabric is a very soft, open weave gauze printed in a faint colouration of his graphic for the season.

Through his multi-cultural heritage and independent spirit, Wu has used his diverse background and experience to become one of the leading forces in American fashion. He is dedicated to creating luxurious, sensual and feminine collections that continue to push the boundaries of refined craftsmanship. He is renowned for his masterful use of colour and embellishments with a distinct spin on American sportswear with a couture sensibility.

"We are thrilled to announce the partnership between Jason Wu and The Woolmark Company," says The Woolmark Company Managing Director Stuart McCullough. "Jason's meticulous attention to detail and innovative vision makes him a perfect partner to demonstrate the timelessness and versatility of Australian Merino wool. We have already seen Jason's unique take on wool in his Fall/Winter 2016 collection, where the tidy parameters of his brand unveiled a serious wardrobe with a luxurious overlay."

By partnering with a high-profile designer such as Jason Wu, The Woolmark Company further positions Merino wool as the premier component in luxury apparel and educates consumers on the benefits of the fibre, ultimately influencing their purchasing decisions.

Photo and information: woolmark.com


Hits: 3328 | Leave a comment