One Movie Takes Eight Awards at 22nd ANNUAL CRITICS' CHOICE AWARDS - Everybody talks about "LA LA LAND"
(Los Angeles, CA – December 11, 2016) – The Broadcast Film Critics Association (BFCA) and Broadcast Television Journalists Association (BTJA) announced the winners of the 22nd Annual Critics' Choice Awards tonight, live from the Barker Hangar in Santa Monica.  The show aired on A&E at 8PM ET/ 5PM PT and was hosted by actor and comedian T.J. Miller.
"La La Land", the most nominated film of the evening, took home eight awards, the most of the night, including Best Picture, Best Director and Best Original Screenplay (a tie) for Damien Chazelle, Best Cinematography for Linus Sandgren, Best Production Design for David Wasco and Sandy Reynolds-Wasco, Best Editing for Tom Cross, Best Song, and Best Score for Justin Hurwitz.
The top acting awards were all bestowed upon different films with Casey Affleck taking home Best Actor for his work in "Manchester by the Sea," and Natalie Portman awarded Best Actress for "Jackie."  The Best Supporting Actor trophy went to Mahershala Ali for "Moonlight," and Best Supporting Actress to Viola Davis for her standout performance in "Fences."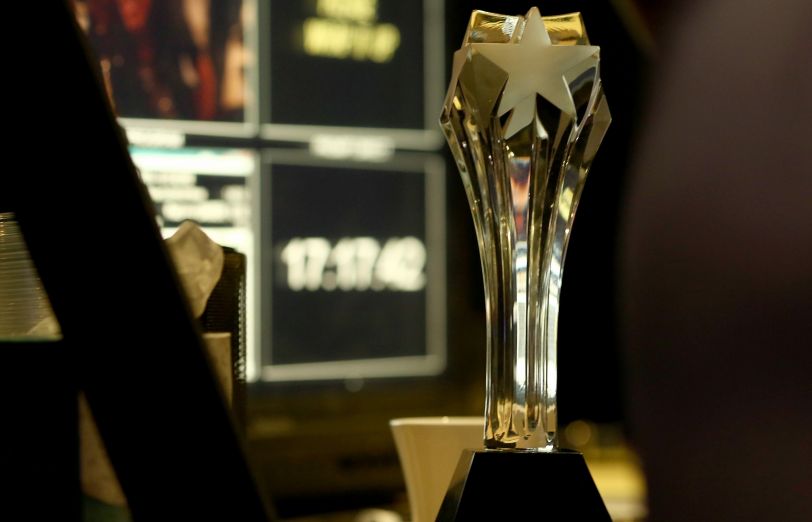 Nominated for six awards, the most of any series, The People v. O.J. Simpson (FX) took home four trophies including Best Movie Made for Television or Limited Series.  Sarah Paulson won for Best Actress in a Movie Made for Television or Limited Series, Courtney B. Vance for Best Actor in a Movie Made for Television or Limited Series, and Sterling K. Brown for Best Supporting Actor in a Movie Made for Television or Limited Series.  Silicon Valley (HBO) won for Best Comedy Series and Game of Thrones (HBO) won for Best Drama Series.

As previously announced, Viola Davis received the first-ever #SeeHer Award presented by the Association of National Advertisers in conjunction with A&E Network.  Ryan Reynolds was the recipient of Entertainment Weekly's Entertainer of the Year Award, which was presented during the ceremony as part of a multi-platform content and promotional partnership launched this year between EW and the Critics' Choice Awards.

"The Critics' Choice Awards" are bestowed annually by the BFCA and BTJA to honor the finest in cinematic and television achievement. The BFCA is the largest film critics' organization in the United States and Canada, representing more than 300 television, radio and online critics. BFCA members are the primary source of information for today's film-going public. BTJA is the collective voice of journalists who regularly cover television for TV viewers, radio listeners and online audiences. Historically, the "Critics' Choice Awards" are the most accurate predictor of the Academy Award nominations.

"The 22nd Annual Critics' Choice Awards" were produced by Bob Bain Productions and Berlin Entertainment.  BFCA/BTJA are represented by WME and Dan Black of Greenberg Traurig.

"The 22nd Annual Critics' Choice Awards" gathered again the Most Stylish Men at one place, among them US actors James Marsden and John Travolta, Canadian actors Ryan Reynolds and Ryan Gosling and many others.

 

About BFCA/BTJA

The Broadcast Film Critics Association (BFCA) is the largest film critics organization in the United States and Canada, representing more than 300 television, radio and online critics. The Broadcast Television Journalists Association (BTJA) is a partner organization to the BFCA and includes TV, radio and Internet journalists who cover television on a regular basis. For more information, visit: www.CriticsChoice.com

 

WINNERS OF THE 22ND ANNUAL CRITICS' CHOICE AWARDS

FILM:

BEST PICTURE – "La La Land"

BEST ACTOR – Casey Affleck, "Manchester by the Sea"

BEST ACTRESS – Natalie Portman, "Jackie"

BEST SUPPORTING ACTOR – Mahershala Ali, "Moonlight"

BEST SUPPORTING ACTRESS – Viola Davis, "Fences"

BEST YOUNG ACTOR/ACTRESS – Lucas Hedges, "Manchester by the Sea"

BEST ACTING ENSEMBLE – "Moonlight"

BEST DIRECTOR – Damien Chazelle, "La La Land"

BEST ORIGINAL SCREENPLAY – TIE: Damien Chazelle, "La La Land" and Kenneth Lonergan, "Manchester by the Sea"

BEST ADAPTED SCREENPLAY – Eric Heisserer, "Arrival"

BEST CINEMATOGRAPHY – Linus Sandgren, "La La Land"

BEST PRODUCTION DESIGN – David Wasco, Sandy Reynolds-Wasco, "La La Land"

BEST EDITING – Tom Cross, "La La Land"

BEST COSTUME DESIGN – Madeline Fontaine, "Jackie"

BEST HAIR & MAKEUP – "Jackie"

BEST VISUAL EFFECTS – "The Jungle Book"

BEST ANIMATED FEATURE – "Zootopia"

BEST ACTION MOVIE – "Hacksaw Ridge"

BEST ACTOR IN AN ACTION MOVIE – Andrew Garfield, "Hacksaw Ridge"

BEST ACTRESS IN AN ACTION MOVIE – Margot Robbie, "Suicide Squad"

BEST COMEDY – "Deadpool"

BEST ACTOR IN A COMEDY – Ryan Reynolds, "Deadpool"

BEST ACTRESS IN A COMEDY – Meryl Streep, "Florence Foster Jenkins"

BEST SCI-FI/HORROR MOVIE – "Arrival"

BEST FOREIGN LANGUAGE FILM – "Elle"

BEST SONG – "City of Stars" from "La La Land"

BEST SCORE – Justin Hurwitz, "La La Land"

 

TELEVISION:

BEST COMEDY SERIES – Silicon Valley, HBO

BEST ACTRESS IN A COMEDY SERIES – Kate McKinnon, Saturday Night Live, NBC

BEST ACTOR IN A COMEDY SERIES – Donald Glover, Atlanta, FX

BEST SUPPORTING ACTRESS IN A COMEDY SERIES – Jane Krakowski, Unbreakable Kimmy Schmidt, Netflix

BEST SUPPORTING ACTOR IN A COMEDY SERIES – Louie Anderson, Baskets, FX

BEST GUEST PERFORMER IN A COMEDY SERIES – Alec Baldwin, Saturday Night Live, NBC

BEST DRAMA SERIES – Game of Thrones, HBO

BEST ACTRESS IN A DRAMA SERIES – Evan Rachel Wood, Westworld, HBO


BEST ACTOR IN A DRAMA SERIES – Bob Odenkirk, Better Call Saul, AMC

BEST SUPPORTING ACTRESS IN A DRAMA SERIES – Thandie Newton, Westworld, HBO

BEST SUPPORTING ACTOR IN A DRAMA SERIES – John Lithgow, The Crown, Netflix

BEST GUEST PERFORMER IN A DRAMA SERIES – Jeffrey Dean Morgan, The Walking Dead, AMC

BEST MOVIE MADE FOR TELEVISION OR LIMITED SERIES – The People v. O.J. Simpson, FX

BEST ACTRESS IN A MOVIE MADE FOR TELEVISION OR LIMITED SERIES – Sarah Paulson, The People v. O.J. Simpson, FX

BEST ACTOR IN A MOVIE MADE FOR TELEVISION OR LIMITED SERIES – Courtney B. Vance,The People

BEST SUPPORTING ACTRESS IN A MOVIE MADE FOR TELEVISION OR LIMITED SERIES – Regina King, American Crime, ABC

BEST SUPPORTING ACTOR IN A MOVIE MADE FOR TELEVISION OR LIMITED SERIES – Sterling K. Brown, The People v. O.J. Simpson, FX

BEST REALITY COMPETITION SERIES – The Voice, NBC

BEST STRUCTURED REALITY SERIES – Shark Tank, ABC

BEST UNSTRUCTURED REALITY SERIES – Anthony Bourdain: Parts Unknown, CNN

BEST REALITY SHOW HOST – Anthony Bourdain, Anthony Bourdain: Parts Unknown, CNN

BEST TALK SHOW – The Late Late Show with James Corden, CBS

BEST ANIMATED SERIES – BoJack Horseman, Netflix


Hits: 4943 | Leave a comment