"Express yourselff" with Markam Fashion
"EXPRESS YOURSELFF" with "MARKAM FASHION"
* MARKAM FASHION presents SPRING & SUMMER 2009 at the most remarkable fashion show in Europe, COLLECTION PREMIERE DUSSELDORF - CPD, Duesseldorf
More than 2000 brands from all over the world take part in this largest show in Europe, which takes place on 27 – 29 July. MARKAM FASHION is once again the only Bulgarian brand to have been selected to participate in the trend show at the fashion fair. MARKAM FASHION opens the theme URBAN REMIX.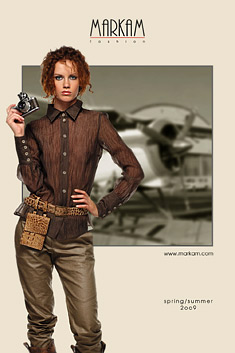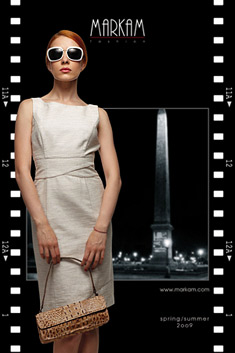 Once a short list had been selected by the German Association of Fashion and Textile Designers by the end of May this year, MARKAM FASHION was invited to make a presentation at two of the themes for the trend show, and those were URBAN REMIX and ARTY JET SET, among only ten brands selected to present their concepts for Spring & Summer 2009. This trend show is to take place at the Fashion theatre, at Pavilion no. 11, and the event is due to happen twice a day, in the course of the show.
"EXPRESS YOURSELFF" is MARKAM FASHION's message in a collection that suggests once more both pleasure and confidence for elegant ladies in 2009. This concept is presented by two labels, Markam Black, developed by the chief designer, Nikolay Buzov, distributed by themes, Amelia, and Catherine, and Markam White designed by the young designer, Iva Stancheva, featuring one theme named Carrie.
The adventurous spirit of Amelia Erhart, the legendary woman-aviator who was the first to cross the Atlantic Ocean was an inspiration for the eponymous line. 'Models for business making are carriers of the spirit of freedom. We were inspired by a legend, whose daring and beauty reigns over the minds worldwide even in times like today's', were designer Buzov's words.
Natural materials, linen, cotton and gossamery knitwear are fundamental. Any fashion details gain a special focus.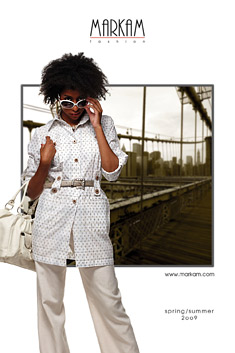 The doubtless triumph of the 'Ice Queen', Catherine Deneuve, an actress of breath-taking appearance and a brilliant talent, gave us an impulse to create the models from the exclusive line CATHERINE. A gritty combination of hi-tech materials and natural fabrics. Sparkling and mat surfaces mould silhouettes in a brilliant, yet contained elegancy.

"CARRIE" – an emotion hunter. The city and the eternal games of success. Independence and womanhood are the winners. Express yourself in the tender war against boredom! The functional chic boosts emotions of sensual freedom. The pointed waistline and the fashion accents provoke the elegant individuality.

EXPRESS YOURSELFF with MARKAM Fashion!

MARKAM FASHION has 12 offices in Europe and Russia. Recently several outlets were opened in Rumania's capital. The Spring & Autumn 2009 Collection continues to be presented on the fashion forums Styl in Brno, the Czech Republic, in Salzburg and Vienna, and at the Collection Premiere Moscow, Russia. The final of this campaign will take place during the B-gate Balkan Garments and Textiles Show in September in Sofia.

Program of the exhibitions, in which Markam Fashion will present collection Spring/Summer 2009


Hits: 4989 | Leave a comment
More Articles from this author