Bulgarian presented her collection at Oslo Fashion week
* Ivelina Dagsvold lives in Norway from seven years, the name of her collection rose a dispute in Norway
Ivelina Dagsvold was born in Stara Zagora, she is 32 years old. From seven years she lives in Norway. She graduated the Plovdiv university, in Bulgaria she worked as a journalist. She went in Norway to realize her dream to study fashion design. In Oslo she studied Art and design at Oslo university college. She participated in different fashion contests, but her first professional presentation is at Oslo fashion week. After she sent sketches she was approved, from May to 10 August she worked on her collection. The brand name that she launched is "nÅrsk". That means "norvegian". The interesting thing is that the word is written wrong, the correct is "norsk". The idea is: "I am a foreigner and that`s why I write the word wrong, but I live in Norway and that`s why the brand is called norvegian. There was a lot of fuss about this name, some accepted it as irony, others really thought that she really misspelled the word ... However that turned to be a good advertisement for Ivelina as all major norvegian newspapers wrote about that.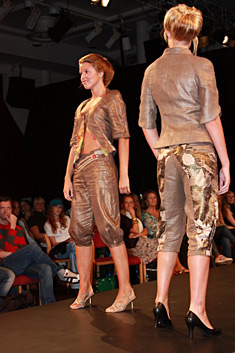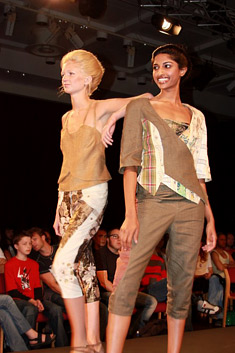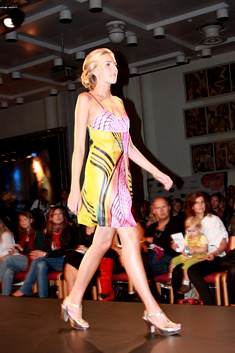 At Oslo Fahsion week (OFW) the designer participated with 10 garments. The collection was accepted very well, right after the show Ivelina was interviewed by FASHION TV.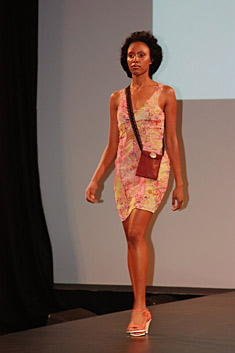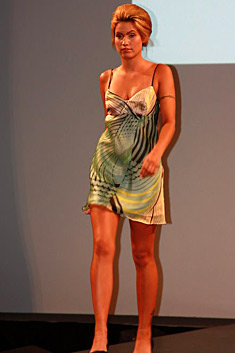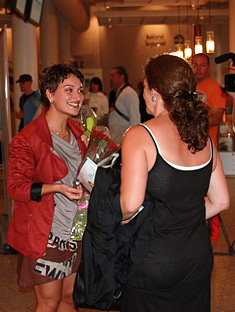 The collection of Ivelina Dagsvold is based on contract. While she was in Paris to buy the fabrics for the collection she was impressed by the contrast between the rich and the beggars in the streets and this contrast lies in the background of the collection. Ivelina displays her style and is not influenced by the trends. Her style is classic, but at the same time it reflects new thinking.
The clothes are meant for clients that want to stand out, for women that want to be sexy, feminine and elegant. The fabrics are linen and silk in the shades of brown, green, white. The models are full of asymmetry, details, zippers, buttons.
Ivelina prepares an Internet shop, where the clothes can be bought online.
Photos:
1. - 6. Models from the collection of Ivelina Dagsvold
7. Ivelina Dagsvold gives an interview for FASHION TV
8. Model from the collection of Ivelina Dagsvold, behind it can be seen the brand name "nÅrsk"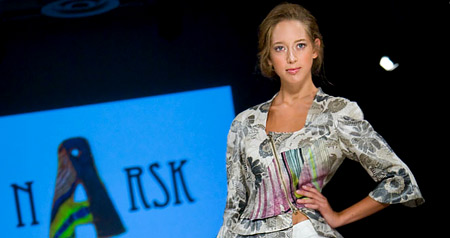 Hits: 9340 | Leave a comment