A very special president, John Malkovich a new prize, the fashion smart creation prize an exclusive DJ Set by the Synapson Duo
A special ceremony followed this year by a new DJ set performed by French electropop duo SYNAPSON! Each year this exciting event, eagerly awaited by fashion industry professionals, singles out the most inventive and innovative creations from weavers and tanners exhibiting at the Premiere Vision Fabrics and Premiere Vision Leather shows.
In addition to the 6 PV Awards traditionally given out, this 9th edition will also be awarding two new prizes for responsible creative fashion in fabrics and leathers: the FASHION SMART CREATION PRIZES. Premiere Vision invited influential personalities from the international fashion scene to select the prizewinning designs. This year's very special jury will welcome a truly exceptional President as well: actor and fashion designer John Malkovich.
Everyone knows John Malkovich's career as an actor and director, but many are less familiar with his work as a designer. Yet John Malkovich founded his fashion brand six years ago and creates menswear collections that are a reflection of himself: refined and witty.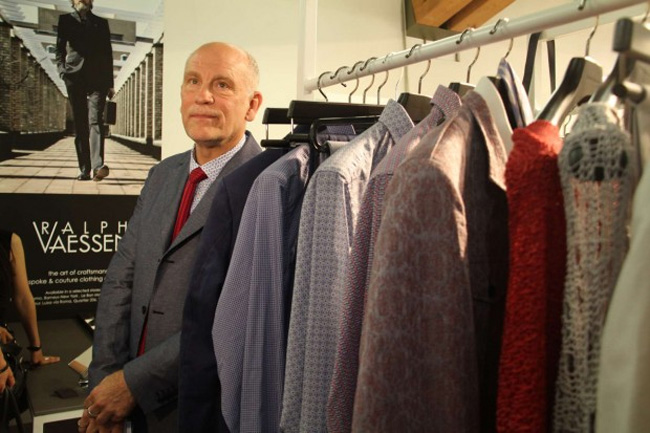 "CLOTHING IS A TRUE REALM OF EXPRESSION" – JOHN MALKOVICH

Premiere Vision : Where does your passion for clothes come from?
John Malkovich: I always really liked fashion, but I began to get more interested in it at university. Costume design was part of my theatre curriculum. We learned to draw, to create a pattern, to sew. The costume designers I met were also a decisive factor. I worked with the greatest: James Acheson on Dangerous Liaisons and The Sheltering Sky; and Caroline de Vivaise, who designed costumes for Patrice Ch?reau. All of them showed me how essential garments are. They can reveal the personality of the wearer. The rest was really just a matter of chance. An Italian company suggested I do some work for them in 2001, and I launched my own brand, Technobohemian, in 2012.

Echoing its SMART CREATION program, and in an effort to shed light on an ever more responsible creative fashion industry, Premiere Vision is now launching two FASHION SMART CREATION PRIZES. These new prizes will be given to the most creative of the responsible fabrics and leathers presented by exhibitors at Premiere Vision Fabrics and Premiere Vision Leather.

SMART CREATION PREMIERE VISION: RESPONSIBILITY AT THE HEART OF INNOVATION Through its SMART CREATION program - a platform for study and communications - Premiere Vision aims to promote the eco-responsible initiatives of its exhibitors, and highlight a new generation of values creating new strategic perspectives and competitive advantages for the entire value-chain of the creative fashion industry.

For this purpose and in order to continue to reflect on this subject, Premiere Vision holds regular initiatives - events, conferences, discussions - both during and outside of the dates of the show.

8 PV AWARDS TO SINGLE OUT CREATIVITY
In all, 8 PV Awards will be handed out, 4 prizes for fabrics and 4 for leathers:
- Grand Jury Prize 2017, for the most outstanding, symbolic and pertinent fabric and leather of the season.
- Handle Prize 2017, for the fabric and leather allying the most astonishing tactile and behavioural qualities, those with the strongest emotional impact.
- Imagination Prize 2017, for the boldest, most original, most amazing fabric and leather in terms of decoration, technique, finishing, innovation and technology.
- Fashion Smart Creation Prize 2017, for the most creative responsible fabric and leather.

In early September, the jury will convene privately to select the most outstanding creations by the Premiere Vision Fabrics and Premiere Vision Leather exhibitors, from amongst the products chosen for the autumn winter 2018-19 fashion information forums. These products will be exhibited in the forums of the two shows, and indicated by special labels.


Hits: 4361 | Leave a comment