And the 9th Premiere Vision awards prizes for 2017 go to
Premiere Vision Paris, Tuesday 19 September 2017, 5:30 pm: the whole fashion industry - weavers, tanners, designers, buyers…, as well as international journalists, got together at the Premiere Vision Fabrics Forum (Hall 6). They were all eager to discover the winners of the 8 prizes of the 9th PV Awards, and to celebrate textile and leather excellence.
Each year this exciting event, eagerly awaited by fashion industry professionals, singles out the most inventive and innovative creations from weavers and tanners exhibiting at the Premiere Vision Fabrics and Premiere Vision Leather shows.
In addition to the 6 PV Awards traditionally given out, this 9th edition awarded two new prizes for responsible creative fashion in fabrics and leathers: the FASHION SMART CREATION PRIZES.
Premiere Vision invited influential personalities from the international fashion scene to select the prizewinning designs. This year's very special jury welcomed a truly exceptional President as well: actor and fashion designer John Malkovich.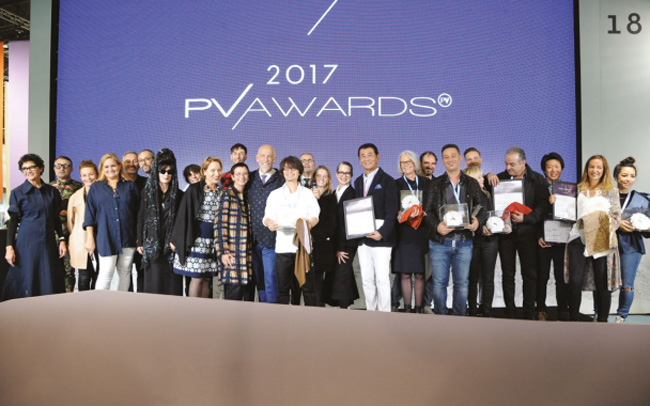 THE 2017 WINNERS 4 PRIZES FOR PREMI?RE VISION FABRICS
- The PV Fabrics Grand Jury Prize 2017 goes to A-Girls (JP) – Stand 5R6-5S7 For the most outstanding, symbolic and pertinent fabric of the season.
- The PV Fabrics Handle Prize 2017 goes to CRAFTEVO – V&A (JP) – Stand 6J25 For the fabric allying the most astonishing tactile and behavioural qualities, the fabric that touches the emotions.
- The PV Fabrics Imagination Prize 2017 goes to Leathertex (IT) – Stand 6G13 For the boldest, most original, most amazing fabric in terms of decoration, technique, finishing, innovation or technology.
- The new PV Fabrics Fashion Smart Creation Prize 2017, goes to Schoeller Textil (CH) – Stand 6J14 For the most creative responsible fabric and leather

4 PRIZES FOR PREMI?RE VISION LEATHER
- Le PV Leather Grand Jury Prize 2017 goes to AQPEL (ES) – Stand 3F82 For the most exceptional, symbolic and pertinent leather of the season.
- The PV Leather Handle Prize 2017 goes to AHLSKOG TANNERY (FN) – Stand 3B63 For the leather combining the most amazing tactile and behavioural qualities, the leather that touches the emotions.
- The PV Leather Imagination Prize 2017 goes to FC Creacio i Innovacio (ES) – Stand 3G114 For the most daring, original and amazing leather in terms of decoration, technique, finishing, innovation or technology.
- The new PV Leather Fashion Smart Creation Prize 2017, goes to Nova Kaeru (BR) – Stand 3C1 For the most creative responsible fabric and leather During an emotional and moving ceremony, John Malkovich handed out the trophies, created by artist Miguel Chevalier, a pioneer in digital and virtual art, to each of the 8 winners.


Hits: 4116 | Leave a comment