L.B.M.1911 celebrates Milan Design Week hosting a special exhibition by Magis
The L.B.M.1911 Guests will have the chance to dive into the Magis experience and spot the works of some of the most famous designers in the world.
THE EVENT - SPIN AND SPUN! On Thursday 19th, starting from 6pm, the Via della Spiga Boutique will host a special Happy Hour and DJ set : the guests will have the chance to enjoy the iconic Spun chair by Magis while spinning a nice selection of craft beers!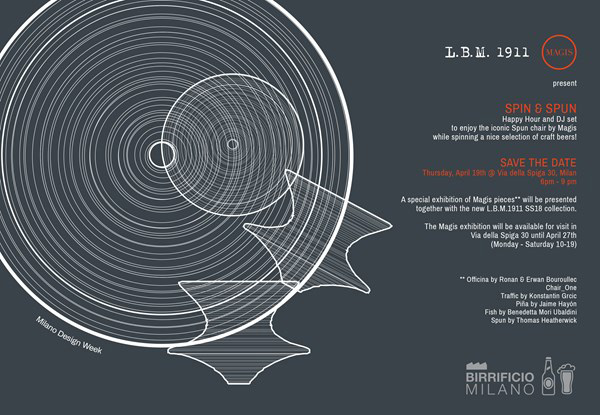 The Magis exhibition will be available for visit in Via della Spiga 30 until April 27th during the boutique's opening hours(Monday - Saturday 10-19).
THE L.B.M.1911 BOUTIQUE - L.B.M.1911 has chosen the luxury and exclusive aura of Via della Spiga as its starting point for retail expansion.
The boutique, at number 30 in Via della Spiga, develops over approximately 150m2 on two floors, and unfolds a contemporary idea of Urban Jungle inspired by the atmospheres of New York, Sao Paulo and Berlin, where flora coexists in harmony with the concrete jungle of these metropolises. Vintage furniture items (some of which belong to the Bianchi family, almost creating a continuum with the company's hundred-year history and its new image) mix with items of contemporary design. With the launch of the boutique, our brand, renowned internationally as a leader in high-end tailored menswear, has written a new chapter in its story, which is rooted in the centenarian tailored tradition of Lubiam, the Mantua enterprise that launched the brand over fifteen years ago, due to an intuition by Giovanni Bianchi, CEO and Style Director.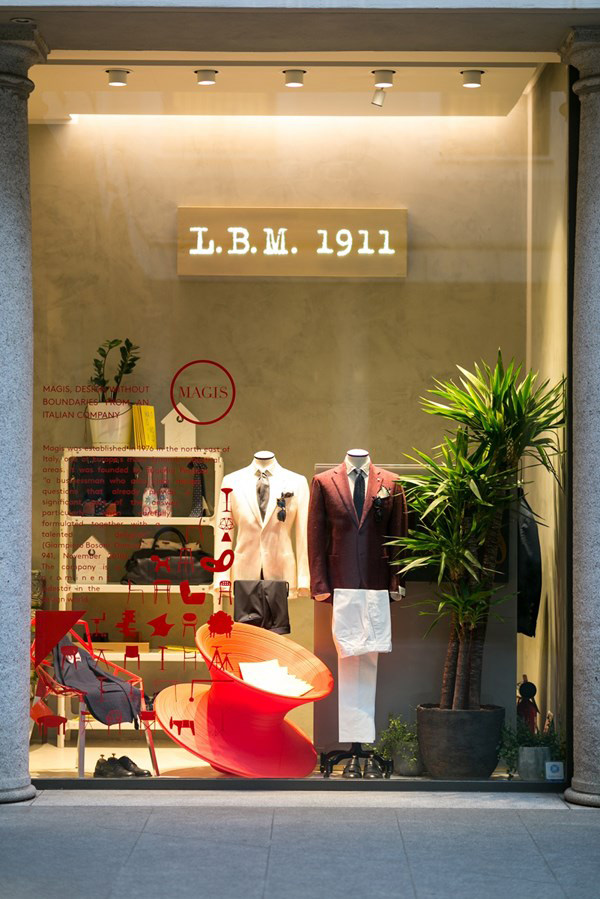 The L.B.M.1911 collections are based on a concept of informal but refined elegance, focussed on strong innovation and great care to detail. Constant research in fabrics and materials has resulted in specialised expertise in the use of exclusive dyeing, finishing, washing techniques and handcrafted aging methods that give garments an aged, worn effect. Thanks to years of collaboration with experts in the finishing sector, L.B.M. 1911 has created unique finishing methods, with finished garment and techniques produced exclusively in Italy. These products undergo extremely complex procedures that are far more difficult than those used for traditional items. Thanks to its expertise, L.B.M.1911 is considered a leader in this sector. The new L.B.M.1911 boutique in Via della Spiga 30, in Milan has enhanced the reputation of the brand even further as an international point of reference for highly exclusive menswear tailoring.
MAGIS - DESIGNS WITHOUT BOUNDARIES FROM AN ITALIAN COMPANY
Established in 1976 by Eugenio Perazza, Magis is nowadays a prominent lodestar in the design world, whose success is based on the desire to provide a broad swathe of users with access to high functional and technological quality products, developed in partnership with major international designers, with a vision of the resulting products that is ethical and poetic as well as aesthetic.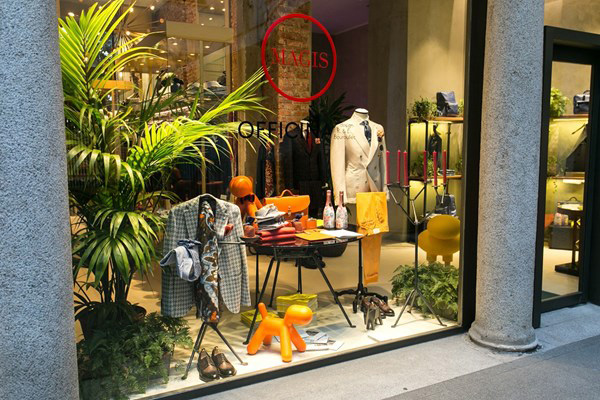 Magis products are dedicated to their international public (exports account for some 85% of production), and are all 100% "Made in Italy": a guarantee of high quality, in line with the firm's tradition, which has developed from its craftsmanship and cultural roots, through the evolving styles and industrial growth of the eighties and nineties, and continues to comprise one of the company's greatest and most valuable assets.
In early 2010, Magis moved to a new production site in Torre di Mosto (near Venice) with a total meterage of 98,000 m?, including two separate buildings: the first (15,000 m2) houses the logistics and assembly departments, the other (3,500 m2); the offices and a showroom, which exhibits all the most iconic products from the collection.
During its 40-years-long history, Magis products become part of the permanent collections of many museums worldwide and have also received various important awards, such as three Compasso d'Oro, received in 2008 for Trioli (design Eero Aarnio) from the Me Too collection, in 2011 for Steelwood Chair (design Ronan & Erwan Bouroullec) and in 2014 for Spun (design Thomas Heatherwick).


Hits: 10446 | Leave a comment