Albena Alexandrova presented the town girls for season autumn-winter 2008/2009
The business image is the most actual for the town girls, according to the designer of fashion house "Roshavata garga" Albena Alexandrova. At fashion theatrical spectacle, called "Ah, this .... Jazz!" the designer in original way presented her most actual proposals for season autumn-winter 2008/ 2009. The idea of the title is inspired from " Ah, this Jazz!", from the spirit of the 60s in front of the eyes of the modern man of 21 century. Through contest Albena Alexandrova, chief designer of "Roshavata garga", gave chance to more than 20 designers to work on the autumn-winter collection '08/09 of "Roshavata garga and team". The leading words in the collection are: The City, The Sex, The Business and The Tradition. Through the fashion, the speech, the music and the scene, in non-standard way were synthesized these words that form the whole image of our contemporary city.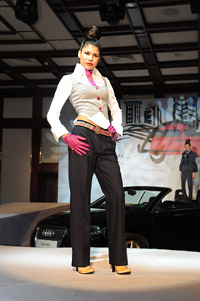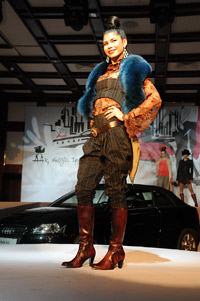 Trendy for the season will be jackets with volumetric shoulders, decorated sleeves with rushes and flounces, frills type balloon, strongly taken in at the waist, single-breasted, originally played in the materials – from silky taffeta with floral elements to the typical banker's stripe. The geometry and the cubism are elegant jokes in the general image of the coats. The trousers are with high waist, appropriately mixed with short jackets. The flared elements round the knee are leading motive in the collection. Actual will be the trousers type cigarette with playful slashes round the ankles. Jackets type men's vests are chatty developed in the detail. To them are combined shirts with lace jabots, double collars or trimmed with non-standard tied shawls and big jewels. The dresses are in style Ampire or strongly taken in the waist with decorative nervures, sewed crimps. The blinded trimmings and the playful slots make erotic wink. The skirts are right, to the knee, with high waist, outlining the hips - style of the 60s. The used materials are silk, fine cashmere and elastic jersey. The coats are strongly tightened in the waist with belts-corsets and elegant volumetric collars.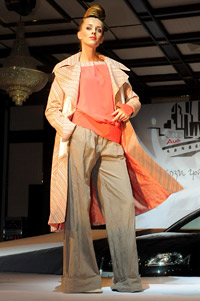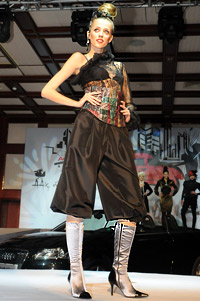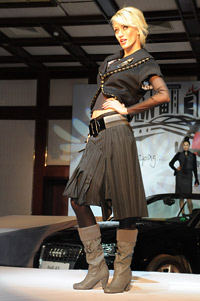 Photos:
1. – 7. The proposals of "Roshavata garga and team" for season autumn-winter 2008/2009.
Photo: © Archives "Roshavata garga"
Read more in Fashion Lifestyle Magazine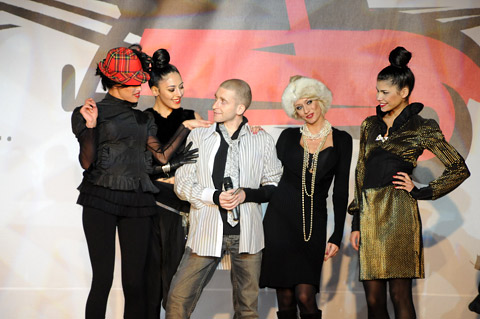 Hits: 4935 | Leave a comment