BREITLING marks its entry into China with a dazzling Red-carpet Gala Celebration
Breitling, the Swiss watch brand with a worldwide reputation for luxurious high-performance timepieces, hosted a dazzling celebration of its entry into the Chinese market with a red-carpet gala night at Beijing's breathtaking Phoenix Center on November 20, 2018. International movie stars and Breitling Cinema Squad members Brad Pitt and Daniel Wu were on hand to mark the occasion, along with surfer Sally Fitzgibbons and photographer and filmmaker Peter Lindbergh. They were joined by personalities from the worlds of fashion, high society, sport, music, and film, including Japanese fashion designer Motofumi "Poggy" Kogi, South Korean actress Shin Se-Kyung, Chinese actress Qi Wei, and Chinese actor Li Zonghan.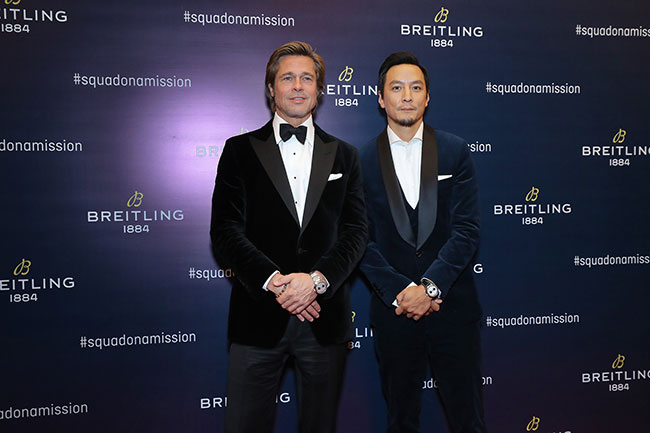 Breitling, the Swiss luxury watch manufacturer known globally for its prestigious, high-performance timepieces, boldly announced its presence in China with a gala night at Beijing's Phoenix Center. Illuminated in sparkling blue light recalling Breitling's corporate color, the Phoenix Center – already an architectural wonder – welcomed some 500 invited guests in style. They entered the venue via a red carpet flanked by lanterns while more than 100 members of the local and international media photographed and interviewed the VIPs as they arrived.
An Atmosphere of Elegance and Intrigue
Inside the Phoenix Center, the stunning decor recalled Breitling's brand worlds of air, sea, and land and created an atmosphere of elegance and intrigue. Stirring, evocative live music was performed by the Beijing Percussion Art Troupe, which distinguished itself at the 2008 Olympic Games, and by an orchestra selected from among Beijing's leading virtuosos. The dramatic musical interludes complemented the venue's aura and punctuated the evening's festivities.
A Celebration of Breitling's High-Profile Squads and Its Emerging Presence in China
Breitling CEO Georges Kern got the night off to a rousing start with the introduction of his brand's celebrity guests, including Australian Surfers Squad member Sally Fitzgibbons and renowned photographer and filmmaker Peter Lindbergh, along with two high-profile members of the Breitling Cinema Squad, Daniel Wu and Brad Pitt.
"Tonight marks the beginning of a new chapter for Breitling in China, and we are incredibly excited. We are thrilled to give you a look into what we call our legendary future, focusing not only on air but also on sea and land, together with our Breitling Squads, which include some of our most important partners, ambassadors, and friends," Georges Kern said. He added: "Breitling opened its first Asian flagship boutique in Beijing only a few months earlier and we are strengthening our online and digital presence in Asia through our strategic partnership with Alibaba with the grand opening of the Breitling Tmall flagship store."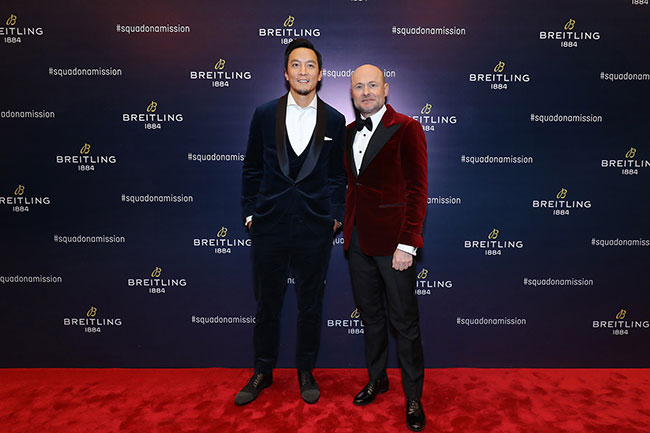 Breitling Debuts Its Elegant Premier Family
At the gala night in Beijing, Breitling took the opportunity to introduce the watches in the new Premier family, which underpin the brand's connection to its land environment and express an important part of Breitling's current mission statement: to create timepieces for men and women of action, purpose, and style. Although Breitling is justifiably world-famous for its links to the air and the sea, a substantial part of its reputation was also built around its long-standing connections to the land. The original Premiers launched in the 1940s were Breitling's first truly elegant watches and were a much admired part of the collection, introducing a fashionable flair that complemented the "instruments for professionals" for which the brand was already well known. The new Premier family reintroduces this elegance and the link to the land environment. One of the standout pieces in the family is the Premier B01 Chronograph 42 Bentley British Racing Green, a chronograph that honors Breitling's partnership with the great British automobile brand.

Breitling Renews Its Historic Link to Aviation
Breitling has built a significant part of its international reputation on its iconic pilot's watches, including, notably, the Navitimer. At the gala night in Beijing, the brand previewed two special pilot's watches that will be launched next year, commemorating the history of the legendary Curtiss P-40 Warhawk plane. On hand to help celebrate were pilots from two different generations, Taylor Stevenson and 93-year-old Ollie Crawford, the oldest living pilot to have ever flown a Curtiss P-40 Warhawk plane.

The Stars Came Out at Night
The evening's highlight featured the introduction of Breitling's Cinema Squad members, international film stars Brad Pitt and Daniel Wu, along with renowned photo grapher and filmmaker Peter Lindbergh. The three had worked together on Breitling's 360° #squadonamission campaign earlier in the year, and after watching short films covering the Cinema Squad photo shoot, they shared anecdotes from the experience. The campaign has already generated a global media buzz. It is built around the brand's high-profile Squads, which are made up of some of the world's most celebrated professionals in their respective fields. Brad Pitt expressed his enthusiasm for the campaign, saying: "It's great to be here in Beijing with Breitling. The brand is undergoing a transformation while also incorporating its history into the designs and I'm enjoying being part of it."

Daniel Wu is also enjoying his new role as a member of the Cinema Squad and told the audience: "I think you've seen that the Breitling campaign is unlike anything being done by anyone else. It's very effective but I hope you can also get a sense of how much fun it is."

To round out the evening, Georges Kern, Brad Pitt, and Daniel Wu, in true show business fashion, posed – with photographer Peter Lindbergh, appropriately – for a selfie. As Georges Kern pointed out: "I can't think of anyone in the world better qualified to take this picture."

The orchestra and drummers had saved their most dramatic piece for the end of the night, and, as the guests departed, there was no doubt in their minds that Breitling had arrived in China.

Since 1884, Breitling has established a global reputation for high-precision timepieces, its pioneering role in the development of the wrist chronograph, and its uncompromising commitment to design excellence. With the brand's storied association with aviation, Breitling has shared the finest moments in humankind's conquest of the skies. Renowned for its spirit of innovation, it has also earned a place of privilege in the worlds of science, sport, and technology. Breitling manufactures its own movements in-house and the quality of every watch is confirmed by its status as a COSC-certified chronometer, made in Switzerland.


Hits: 8508 | Leave a comment