Canada Goose collaborates with Henry Poole
Canada Goose is taking on the new season with a fresh look, partnering for an exclusive collaboration with Savile Row tailors Henry Poole. The brands have come together to produce a down-filled blazer for men and women and a unisex merino wool scarf.
Driven by a constant commitment to authenticity and the desire to create best-in-class products, the collaboration fuses the tailoring expertise of Henry Poole with the deep knowledge of down-filling from Canada Goose. The pattern was designed and cut in partnership, and was made in Canada by Canada Goose sewers.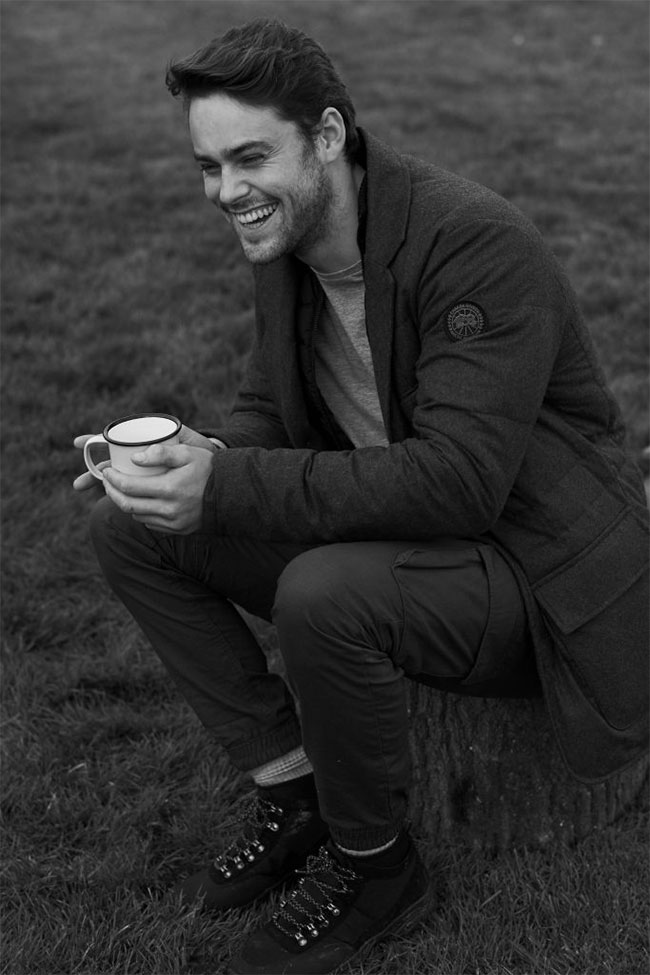 The seemingly unexpected pairing of the Canadian performance luxury brand with the English bespoke tailors in fact drew on many commonalities between the two companies; from being pioneers in their categories, to a functional approach to design, through to their shared tactical heritage.

"When our teams met they were excited about our common threads. We've played pioneering roles in our categories; Henry Poole founded Savile Row and invented the Dinner Jacket, my father invented the down-filling machine back in the 1970s which revolutionised the way we make outerwear, as well as now being recognised as Canada's only true luxury apparel brand," said Dani Reiss, President and CEO of Canada Goose.

"I like to surprise people with collaborations, but it has to be about collaborating with the right people. It has to make sense, there needs to be passion, and it has to be fun. Our W1 blazer is made from a medium flannel, which – together with the goose down – makes it a warm jacket and we all want something lightweight, practical and warm, especially when travelling," said Simon Cundey, Managing Director, Henry Poole & Co.

The W1 blazer, named after the area of London in which the Henry Poole tailors shop and the Canada Goose London flagship store are based, is available in three colourways – red, navy and graphite. The quilt-through wool blazer features the iconic Canada Goose disc in black on the arm and Henry Poole house buttons.

The Selvedge Scarf is made from 100% super fine merino wool, it is dark green in colour with a herringbone finish and features the Canada Goose and Henry Poole wordmark logos along the edge.

Similar to Canada Goose jackets in the Lightweight Down category, the W1 blazer is rated as a TEI 1 on the brand's Thermal Experience Index and provides lightweight protection for active pursuits at temperatures between five and minus five degrees Celsius.

The W1 blazer drops on 18th January 2019 in selected cities including London, Toronto, New York, Boston, Tokyo, Seoul and Hong Kong.


Hits: 6965 | Leave a comment