Bulgarian singer Lili Ivanova shaked up Olympia Hall
* The living legend of the Bulgarian pop music gave all from herself to show the highest class
Paris - Sofia
Finally happened this, which were dreamed so many Bulgarian stars of the popular music - a concert in Olympia Hall - Paris. The happiest man in the evening of 9th of January 2009 in the emblematical concert hall was Lili Ivanova! When a big dream becomes reality, it makes happy many people. Lucky were the fulfilled to the utmost hall audience (many of which Bulgarians), which enjoyed the magnificent voice of the prima of the Bulgarian variety. Among them were the artist-cosmopolitan Nikola Manev, the poetess Nadejda Zaharieva, the pop singers Georgi Hristov and Grafa, the bard Mihail Belchev, the well-known businesswoman, Maecenas and philanthropist Lily Cherveniakova with her son Kamen, the poet and translator Kiril Kadiyski - Director of the Bulgarian Cultural Center in Paris, the young pop star Elitsa Todorova, the top photographer Vassil Karkelanov and many other local and foreign celebrities from France, Russia, Croatia and elsewhere.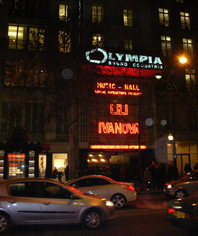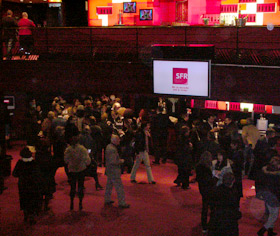 For two hours Lili Ivanova distributed herself through. She sang the most recent and one of her most popular hits without interruption, without breaks, without changing the clothes during whole two hours. All her performances (except "Camino" and "Ave Maria") were in English. Hits as "Panairi" and "Detelini" provoked the present not only to dance and to applaud but to begin to sing enthusiastically the hit songs. Fine, romantic, passionate, emotional, magnetic, Lili subjugate her fans, making them frenetically shout "Lili, Lili", "Je t'aime, "Bravo", "We love you, Lili", "Encore", "More more ...". Many of them view the concert standing up, dancing and applauding the great singer. Her voice was delicate and sensual, intriguing rugged and richly nuanced, powerful and suggestive. Great merit for the great concert played the musicians and that with their youth and virtuoso talent were wonderful partner of our talented singer. Lili herself repeatedly submit them to the audience, calling them small pet name - Orlin, Ognian and Biser. At the end of the show she thanked heartily to the producer of the unique event Stefan Zashev.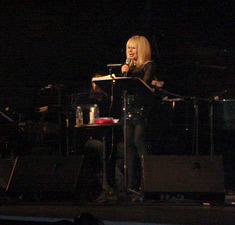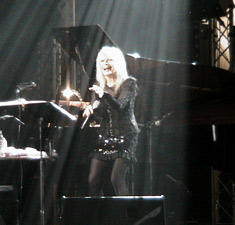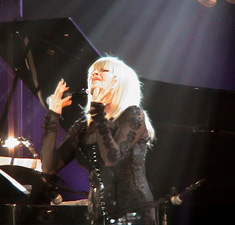 The hundred-year lady of the entertaining music - Olympia Hall, is non-alternative sign of the success of each performer. There are public straightening up immortal singers and choirs as Frank Sinatra, Ella Fitzgerald, Sylvie Vartan, Johnny Holiday, The Beatles and others. The concert of the prima in the Paris Olympia Hall is another global recognition of the uniqueness of Lili Ivanova. The phenomenal artistic and vocal qualities of Lili, demonstrated in Paris, crowned her non-alternatively as pop singer ? 1 in the contemporary Bulgarian music culture.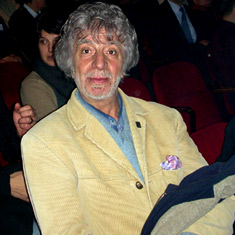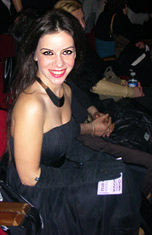 VIDEO:
Lili Ivanova – concert in Olympia Hall, Paris (Part one)
Lili Ivanova – concert in Olympia Hall, Paris (Part two)
Lili Ivanova – concert in Olympia Hall, Paris (Part three)
Lili Ivanova – concert in Olympia Hall, Paris (Part four)
Lili Ivanova – concert in Olympia Hall, Paris (Part five)
Lili Ivanova – concert in Olympia Hall, Paris (Part six)
Lili Ivanova – concert in Olympia Hall, Paris (Part seven)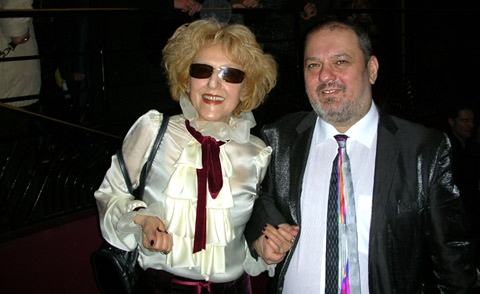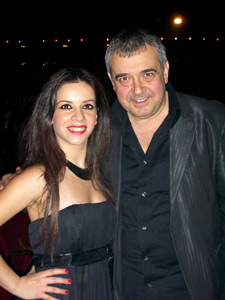 Photos:
1. The neon facade of Olympia Hall in Paris in the night of 9th January 2009
Photo: © Lubomir Stoykov
2. Tower of Babel of fans of Lili Ivanova in the lobby in front of Olympia Hall
Photo: © Lubomir Stoykov
3. - 6. Lili Ivanova during her concert in Olympia Hall
Photo: © Lubomir Stoykov
7. Nikola Manev at the concert of Lili Ivanova in Olympia Hall
Photo: © Lubomir Stoykov
8. Elitsa Todorova at the concert of Lili Ivanova in Olympia Hall
Photo: © Lubomir Stoykov
9. Lily Cherveniakova together with her son Kamen at the concert of Lili Ivanova in Olympia Hall
Photo: © Lubomir Stoykov
10. Elitsa Todorova and Lubomir Stoykov at the concert of Lili Ivanova in Olympia Hall
Photo: © Personal archive of Lubomir Stoykov


Read more in "Fashion Lifestyle Magazine"


Hits: 25774 | Leave a comment