International Fashion Futurum Forum is discussing What is the future of independent fashion brands in the post-COVID reality
On December 11, International Fashion Futurum Forum is taking place in Moscow, considering the following topic: "What the future of independent fashion brands in the post-COVID reality is: cultural codes and business opportunities." 74 speakers from 24 countries will discuss the future of local fashion brands and changes that will affect the fashion industry. Moreover, they will offer practical advice to designers from across the globe. The new edition of Fashion Futurum will be powered by the Moscow Department of Culture. During the Forum, the discussion will cover pressing issues and trends in development of the future.
Fashion Futurum Forum will be streamed at media websites, online platforms of concept stores and showrooms, as well as social networks.
Not only independent brands but also representatives of minor and medium fashion businesses can benefit from the Forum: production entities, fashion startups, owners of retail projects, marketing, PR and SMM managers, creative specialists, and many more. Most events of the Forum will touch the topic on how brands can use digital technologies.
The live stream of Fashion Futurum Forum along with detailed information is available in Be Global Fashion Network VIDEO section.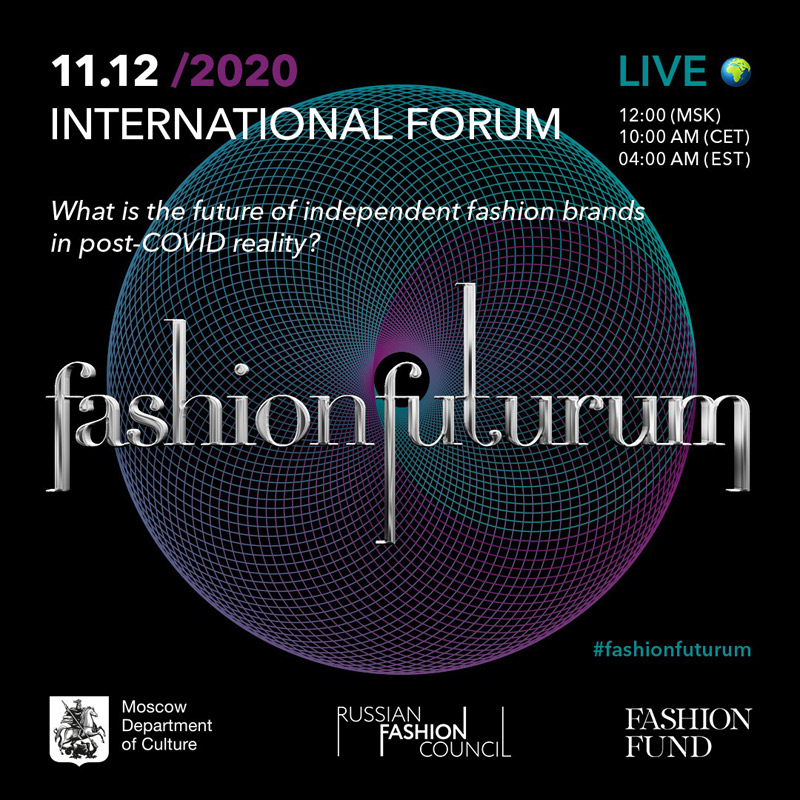 What is on:
PR Consulting: Invitation to dream
Pierre Rougier, founder of one of the world's most popular PR agencies will answer the most alarming questions asked by independent designers in a live session. This discussion will cover promotion and development of an independent brand. PR Consulting agency has been working with Dries Van Noten, LOEWE, Yeezy, Roman and Williams, SSENSE, and many more.
The session will be attended by young creators, including Timo Helgert, visual artist (Germany); Florentina Leitner, Austrian fashion designer, graduate of Master Program in Fashion Design from the Royal Academy of Fine Arts Antwerp (Belgium); Alexander Khen, designer, co-founder of fashion brand Innominate (Russia); Paula Ulargui, sustainable fashion investigator & designer (Spain); Paola Pinna, digital and 3D Artist, Founder of Paola Pinna Studio (Italy); as well as Sidharth Sinha, creative Director and Founder of NS GAIA brand (India).
Celebrities wearing my brand: tutorial
Micaela Erlanger, celebrity stylist (USA), who has worked with Meryl Streep, Lupita Nyong'o, and Diane Kruger; Mickael Carpin, celebrity stylist, fashion editor and image architect (France), who has worked with Tina Kunakey and other celebrities, will share the secrets that a designer must know to gown a model. Moreover, they will talk about frequent mistakes that brands make trying to offer their clothing to celebrity stylists. The session will be moderated by Liga Zemture, Editor-in-Chief of L'Officiel Baltics (Latvia).
Fashion, Design & Art of the Future. Rewiring the creative power of the world capitals
Stephan Rabimov, Editor-at-Large at L'Officiel Austria (USA) together with Alexander Shumsky, President of Russian Fashion Council and Mercedes-Benz Fashion Week Russia, Co-founder of Fashion Fund (Russia); Pascal Morand, Executive President of the French Federation of the Haute Couture and Pret-a-porter (France); Carlo Capasa, Chairman of Camera Nazionale della Moda Italiana (Italy); Paul Owens, Director of World Cities Culture Forum, founder and director of BOP Consulting (UK); Lucilla Booyzen, Founder of South African Fashion Week (South Africa); and Joana Jorge, Project manager at ModaLisboa | Lisboa Fashion Week (Portugal) will discuss the essential changes that have taken place in the cities and countries during the pandemic. This will be a talk about how fashion, design, and other areas determinative of today's culture have become one to present a new take on creativity. The participants will also consider how these changes can be used to develop contemporary urban culture, as well as discuss the future of fashion weeks in the post-pandemic times.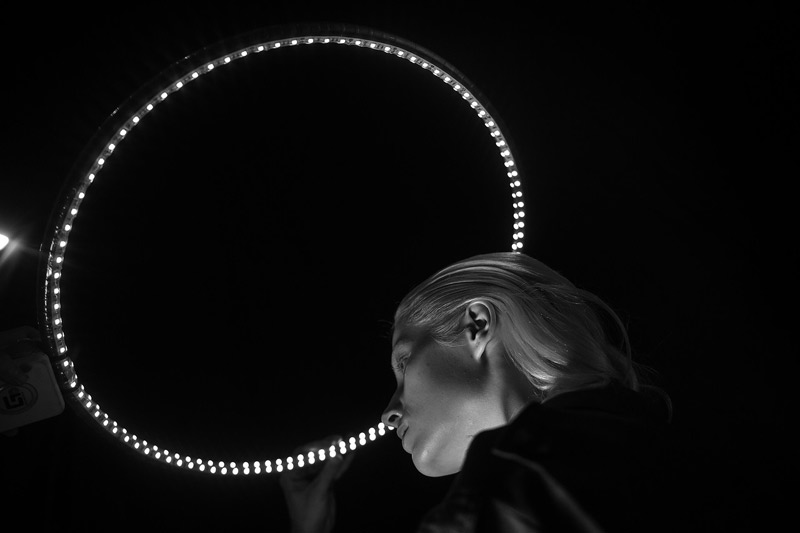 Future trends: developing a successful digital strategy
Guido Ampollini, Owner and Head of Performance of GA Agency – international boutique digital agency (UK) has vast experience with both digital and fashion and has been cooperating with brands including Prada, Miu Miu, Karl Lagerfeld, Giuseppe Zanotti, A-COLD-WALL*, Calzedonia, Intimissimi, and others. Guido Ampollini will tell the designers why a digital strategy matters and how they can make it successful.
   
Unlimited Art: virtual vs real clothes
Stephan Rabimov, Editor-at-Large at L'Officiel Austria (USA); Amber Jae Slooten, Co-founder and Creative Director at The Fabricant (Netherlands); Jonathan Chippindale, Co-founder and CEO of Holition agency (UK); Daria Shapovalova, Co-founder at DressX, member of Forbes 30 Under 30 List and BOF 500 List of the People Shaping the Global Fashion (USA); Natalia Modenova, Co-founder of DressX, More Dash and Fashion Tech Summit (USA); Jennifer Drury and Dan O'Connell, Co-founders of BrandLab Fashion (UK) will speak on how digital clothing affects a designer's creative potential, as well as trends in virtual clothing, sales specifics for digital platforms, and impact that virtual garments have on production of real clothing collections.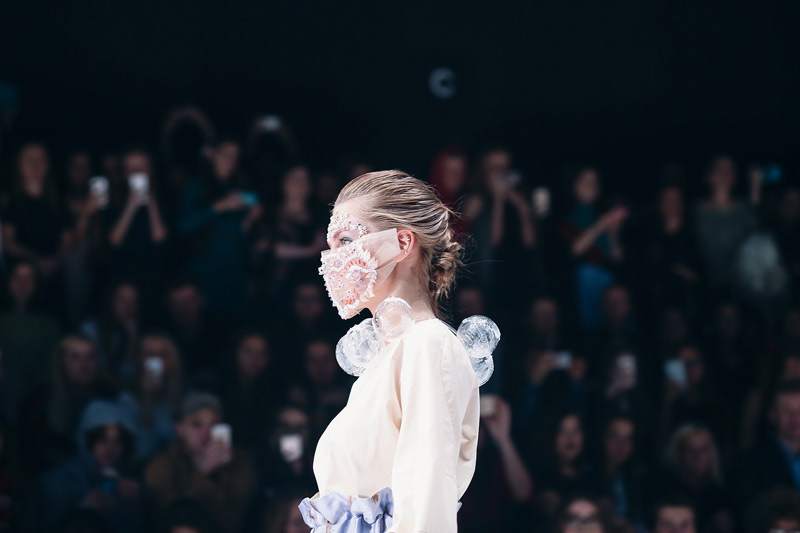 Q&A session: ask and sell – consumer trends in different cities
Ekaterina Glazunova, Head Buyer for Tom Greyhound Paris (France); Andrea Selvi, Buying Manager at Luisa via Roma (Italy); Richard Poulson, CEO of Showroom-X.com (Australia); Daniel Pérez-Barriga, Brand & Communications Strategist, Senior Executive and Consultant at Waterboy (Spain); Kazuma Mori, Founder of BUNKER TOKYO conceptual boutique (Japan) will discuss what brands shall be like to be presented in showrooms all over the world. What will the market for young brands be in the future? What should they know to make clothes today? What should a designer keep in mind when working on menswear if he or she wants to become successful?
  
Sustainability: world practices to preserve the planet
Maeve Campbell, Deputy Editor of Euronews Living (UK); Carry Somers, Co-founder and Global Operations director of Fashion Revolution (UK); Christina Dean, Founder and Board Chair of Redress and Founder and CEO of The R Collective (Hong Kong, China); Patrick Duffy, Founder of Global Fashion Exchange, Co-founder of SwapChain and Circular Fashion Summit (UK); Daria Alekseeva, Director of Vtoroe Dykhanie Fund, winner of RBC Prize as Social Manager, member of Forbes 30 Under 30 List of Top Young Entrepreneurs (Russia); Juliana Garcia Bello, fashion designer, founder of GARCIABELLO brand, graduate of School of Architecture, Design and Urbanism of the University of Buenos Aires (Argentina); as well as Juan Pereira and Andrés Jordan, designers of Juan de La Paz brand (Bolivia) will discuss how pandemic has made sustainability one of the major trends; how global digitalization is going to change the vision of sustainability; and how non-profit organizations can collaborate with designers to promote circular economy.

Identity of world cultures through the eyes of designers of the future
Mahoro Seward, Staff Writer of i-D Magazine (UK); Miss Adama Paris, creative entrepreneur and fashion designer (Senegal); Ali Charisma, National Chairman of Indonesian Fashion Chamber and Director of Muslim Fashion Festival Indonesia (Indonesia); Won Jeon, Founder of PAINTERS brand, Design Professor at Le Rêve School of Arts (South Korea); Igor Andreev, Designer of Vereja brand (Russia); Linus Leonardsson, Creative Director of Linus Leonardsson brand (UK); and Muftau Femi Ajose, Creative Director and Founder of Cute-Saint brand (Nigeria) will consider how a designer can impact the urban culture, as well as how the urban culture can become an inspiration for a fashion collection.
   
The future is last night. What lessons we have missed
Danilo Venturi, Director of Polimoda (Italy); Burak Cakmak, Co-founder of The Digital Fashion Group (USA); Anna Chernykh, CEO of FRESHBLOOD –  development and support project for young designers, head of Design Workshops sewing co-working space, curator of Fashion Design course at British Higher School of Art and Design (Russia); Katie Dominy, Co-founder of ARTSTHREAD (UK); Gloria Wavamunno, artist, art director and Founder of Kampala Fashion Week, Board Director of Fashion Council Uganda (Uganda); Barbara Franchin, Founder and Director of ITS –  International Talent Support (Italy) will speak on things that a perspective designer shall know, as well as on how fashion schools should change their curriculum to fit into the modern world. Besides, the speakers will discuss if digital clothing making shall be taught to young designers today and consider the subjects that should be added to fashion school curricula as soon as possible.
  
Independent and local brands – visual presence importance
Adam Katz Sinding, photographer (Denmark) together with Emmie America, one of the most progressive and original photographers working for Vogue Russia, Arabia, Calvin Klein, Urban Outfitters, UGG, and many more (Russia) will speak about approaches to brand lookbook making, as well as on visual content capable of attracting the audience.

This year, Fashion Futurum Forum will present a phygital format, aiming to support independent brands. All the Forum sessions will be live streamed real-time. For comfortable networking, questions can be asked during the online sessions. Fashion Futurum Forum will become a place for fashion professionals and amateurs to communicate.


Hits: 7009 | Leave a comment