International experts have discussed the future of modest fashion at Kazansummit
Modest Fashion Day took place in Kazan during the 12th International Economic Summit "Russia – Islamic world: KazanSummit powered by Russian Fashion Council. The first part of Modest Fashion Day was the business program – 16 international experts talked about development and prospects of modest fashion as well as support means for gifted designers. The second part of Modest Fashion Day showcased designers VALENTIN YUDASHKIN, IGORGULYAEV, Measure, Guzelem, SAHARA, ZUHAT, Su.Su, Alsu Gilmi, and Eva Graffova, who presented their modest fashion collections to the public. The event took place at Kazan Expo international exhibition center.
The global program of Modest Fashion Day got almost 300 thousand views. Streams from the event are still available in Russian Fashion Council's official group in VK, the largest social media of Russia and CIS.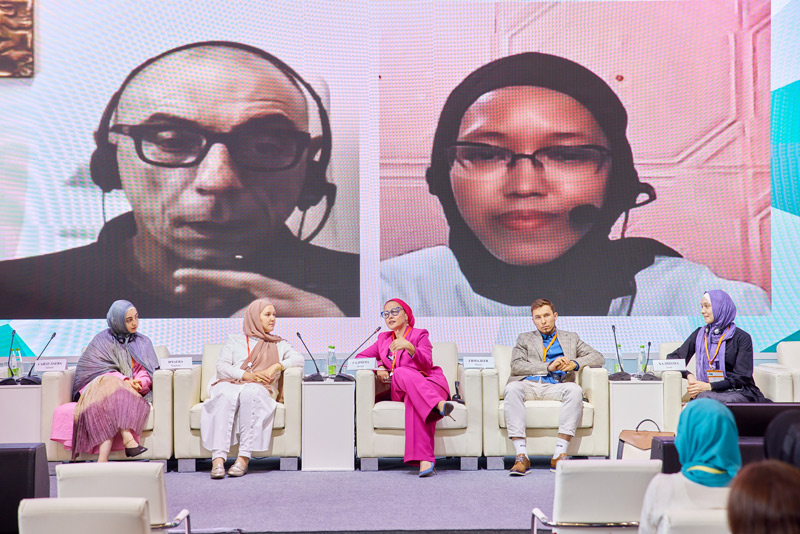 To learn more about the discussions and the shows presented please read on:
Open Call: developing the modest fashion infrastructure in Russia
The discussion was moderated by Dilyara Sadrieva, Expert and Analyst of the Muslim / modest fashion industry in Russia, co-founder of the MODEST RUSSIA platform, Regional Director of the Council of Modest Fashion, Member of the advisory board and official representative of the line of international Modest Fashion Weeks in Russia and the CIS (Moscow, Russia). Dilyara Sadrieva believes that the major issue of modest fashion is that many see it as an entertainment industry, a mere part to the Islamic business. Nonetheless, modest fashion is not really about the national style of the East. It is about people, consumers with certain mindset, values and lifestyles, whereas Muslim fashion is just one of its components. The moderator recommended brands to go digital, focus on functionality, grow professionally and broadcast their values. All of it can push the industry growth. Dilyara Sadrieva believes that modest fashion has deep origins in Russia, and the city of Kazan can become the modest fashion capital as long as the proper approach is followed and support from corresponding organizations is guaranteed. Moreover, the speaker mentioned that the Modest Fashion Fund had been established in Indonesia and powered by the state – it scouts for gifted designers and supports them. She believes that such an institution is essential in Russia. She highlighted that in general closer communication with support programs for Russian designers is required, as modest fashion that used to be a marginal sector has got integrated into the local fashion industry. According to the expert, due to unavailability of other options, Muslim women often start their own clothing business without any must-have knowledge of the fashion industry and business operations in general. One of the key tasks for the industry experts to solve is education of fashion brands, adjustment of their business procedures and helping them with going professional. Dilyara Sadrieva noticed that the time has come to abandon stereotypes, as because of the two-dimensional approach and unwillingness to go through the matter, even major local and foreign mainstream brands fail to understand this trend, presenting modest fashion at catwalks rather narrowly and lopsidedly. Because of that, they can't attract this rapidly growing audience or address it effectively. Other important things are collaborating with experts and concept holders as well as comprehending and accepting the role model.
Stefano Simonini, Development Manager for Sari Spazio Fashion Showroom (Milano, Italy) took a favorable view on the prospects that the Russian modest fashion market has at the international arena. He is sure that modest fashion is going international. However, a brand that wants to develop has to understand their target audience and define what it should be told and how. The international market is generally overtaken by major brands, and unfortunately, none of them are currently working in the modest fashion sector. The key to the audience in 2021 is sharing the values of the brand like sustainability.
Franka Soeria, Modest Fashion Expert, Global Head - Council of Modest Fashion, Co-founder #Markamarie (Jakarta, Indonesia) believes that a strong community can become a powerful impulse for market development, as today collaboration is much more important than competition. The pandemic showed us how mighty new communication formats can be – digital, social media, new e-commerce marketplaces etc. Thanks to them, the industry grows stronger every year, and we just shouldn't forget about the cultural pattern and values behind the modest fashion concept. Design alone isn't enough – reasonable and responsible consumption matters, sustainable development of the brand, and designers should take care to avoid environmental pollution, too. The expert is sure that regional markets and their development should be in focus – cooperation at various continents shall be promoted, brands shall be educated, connections between investors and brands shall be established, and all of it will definitely result in new inspiring projects.
Narmin Ichaeva, PR specialist, strategic Brand development Consultant in the Muslim lifestyle & halal industry, Co-founder and Managing Director of the international communication agency WANDI Group, Author and Creative Director of the WANDI Bazar project, Founder of the WANDI Academy (Moscow, Russia) is afraid that today the industry can't be called mature yet. In 10 years of being in business WANDI Group has taken part in establishment of the modest fashion industry, its development and transformation from Muslim fashion to a wider modest fashion trend. The agency has been not only a service provider, but an important link in broadcasting 'modest fashion' ideas to a wider audience. The industry and the agency are looking forward for collaboration, partnership and support, including from government entities.
Zainab Saidulaeva, founder of Measure brand and owner of Others modest fashion showroom (Russia) highlighted that local brands are currently at the height of visibility.
To work with them, an understanding of the target audience is essential. The message is to be broadcasted as accurately as possible. Even major market players have to address local audiences, and such collaboration is important not to modest fashion brands alone – everybody needs it. The Others showroom has become an intermediary between the local brands and the audience that shares their values.
Aliya Khalikova, CEO at SAHARA (Ufa, Russia) is positive that Russian brands can develop in the international markets, too. Here, certain things should be remembered like benefits of doing business abroad, working with independent regions, customized collection making. Although making clothes in Turkey instead of Russia is beneficial to a certain extent, brands have to design their collections in advance, a year or year and a half ahead, which in turn requires certain trend guessing. Besides, there is always a chance that delivery will be slow or untimely, so brands need to keep a time margin in mind.
Rail Gimadeev, CEO at SABR (Kazan, Russia) reckons that Kazan has a change of becoming a capital of Russian modest fashion. The expert explained that there aren't enough resources for local brands development and announced that regional support is essential – these can be grants or media support.
Future of modest fashion: who will support emerging talents?
The session was moderated by Dzhannat Mingazova, Modest fashion expert, Founder of Modest Covered and Author of Fashion Iftar (Kazan, Russia). Dzhannat Mingazova is sure that the modest fashion trend is going global. The fashion industry has for a long time been aware that modest fashion is much more than just religious commitment. This is a lifestyle that people throughout the world choose to follow, and the rules of it are the same as in any fashion business. The expert noticed that the number of secular brands willing to support the modest fashion concept is increasing.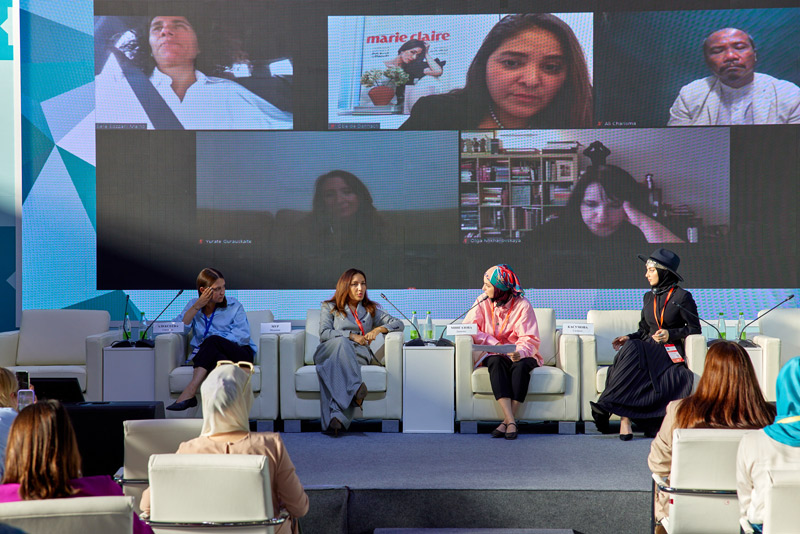 Olga Mikhailovskaya, Head of Global Talents Program at Russian Fashion Council, Fashion Columnist (Vogue Russia, Kommersant), Co-founder of Front, online platform of Russian brands, founder of Front Fashion Telegram Channel (Moscow, Russia) thinks that today modest fashion brands meet the basic demand of the wide audience like an obvious trend for multiple layers. On that ground she encourages fashion brands to be authentic, not independent. Such brands shouldn't be afraid to be a few steps from their colleagues – otherwise, they might lose their own cultural identity. At the same time, it is a good idea for brands to present themselves properly, to get their messages across correctly – their audience should know what a brand does, what its tale is, where its production sites are and so on. The expert added that making things based on national traditions is a good practice.

Sara Sozzani Maino, Deputy Editor-in-Chief at Vogue Italy, Head of Vogue Talents, International Brand Ambassador at Camera Nazionale della Moda Italiana (Milano, Italy) raised a point of keeping a unique vision. The speaker explained that every designer should come up with an individual concept and stay true to it, promoting it in his or her collections. This is what Vogue Talents does and that is why it is valuable to up-and-coming designers – this platform supports and promotes committed emerging brands.

Yurate Gurauskaite, Editor-in-Chief of InStyle Russia (Moscow, Russia) tipped emerging designers about the media – she said that having personal contacts with an editor's office is a good idea. An emerging designer has to visually represent the product, to offer an up-to-date vision. And today there are enough platforms to do it. A team of associates will be an advantage, too – they could be photographers and stylists who know how to present garments to an editor properly. A proper communication between the brand and media is what matters.

Madonna Mur, Journalist, author of the MUR, largest fashion Telegram Channel, former Editor-in-Chief of PEOPLETALK (Moscow, Russia) shared her experience with brand promotion via Telegram. She believes that there is no need to segregate modest fashion from other trends. Modest fashion brands shall be approached as any other companies. Stigmatization should be avoided. Modest fashion shouldn't break away from the fashion market. Being more creative is a good idea. Brands should keep up with the zeitgeist, avoid hyping on critical social issues and address editors on their own. Moreover, for the sector to extend across the globe, female objectification must be abandoned. For instance, women refusing to wear revealing attires at the Olympics and other international tournaments just like stewardess giving up on tight skirts have given a zealous impulse to that.

Obeida Danhach, Publisher of Marie Claire Arabia, BURO Middle East, Haya (Dubai, UAE) regards that modest fashion shouldn't connote only Muslim people. The society has to reconsider its take on women and female clothing. Modest fashion is a lifestyle and the publisher believes that upcoming designers should think of a proper message but, what is more important, work on the quality of their clothes and the craftsmanship behind the design. According to Obeida, the modest fashion market is highly competitive, and in case the marketed product has low quality, it would be bad for the brand.

Ali Charisma, national president of Indonesian Fashion Chamber, director of Muslim Fashion Festival Indonesia (Jakarta, Indonesia) has no doubt that a brand should strive to go international. According to the expert, the first thing to do is to understand the local demand and find a place in the domestic market. After that, the president suggests that brands ask themselves if they want to go global, to see again if the product selling In Local market match with International market. The key to extending to the global market is the brand DNA matching the global demand. Ali Charisma is positive that everything depends on the target audience. No matter if a product is made in Russia, Europe or else, understanding local trends alone isn't enough – you need to see into the international ones, too. When you are up to establishing a modest fashion brand, you will have to understand its ins and outs, to know how it is different from the others. The fashion Brand with global market doesn't change much from one country to another. So, try In Local first then International.

Svetlana Alexeeva, owner of FFLD Agency, her customer list includes AKHMADULLINA, Akhmadullina Dreams, "Snezhnaya Koroleva", Laroom, and many more (Moscow, Russia) shared her vision of the PR strategy shaping in modest fashion. According to her, the top priority shall be with basic PR communication rules that are the same for all the strategies regardless of the focus area. The expert shared that working on the Middle East collection of AKHMADULLINA (Russia) they established communications that intended to reveal things Slavic and Oriental cultures of the old times had in common. Modest fashion brands can attract not only the Muslim community, and they should build up communication for a wider audience.
Salikhat Kasumova, photo model, modest fashion blogger (Makhachkala, Russia) added that designers should pay attention to the visuals. This really matters when it comes to promotion on the social media. However, it helps to remember to be unique, to know how your brand is different from the others. The photo model and the modest fashion blogger confirmed that today there is a demand for comfortable clothing. Moreover, according to Salikhat, brands should study blogs and their target audience. As soon as a blogger doesn't appreciate some of the commercials proposed or thinks them inappropriate for his or her followers, he or she rejects them.

KazanSummit organizers have taken all the necessary precautions to prevent coronavirus spreading. Rospotrebnadzor's regulations for exhibition events were followed. The sanitary protocol comprised temperature measurement at the entrances, mask wearing, sanitizer use, regular disinfection of public spaces, and more.


Hits: 9813 | Leave a comment