Designers of Moscow Fashion Week
Moscow Fashion Week took place from June 20th to June 26th, having associated hundreds of Russian brands. In 7 days, 450+ designers presented their collections at several remarkable venues of the Russian capital – in Zaryadye Park, at Exhibition of Achievements of National Economy (VDNH), at State Department Store (GUM), at Revolution Square, and Mayakovskaya Metro Station. Below, we present some of them:
June 20 (Zaryadye Park)
LUBOVI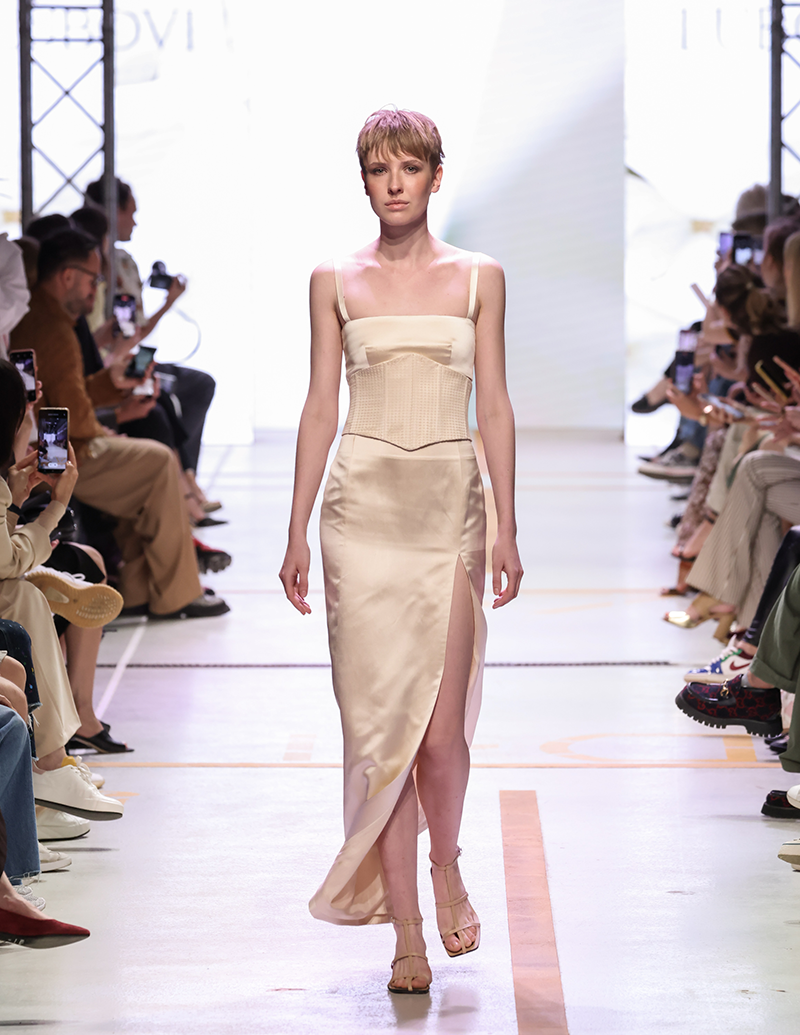 This emerging brand follows the sustainability vector. They use only natural stuff and recycled package to make clothes. At the show, the brand presented pieces from two collections at once – Convoité and Éclat de beauté. Basic colors were white, black, and light beige. Corsets, puffed sleeves, and zephyrous skirts of translucid silk organza ensured the overall romantic spirit of the collection. Besides childish tops and dresses, LUBOVI also brought basic tops and shorts of texturized recycled cotton, a minimalist A-cut dress, and laconic lapel-free jackets.
Julia Dalakian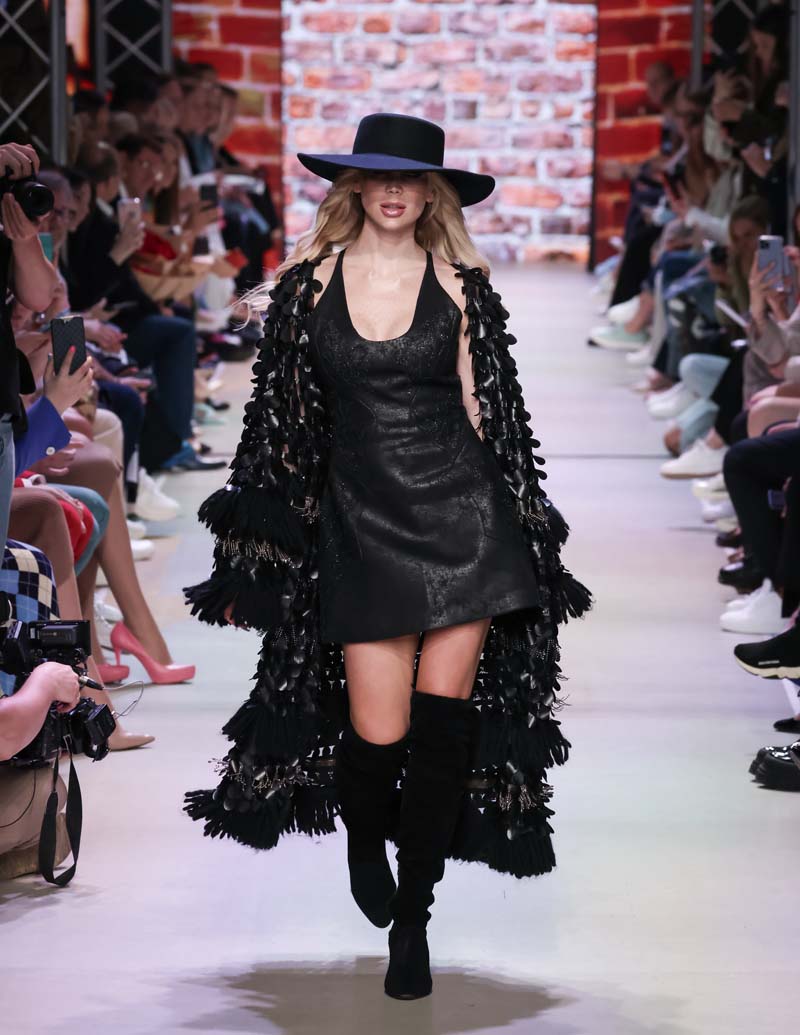 At Moscow Fashion Week, Julia Dalakian for the first time ever presented both men's and women's wear at once. The show started with a spectacular video performance and was inspired by the Rock Cafe atmosphere and was packed with popular quotes from '70s. Velvet was accompanied by smooth chiffon, leather – by fringes, and sequins – by tweed. Key models of the womenswear were leather minis and Bohemian midi and maxi volant dresses. Menswear mainly included suits, wide trousers, velvet pilot jackets with designer appliqués, as well as suit coats decorated with screen prints. The models covered the final walk in pairs, presenting trendy double looks, which emphasized the general concept of the collection even further.
IANIS CHAMALIDY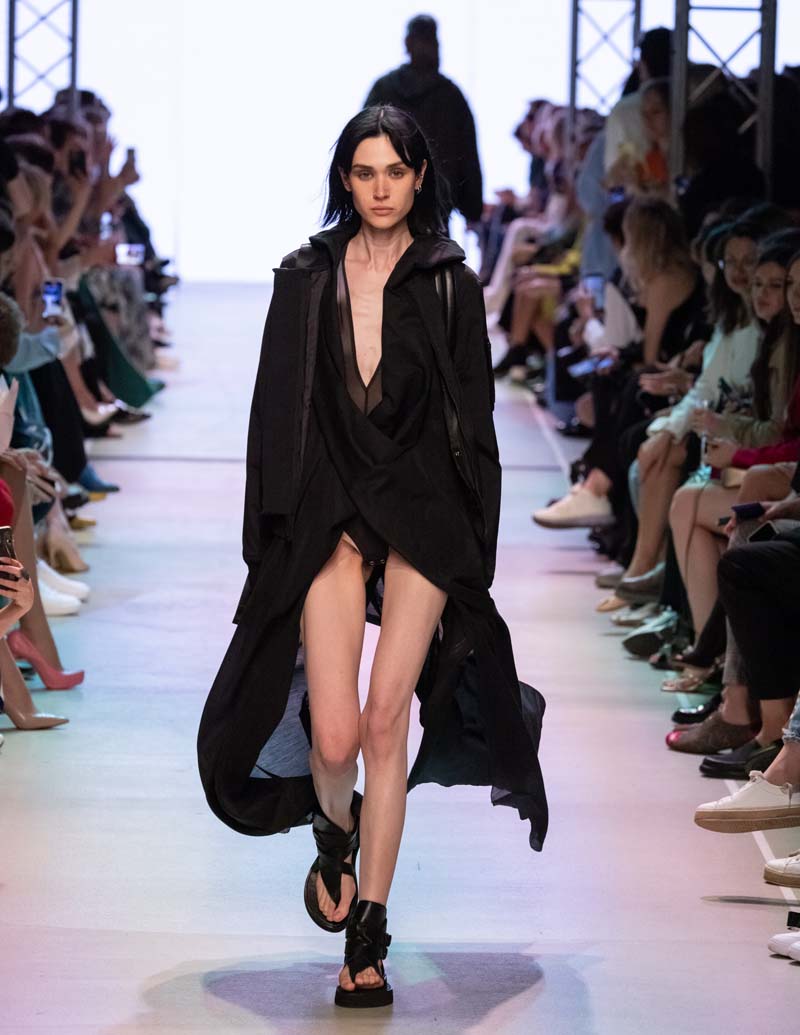 As usual, a St. Petersburg based designer Ianis Chamalidy brought a collection that was mainly black. Clothes are designed for real people, but not without a hint of Avant-garde – this is what one might say about the new DIVIDUUM collection, both austere and graphic. Both men's and women's looks were demonstrated at the catwalk. Womenswear included volant maxi dresses, wide trousers and shorts accompanied by translucid bras, trousers suits, extended jackets, and classic overcoats. Menswear comprised plain two-piece suits accompanied by semi-transparent shirts; suit coats decorated with fine chain strings; wide shorts; and irregularly cut tank tops.
DAS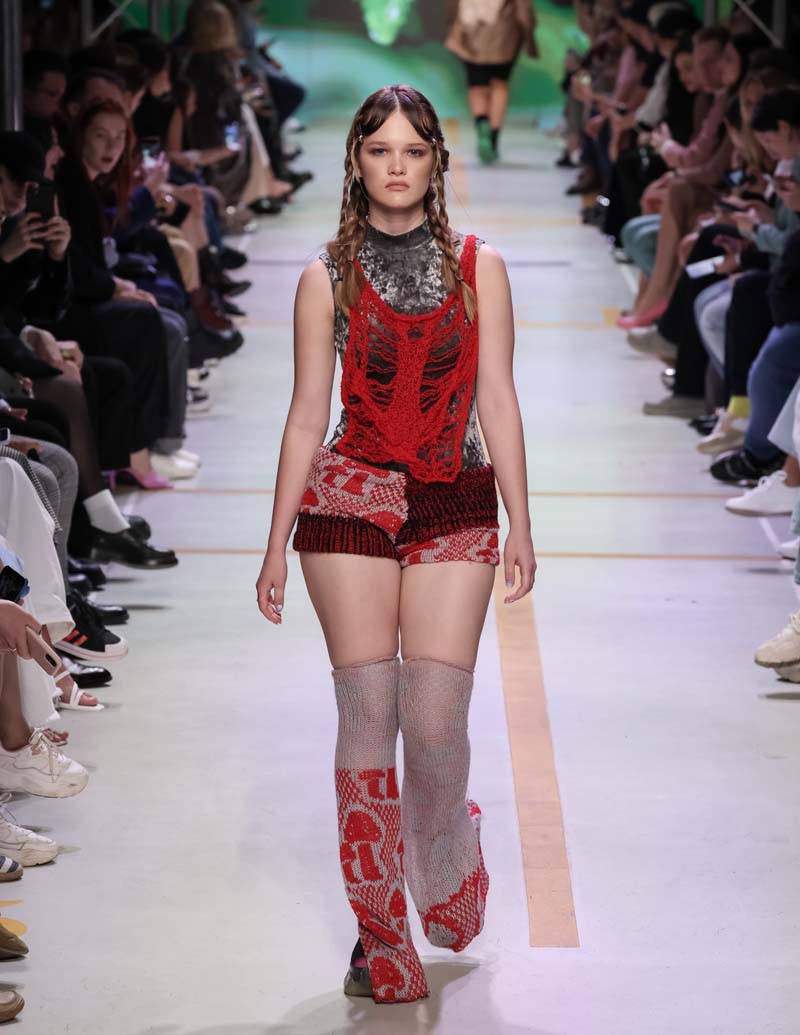 The collection by DAS was created by three designers who decided to collaborate and make an upcycle collection. The new line was inspired by the Ivan Kupala Festival and its aesthetics. Hand-knitted garments covered bodies of the models as spider webs. Some of the looks also featured jersey and leather knee-high socks. Tight gowns went great with knitted aprons, while glossy men's shirts went with jersey shirt fronts.
June 21 (Zaryadye Park)
ZA_ZA (St. Petersburg)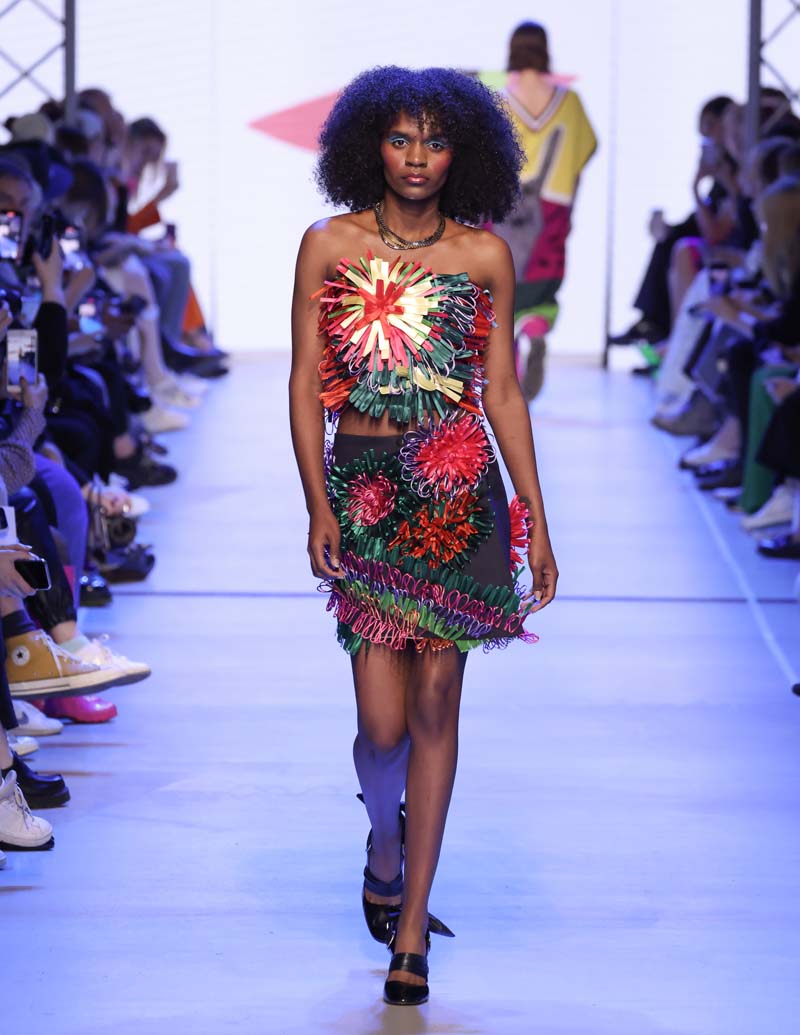 As usual, in her works brand designer Alexandra Koryakina-Nikolayeva highlighted both the shape and the color. The collection presented at Moscow Fashion Week was vivid and Avant-garde-like. The key shape for the new series was a circle. Gowns, skirts, and tops were decorated with elements that resembled tourbillons. Outer garments featured ripe blue and pink latex and PVC. The collection also included several oversize sweaters with colorful graphic prints.
Dear Passenger N. (St. Petersburg)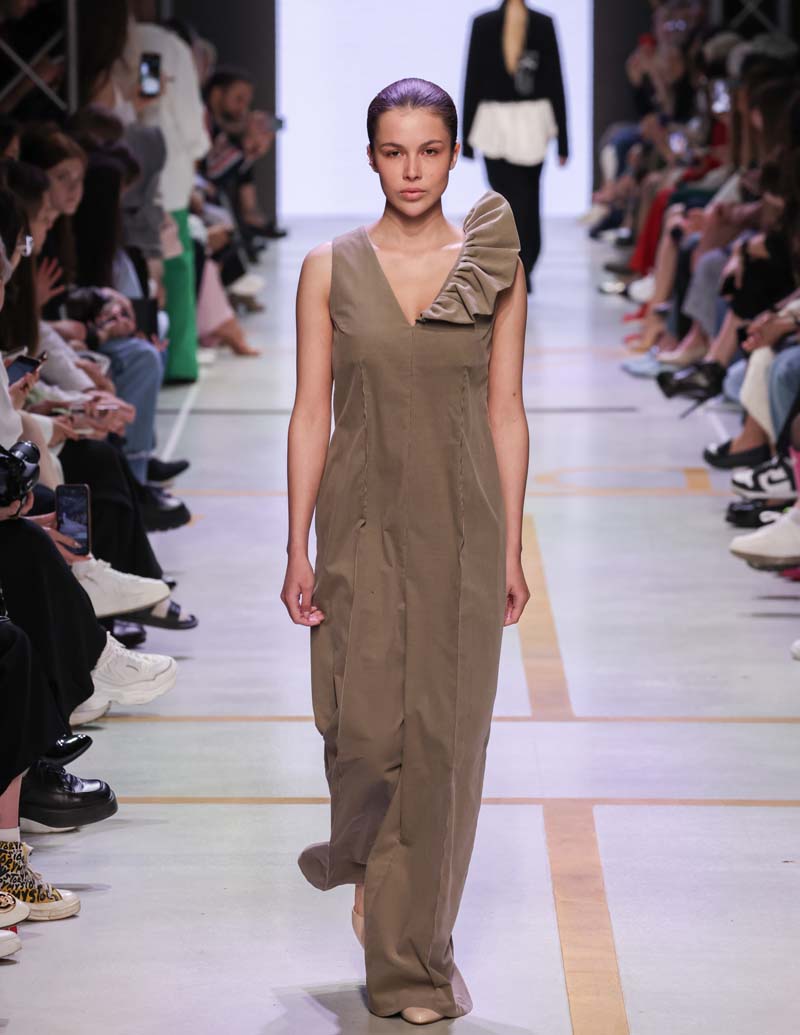 The new collection of the brand took the showgoers to the age of Rene Lalique, the jeweler. Images of jewelry pieces made by this glass designer on backs and sleeves of the garments became tickets to the time machine. Basic materials of the collection were Italian corduroy and finely radiant viscose. The catwalk was full of aery tops with draperies, asymmetrically cut blouses, corduroy suits with loose rims, wide streamy pants, and semi-tight skirts. The key accessory in most of the looks was transparent veil.
Maison Kaleidoscope
Ekaterina Kombarova, the brand designer, created a collection ablaze with symbolical patterns. Marine motives symbolized feminine energy and new beginnings, lily buds – femininity and potential unlocking. Pastel hues looked natural in kimono-like jackets, dressing gowns, jersey vests, and wide glossy pants. To make every piece even more Bohemian looking, the designer used floral prints and marabou feathers.
Maison ESVE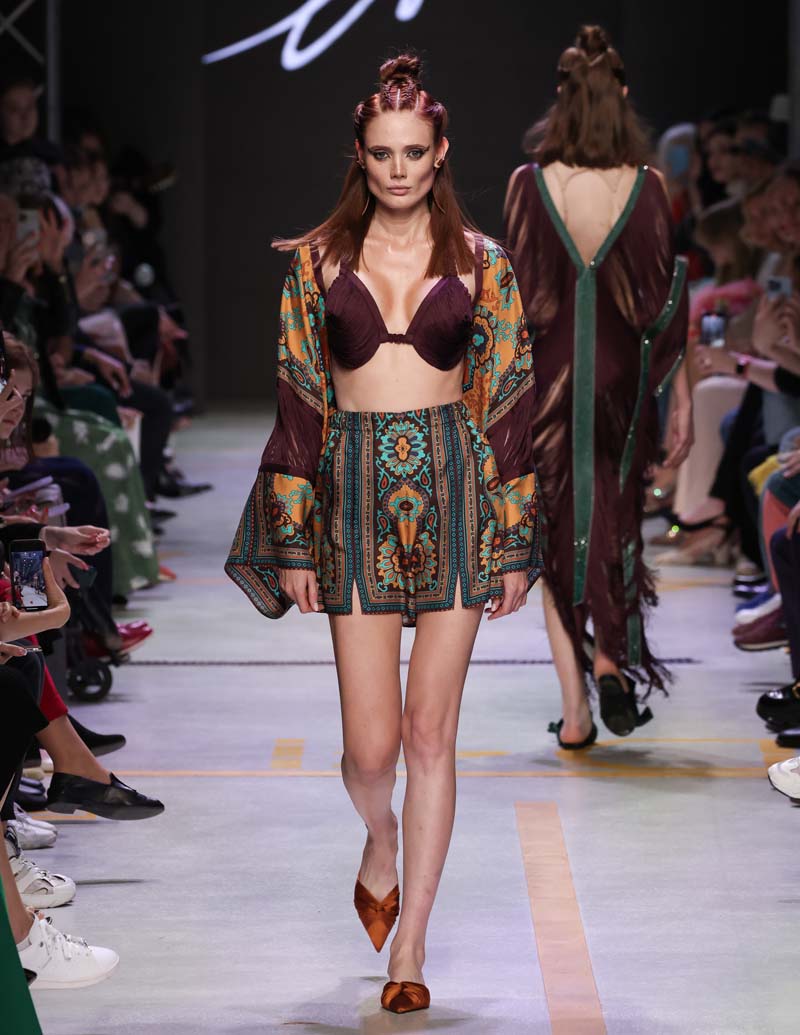 The designer duo from Maison ESVE brought to Moscow Fashion Week their Forte collection inspired by the Maya Civilization and its aesthetics. Endless rouches, finest lace, multi-layer skirts, asymmetric cuts, long fringes, nets with crystals, ethnic motives, soft metallic, large sequins, and zephyrous fabrics – all of these helped the designed to present each of the three epochs of the ancient civilization. Looks were extended with fringed clutches, fermails, and lacy strapped leggins.
BÜRO UNIQUE x Gala Borzova (Samara)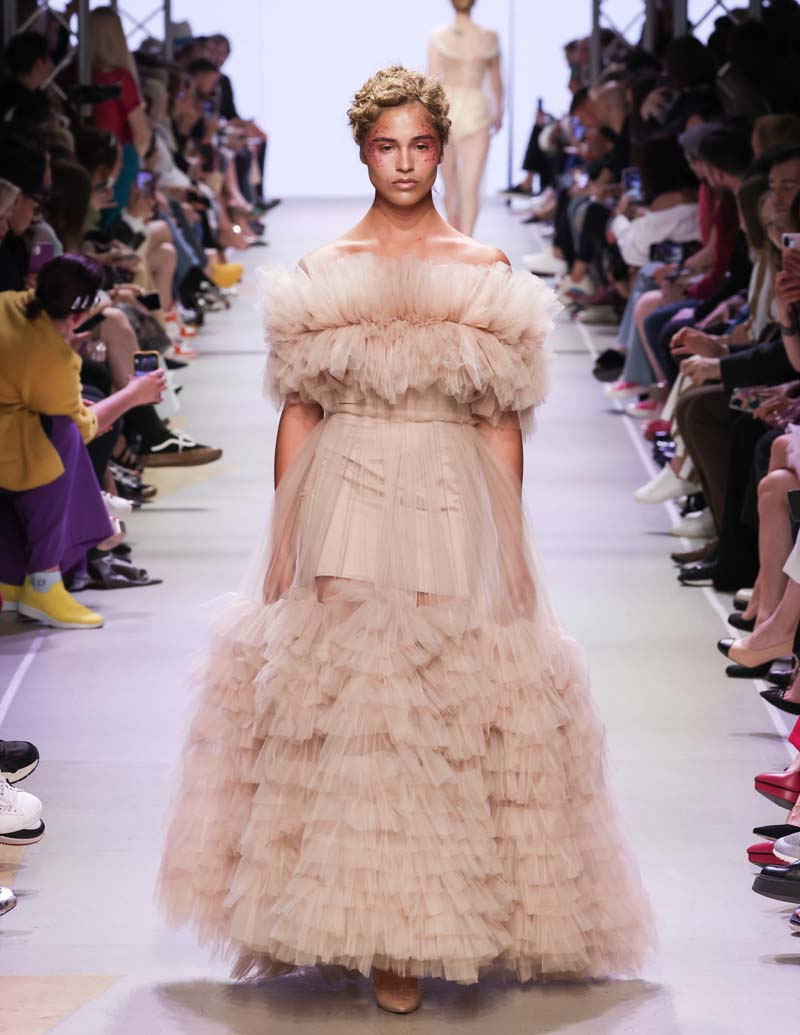 The brand presented its Spring Summer 2023 collection designed in collaboration with stylist Gala Borzova. The alpha material of the new line is airy veiling, which was used to create gowns with tier-like and multilayer skirts, romantic blouses with rouches and extensive sleeves, as well as mantles with ruff collars. Tinsel, nets, marabou feathers, and other sophisticated materials made a suitable set with it. Besides midi party looks, the collection also featured cocktail jacket dresses, tops, and shorts. This is a story of friendship and collaboration between gifted designer Alyona and top stylist Gala. Light veiling and nets, complex textures, unconventional cuts, and tinsel – this is how the new collection by BÜRO UNIQUE X Gala Borzova can be described in short. Crazy Couture – this is what it is.
June 22 (Zaryadye Park)
SHOCKING AFTERTASTE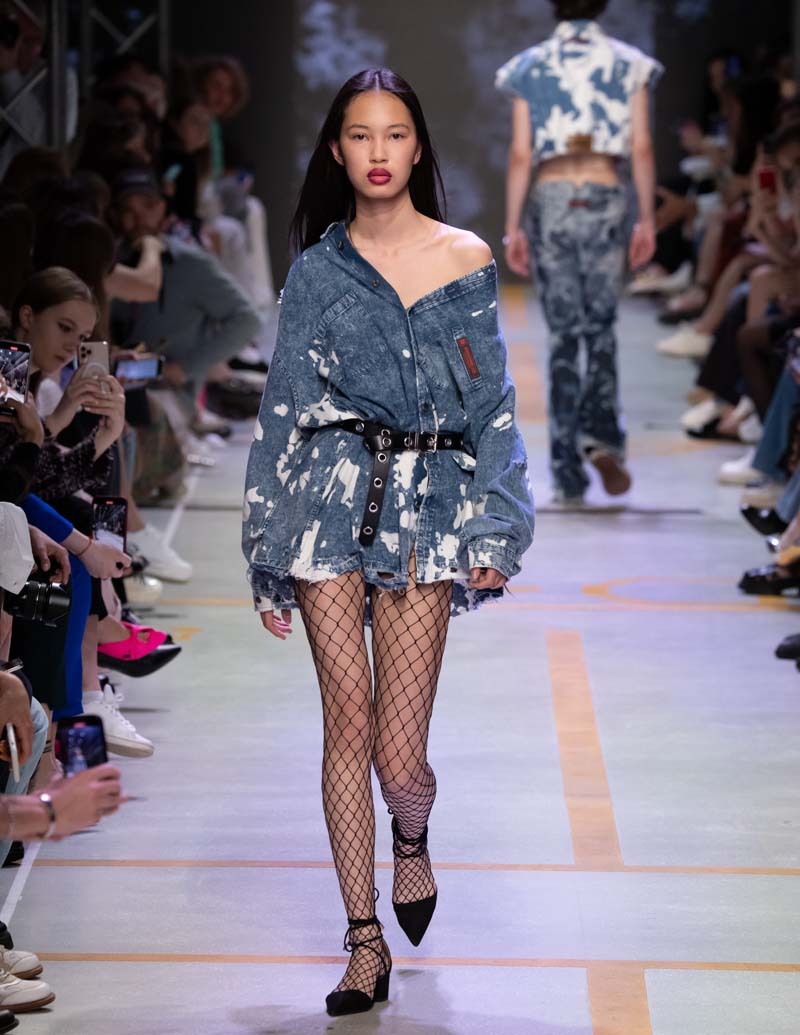 For 4 years in a row, Moscow-based designer Kostya Skorokhodov has been experimenting with customization. This was what led him to establishing his SHOCKING AFTERTASTE brand in 2020. Many show business people appreciated his bold solutions, including Egor Kreed, AllJ, Nyusha, Dima Bilan, Smokey Mo, Kizary, Mary Gu, Gosha Kartsev, Dina Sayeva, Maryana Ro, and many more. This season, Kostya presented his Reworked collection of 50 handmade men's and women's pieces. The collection seems to refer to cowboys and grunge punk music of the noughties. The range of colors covered many blends – from soft blue to classic punk-style pink and black. Every piece was unique thanks to upcycling, unusual tie-dye use, handmade stonewashing and etching. The trendy looks featured cargo pants, low waist jeans, crop tops, and oversize jackets.
ZUHAT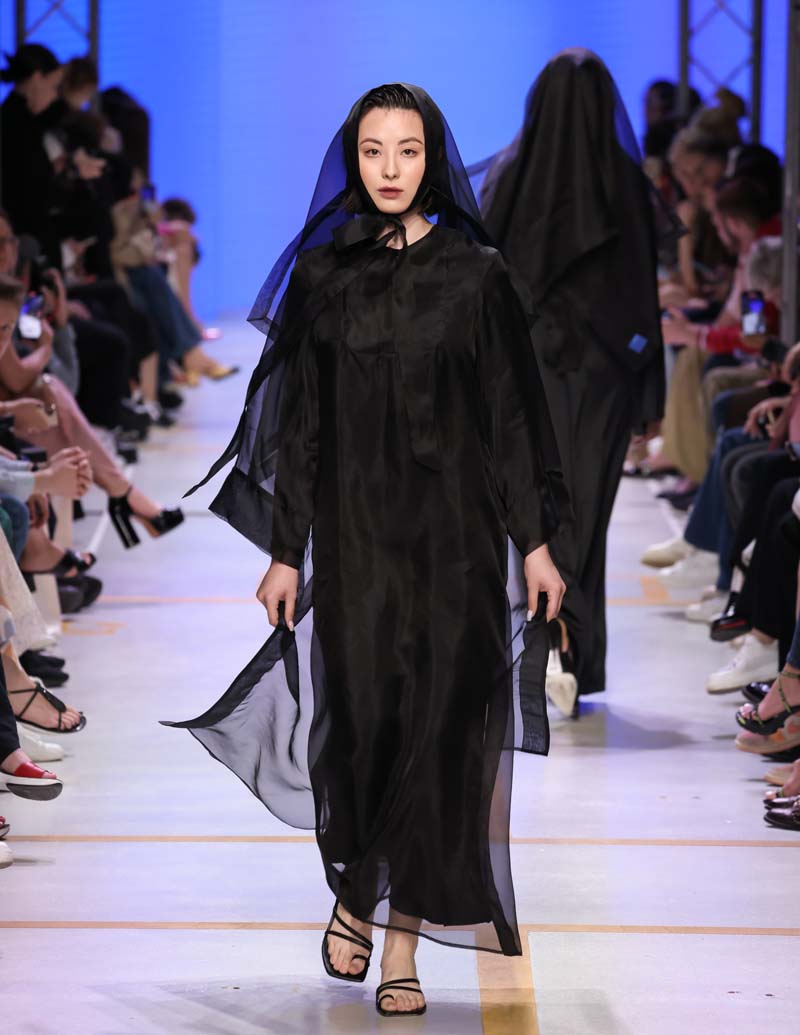 This emerging brand led by designer Zuhat Asekova adheres to modest fashion guidelines. The designer makes garments that cover the bodies all over but for hands and facial contours. At the same time, many models feature functional and well-considered solutions that can be used as independent combinations and long-sleeve dresses. This season, the collection was a new take on the cultural heritage – it seemed to refer to Vietnamese high slit tunics, Japanese kimonos, and Caucasian traditional garments that inherit Asian motives thanks to geographical proximity. Deconstruction-like elements combined with traditional keynotes was the designer's meditation about contemporaneity and old times connected. Pinafore dresses with fine shoulder straps were presented worn over dresses, skirts were cut from altered pants, blouses and so many more elements featured silk organza. The choice of monochrome hues, metallic gloss, laconic elements like stripes or bows emphasized that modesty can be attractive.
Arctic Explorer Russian North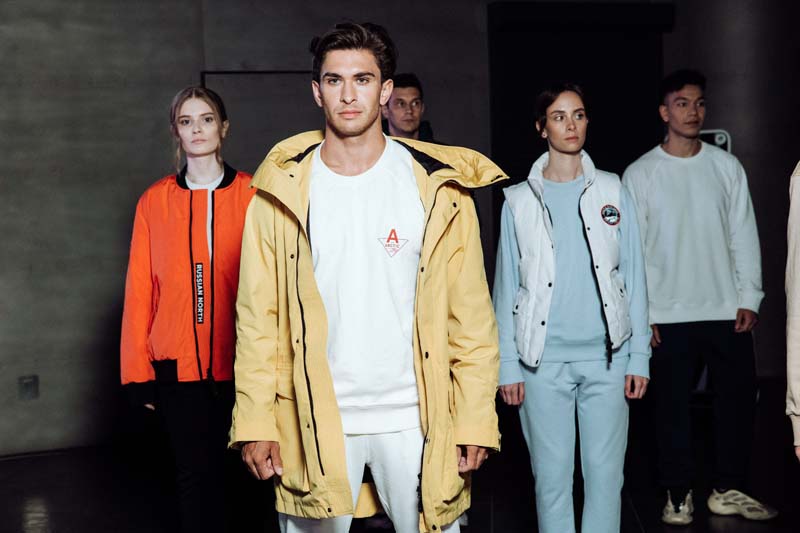 The Ice Cavern of Zaryadye Park hosted Arctic Explorer Russian North presentation – a unique blend of high tech designs for practical outwear. Every new season, Arctic Explorer uses all the practical experience to create a collection, featuring top quality, well-considered elements, premium segment fittings, eco-friendly materials, and all-consuming passion for bold creative experiments that all AERN makers share.
KISSELENKO (St. Petersburg)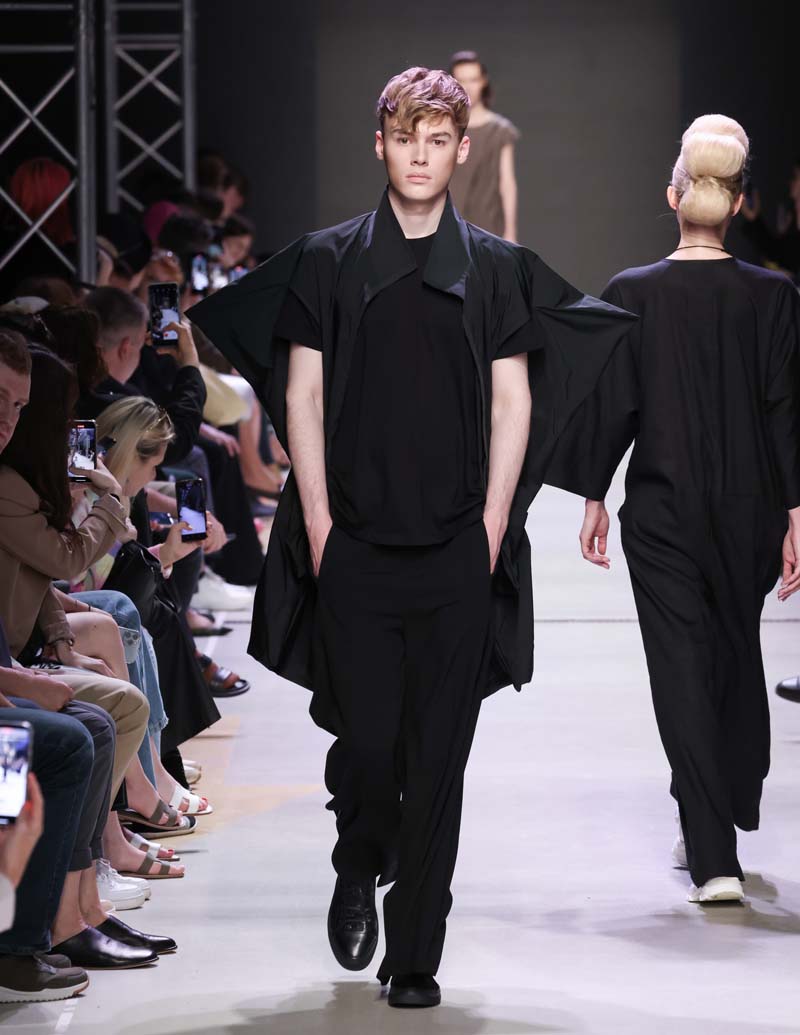 Garments by St. Petersburg based Lilia Kiselenko is quite remarkable, and her new collection brought to Moscow Fashion Week didn't make an exclusion. The minimalistic at first glance, cuts refer to traditional wear. Androgyne models would suit both by men and women – tunic dresses, trench coats, and extensive one-suiters. The color palette was quite tranquil, mostly made of black with rare white and khaki inclusions. Straight lines took turns with highlights – exaggerated extensive dresses and belts, demonstrating a game of proportions. The most striking pieces were cardigans – transparent black and lace, which looked great both in men's and women's looks.
Loom by Rodina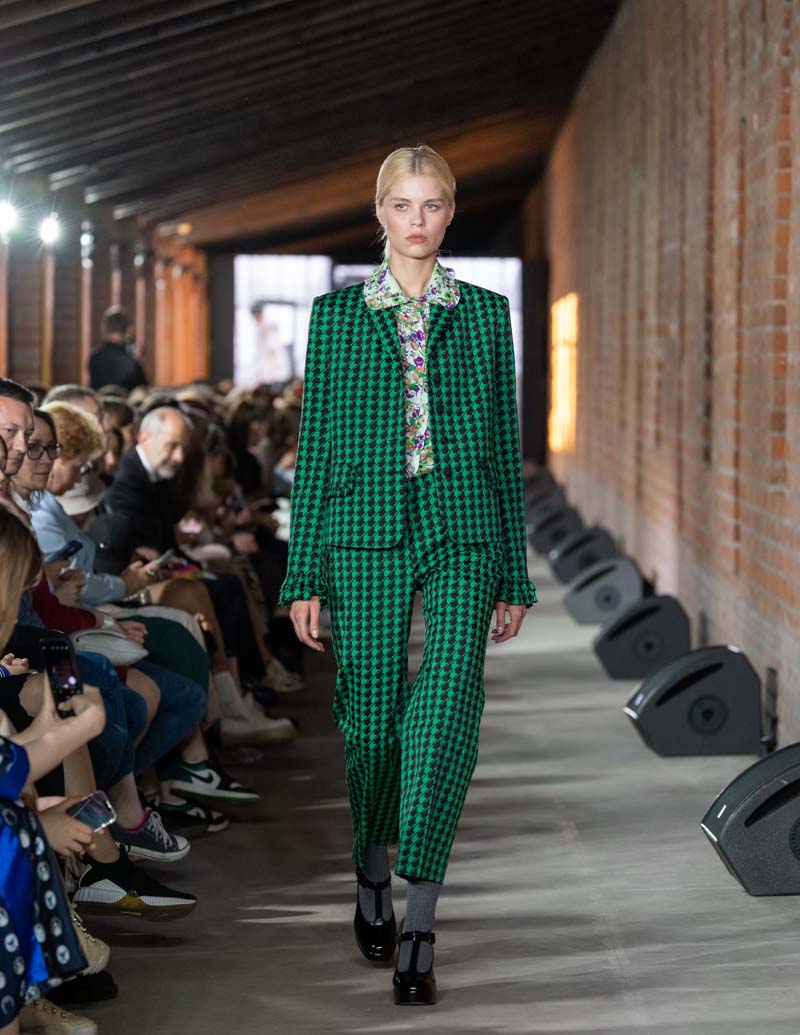 In her new collection Alice behind the Looking Glass Svetlana Rodina, the brand designer, parlayed fabrics – combinations of colors and prints. For the first time in her practice, she used vividly colored silk – orange and lilac, blue and neon yellow. Just like Alice found reality different behind the Looking Glass, the traditional slip garments got transformed thanks to floral and animalistic prints. At Moscow Fashion Week, the designer also demonstrated trouser two-piece suits. The most remarkable looks were soft pink one with a single-breasted jacket, and a black and green dogtooth set. Several experts were engaged to produce the collection. Thus, artist Olga Shurygina helped with the drawing concept. Collaboration with Kholuy lacquer miniatures – one of the Russian crafts – inspired Svetlana to create unique brooches for the collection. An art stitcher was engaged to make a quilted two-way jacket. Lace that was used to grace dresses and jackets was a traditional inherent element of the collection, the brand's carte-de-visite.
TANYA KOTEGOVA (St. Petersburg)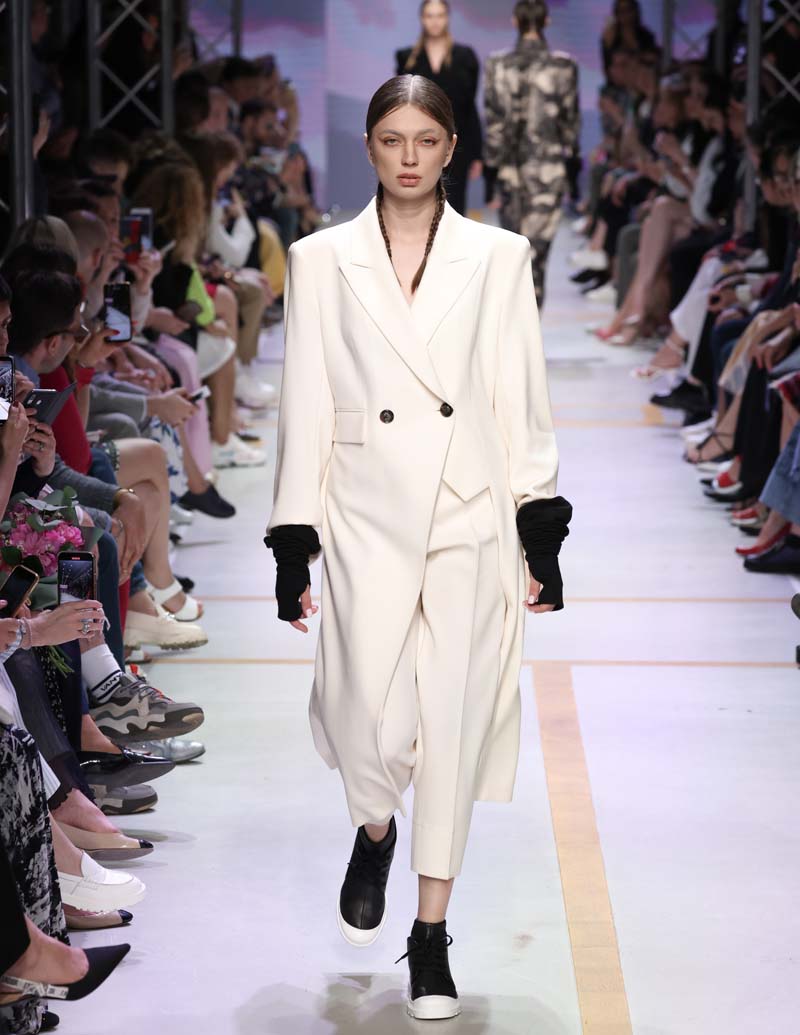 The basic concept of the new collection by TANYA KOTEGOVA was reconsideration of femininity and freedom This was seen in shapes and textures as well as the color – mainly black. Going beyond female beauty traditions and stereotypes, the designer took effort to comprehensively reconsider a jacket. Classic tail coats with avant-garde trimmings and romantic elements went perfectly natural with sportswear – this was a blend of things incongruous and a mix of things opposite. Extensive silhouettes, lots of layers, total black look, cold greys and warm caramels were accompanied by cool dark chocolate highlights and vivid prints. Loose dresses with assymetrical details featured volants, sophisticated sleeves, or different length rims. The collection is easy to rank among new aesthetic smart fashion free of narrow mindness.
VANYA VANIN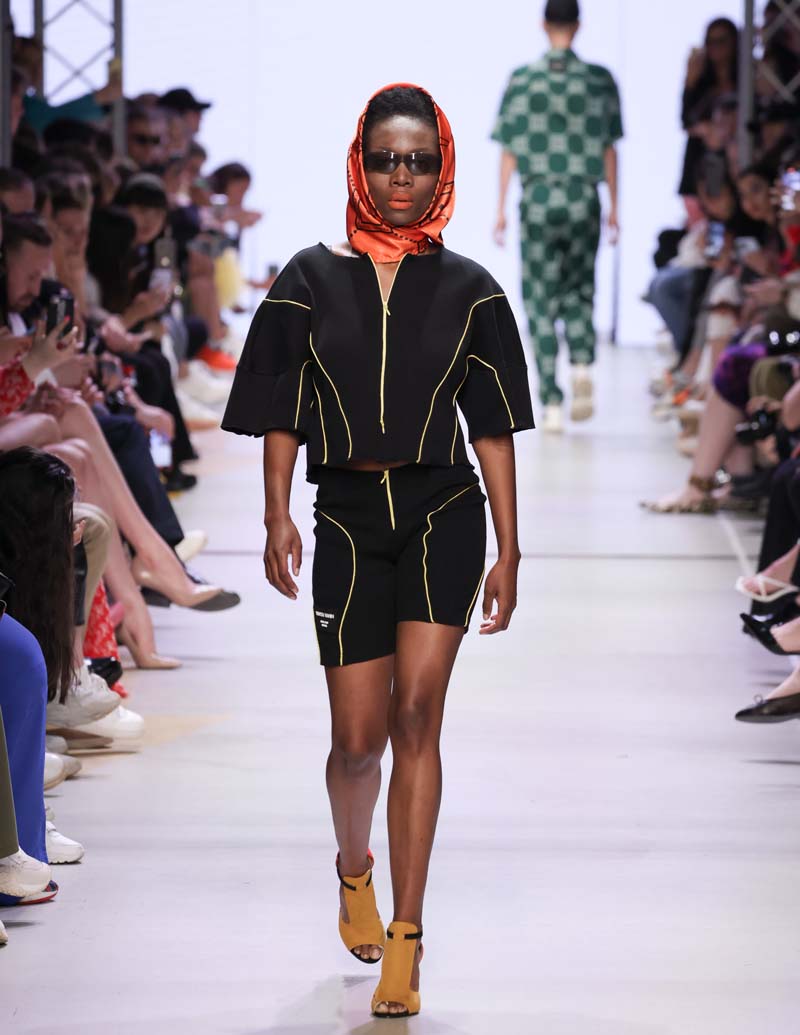 Renewal 2.0 is the second big collection by the brand. Its name features the brand's development vector, and the designer's mood, too. The garments were mainly sportswear although not lacking some sexiness. At the same time, most of the looks were designed as unisex ones. The designer parlayed jersey, and this collection comprised slim silhouettes which laid emphasis on body contours. Men's and women's bicycle shorts with contrasting inserts were accompanied by all kinds of outerwear with vivid structural and decorative elements. Sportswear was presented along with classic models like oversize jackets, blouses, and pants. Basic colors were white, black, and grey, although flared up with bright tints of yellow, green, blue, orange, and lilac. Minimalist embroidery, prints with logotypes, rubber-boated fitting – all of these made perfect decorations. Accessories are also worth noting – logotyped kerchiefs, embroidered caps, and designer jewelry. The show was accompanied by a sound track specially designed for the presentation. The clothes were offered for sale right after the show – see now, buy now.
June 23 (Zaryadye Park)
DISOBEDIENCE (St. Petersburg)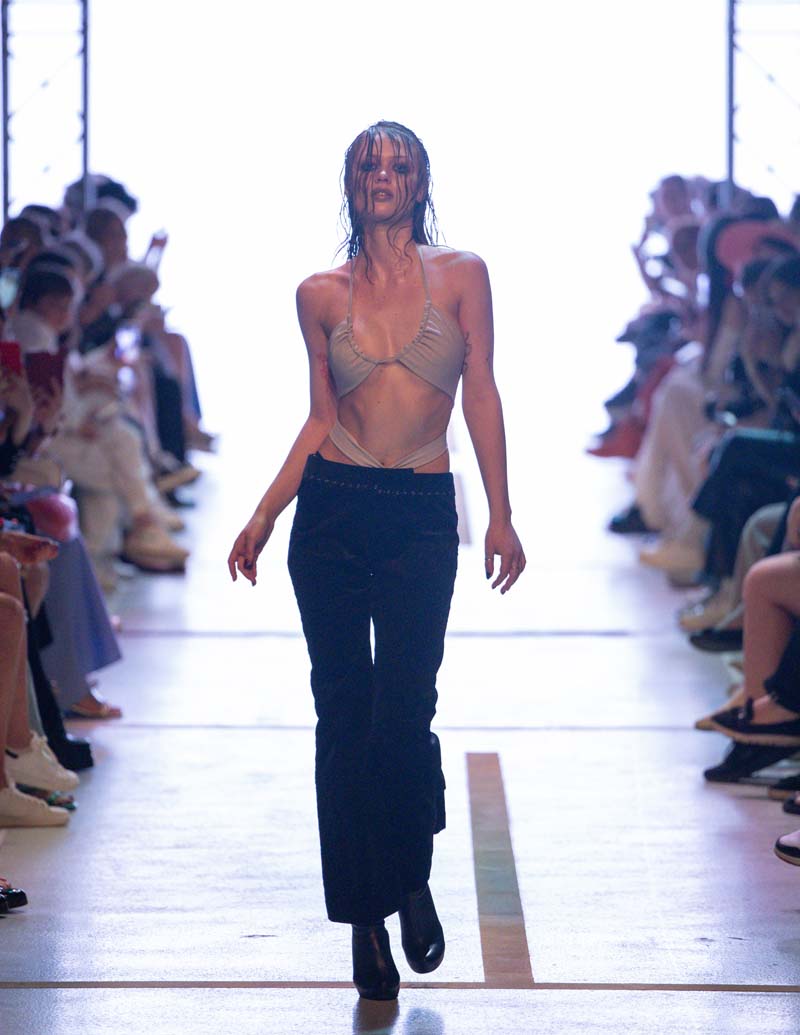 Another emerging brand from the capital of the North brought its collection to the catwalk at Zaryadye Park. This was something of a show that started with dancing and ended with it, too. Models walked down the catwalk to dynamic music, presenting men's and women's outwear – hoodies, T-shirts with timely inscriptions and prints, cargo pants, bomber jackets, and open shoulder dresses. The color palette featured black and khaki. Playing with shapes, texture, and decorations, the designer managed to create hooliganish sets, featuring punk and streetwear aesthetics.
BITTE_RUHE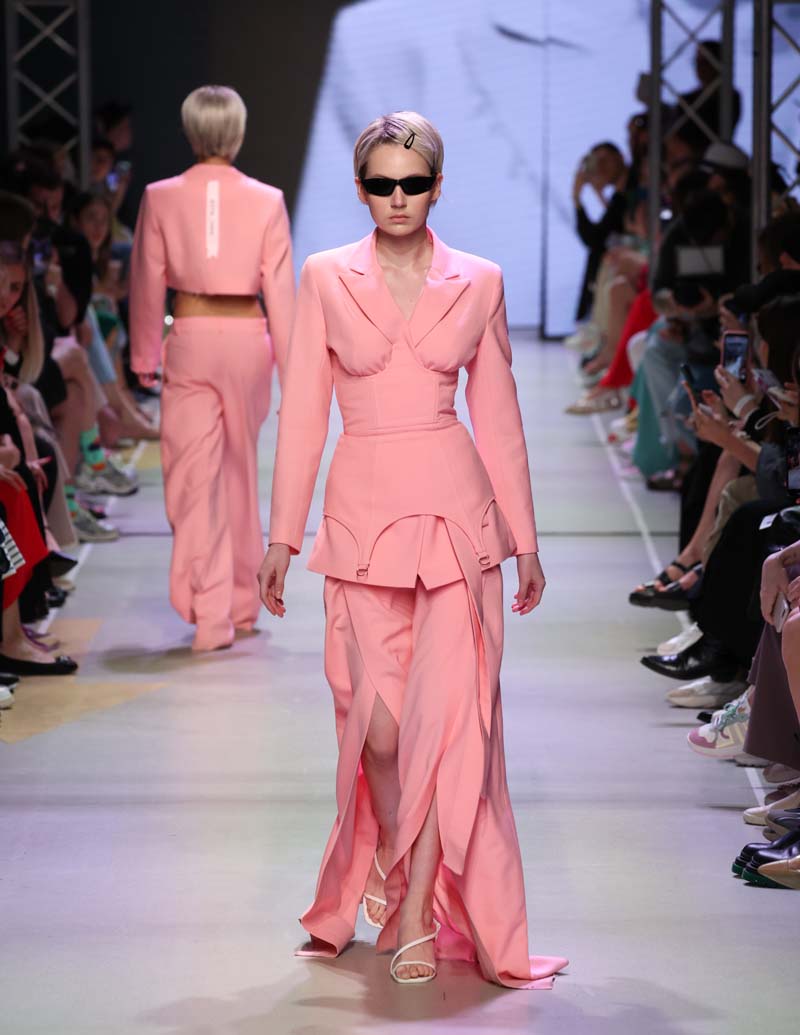 One of the top objectives for the brand is to raise awareness about reasonable consumption and slow fashion guidelines. The brand doesn't make new collections as some system – they just add some models to their existing range. Their garments are a blend of references to all sides of the world, as well as Renaissance and the 70s. This is how designer Xenia Kudryashova feels – she believes creation can't stay within boundaries of a single topic. Despite many kinds of textures, shapes, and colors, the show had a common denominator – comfortable feminine looks for a modern woman. Sweatshirts with highlighted bust line, one-suiters with contrasting waist, quilted dresses and corsets – all of them were loose and yet feminine.
AKHMADULLINA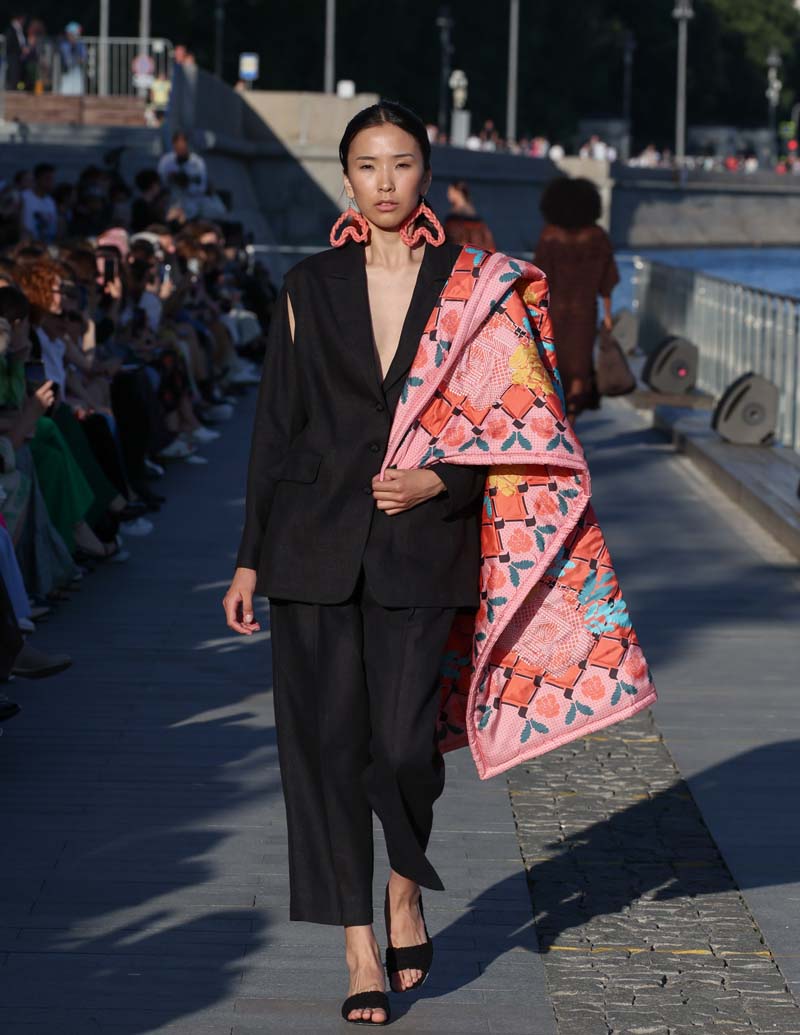 AKHMADULLINA presented their special collection at Moskvoretskaya Embankment in Zaryadye Park. Alyona Akhmadullina – founder of the brand – referred to her favorite subject, the Russian costume, aiming to integrate tradition into everyday life. The designer used traditional cuts and typical decorations in her looks, but presented them at a different angle. The keynote of the collection was the traditional Russian extensiveness. Alyona hypertrophied it and presented airy silhouetted with somber pastel hues and caramel-colored embroidery. Floral motives from old times were arranged in pixels and made with a contemporary method – 3D embroidery with one-colored thread. Extensiveness was accompanied by quilting and stitching – in quilted jackets, suits, and fur coats. Besides, the collection comprised many warm knitted garments. The more models walked down the catwalk, the more vivid the colors got. Every look was extended with the usual braids and kokoshniks in pertinent pink.
STUDIO 29
Top View collection by the Moscow-based STUDIO 29 was inspired by landscapes observed from an airplane's window. Designer Tanya Fomicheva reconsidered mosaic landscapes, tree tops, thick mountains and hills, fine lines of villages and cities, and curved rivers. All of these were recognizable in the new womenswear collection – vivid colors, bold textures, fittings, structural lines, and silhouettes. Monochromic and chequered overcoats referred to endless natural landscapes. Trouser suits and longsleeves all in curved lines entwined the models' bodies as river beds. Striped jersey made show goers think of the horizon. All the looks were accompanied with thoroughly chosen accessories – hats, scarves, and bonnets. For the first time ever, the brand made a bag – it was coat fabric of three colors, popular during this season. The collection presented at Moscow Fashion Week will be available for the buyers starting with August 1.
VESTIAIRE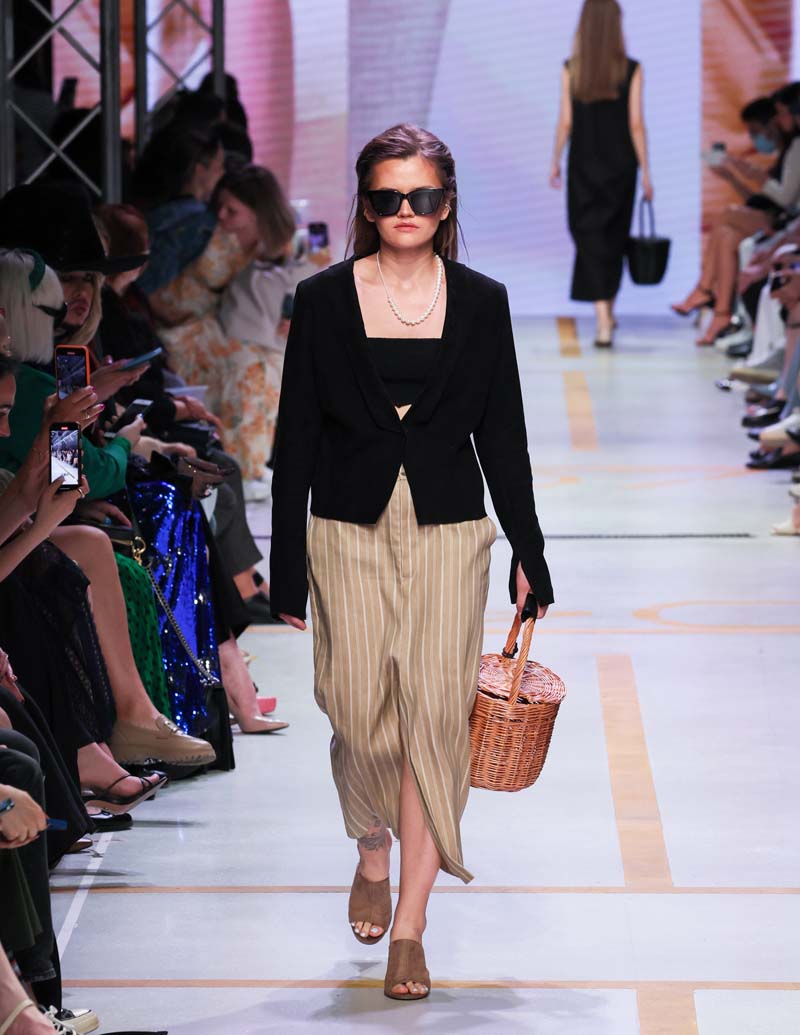 The brand was established in Paris in 2014, and they see their mission in making basic out-of-time garments. Their new collection Everyday Couture refers to specific luxury of hallmark models from 50s and 60s, to their architectural Monumentalism, and sophisticated cuts. At the same time, the new looks are adjusted to today's rhythm, when women need to be both comfortable and mainstream no matter what. Sportive pants are draped with water repellent taffeta, light tops feature jacquard, and sweatshirts are noble crepe. Complex textures and noble hues – nude, vanilla, beige, and black – became the keynotes of the collection.
White Crow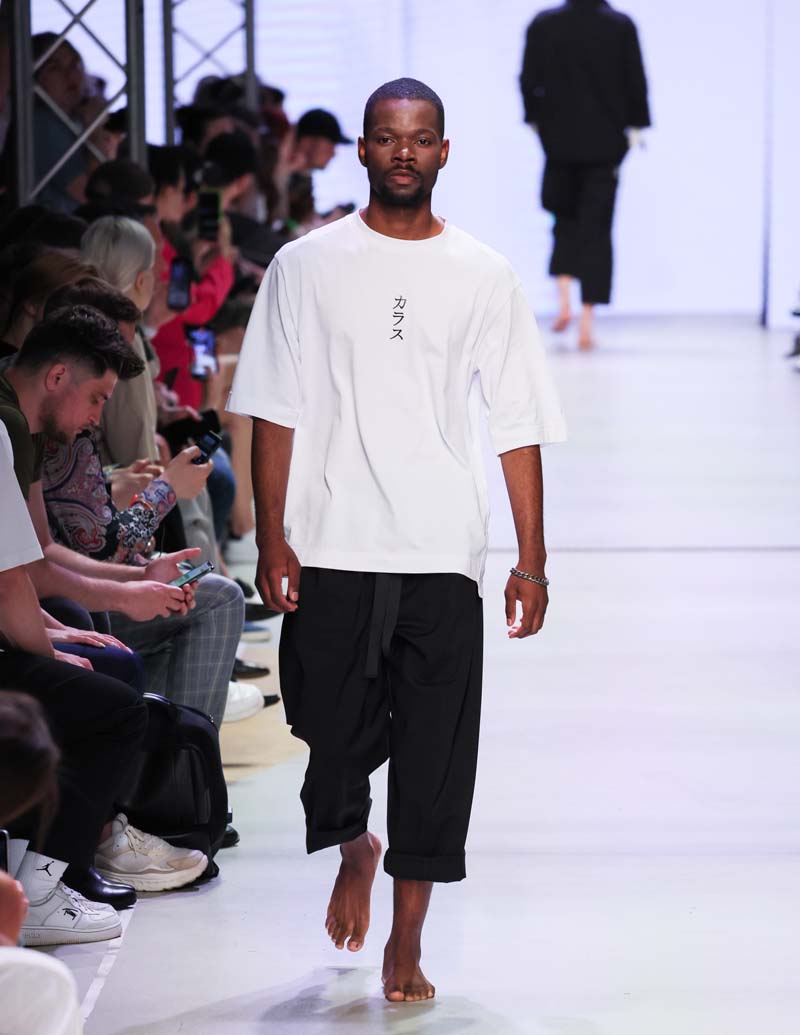 Day 4 of Moscow Fashion Week was closed by the Moscow-based brand White Crow, a follower of Japanese aesthetics. Their show took place in Zaryadye Park. Typical features of the brand are minimalism, simple shapes, lines, laconic colors and textures. Designers Nata and Anton state their motto as follows – Staying at the moment, be here and now. Comfort is in the first place – clothes should be practical. This men's and women's wear collection posted uniqueness through poligonal print design and thoroughly selected fittings. Overcoats, trenches, black and white T-shirts, cropped pants – none of these looked boring thanks to the game of shapes and proportions. Another feature of White Crow is care about the customer: they thoroughly test all their garments before putting them on sale.
June 24 (Zaryadye Park)
1377 (Volgograd)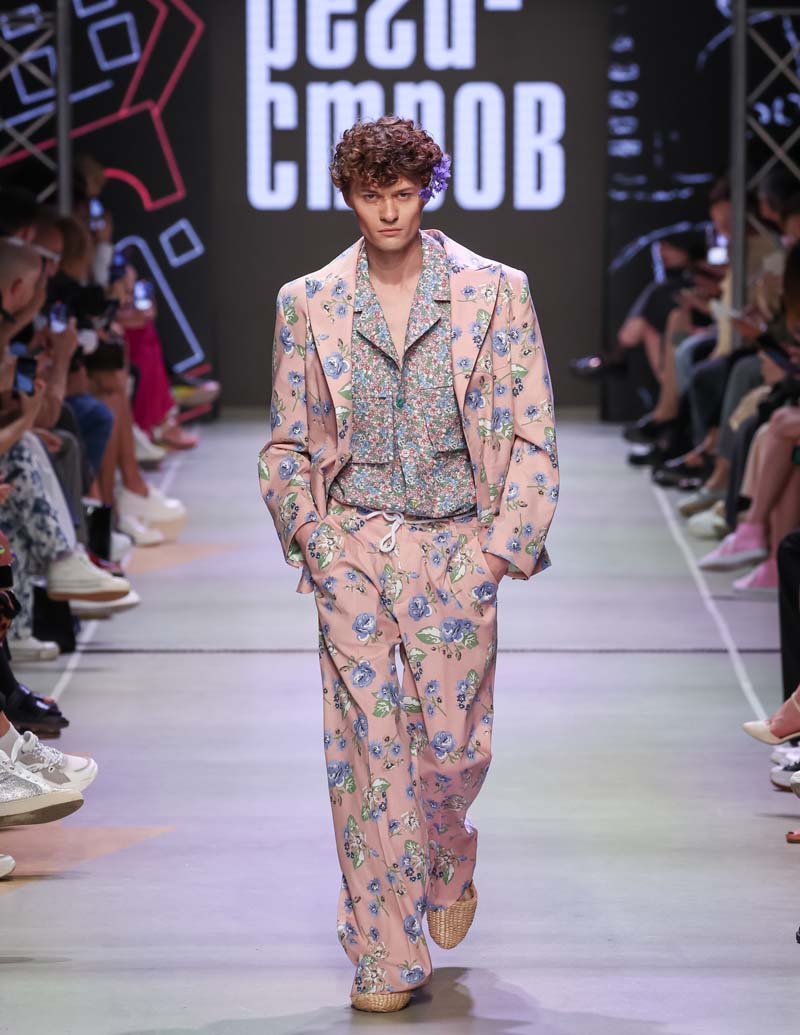 13 Registers collection was inspired by accordion bellows. This concept was implemented in visuals of all the garments on the new line, and was also integrated into some details. Models walked down the catwalk in men's and women's suits featuring floral motives, shirts with slip pockets, net T-shirts, light dresses, men's vests, and one-piecers. Looks were topped by field flowers and footwear that made the audience think of straw shoes.
Measure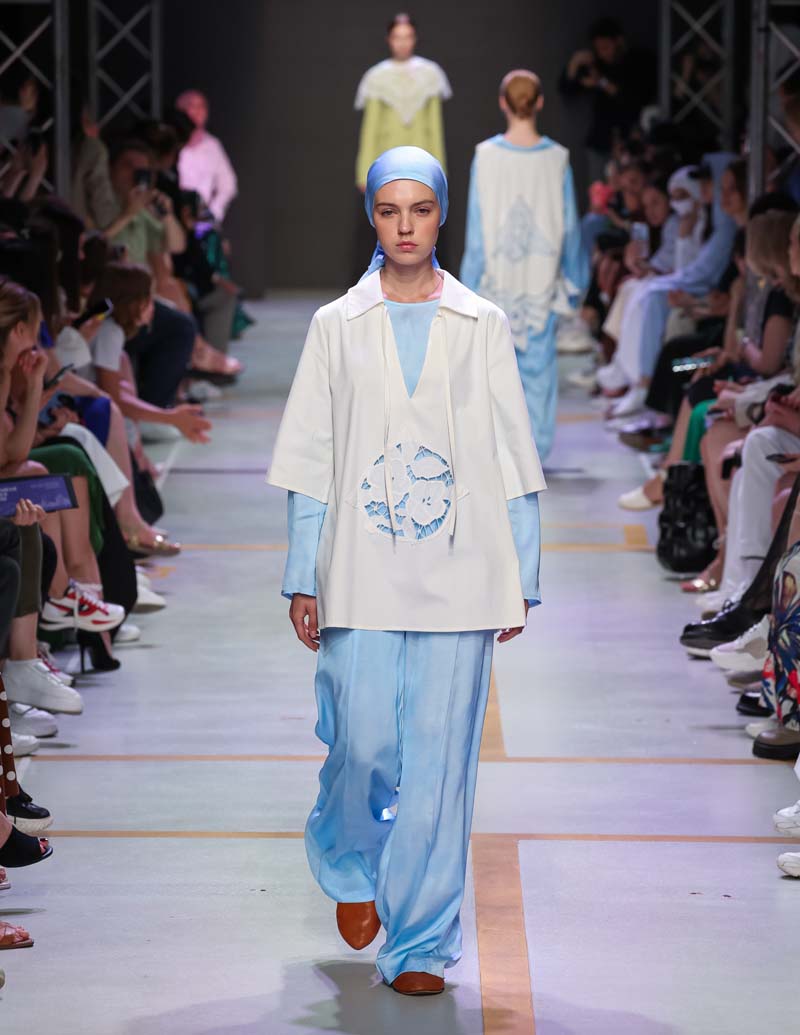 Zainab Saidulaeva, the brand designer, has always been experimenting with cultural codes in her collections. This time, she found inspiration in the cultural heritage of Dagestan and Russian peasantry traditions, demonstrated in Richelieu embroidery. The color palette of the collection comprised cream and pastel hues, and trouser suits, flowing maxi skirts and jackets were accompanied by a reconsidered traditional shepherd's cloak from Dagestan. The keynotes of the collection were embroidered pieces – all of them were based on vintage napkins and thus were unique. The most common accessory used in the collection was balaclava.
Gerda Irene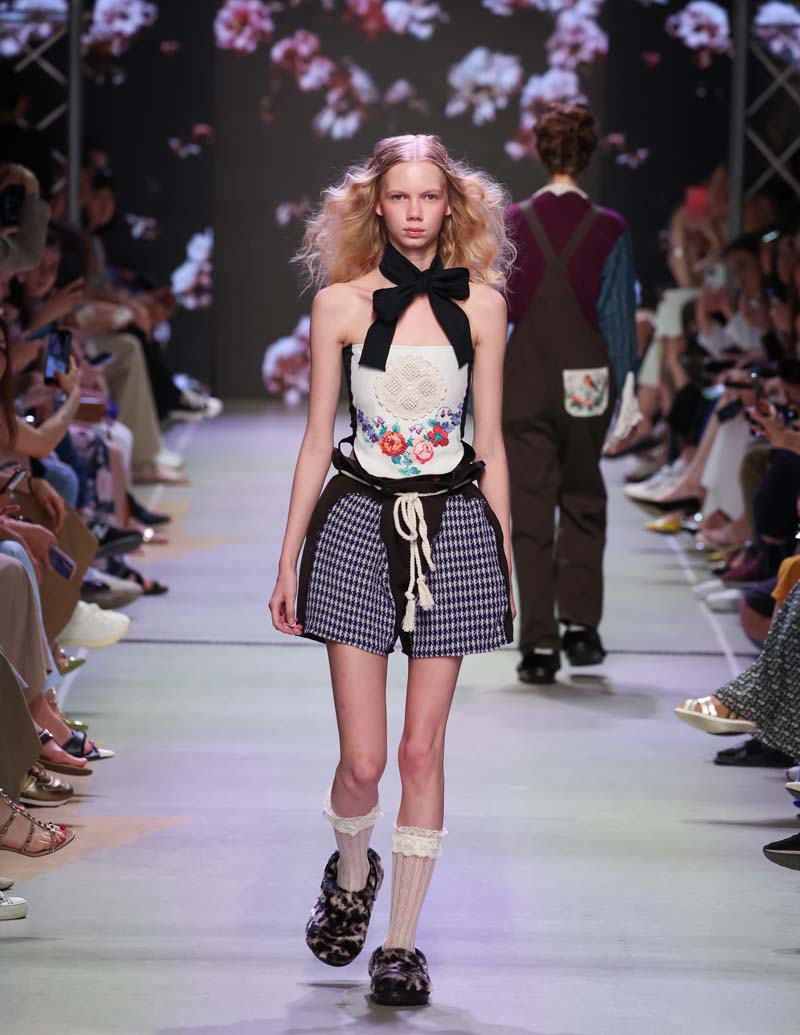 Working on her new collection, designer Irina Gerda was encouraged by the Age of Rococo and aesthetics of the 70s. Both women's and men's looks were based on corsets tailored in compliance with the 18th century's molds. Every piece in the collection, either garments or accessories, was made from pieces found at secondhand stores and garage sales, as well as vintage lace and other unique objects. The new upcycle collection featured coats, shirts, skirts, jeans, dresses, pants, and jackets – all of them patchwork.
VICTORIA ANDREYANOVA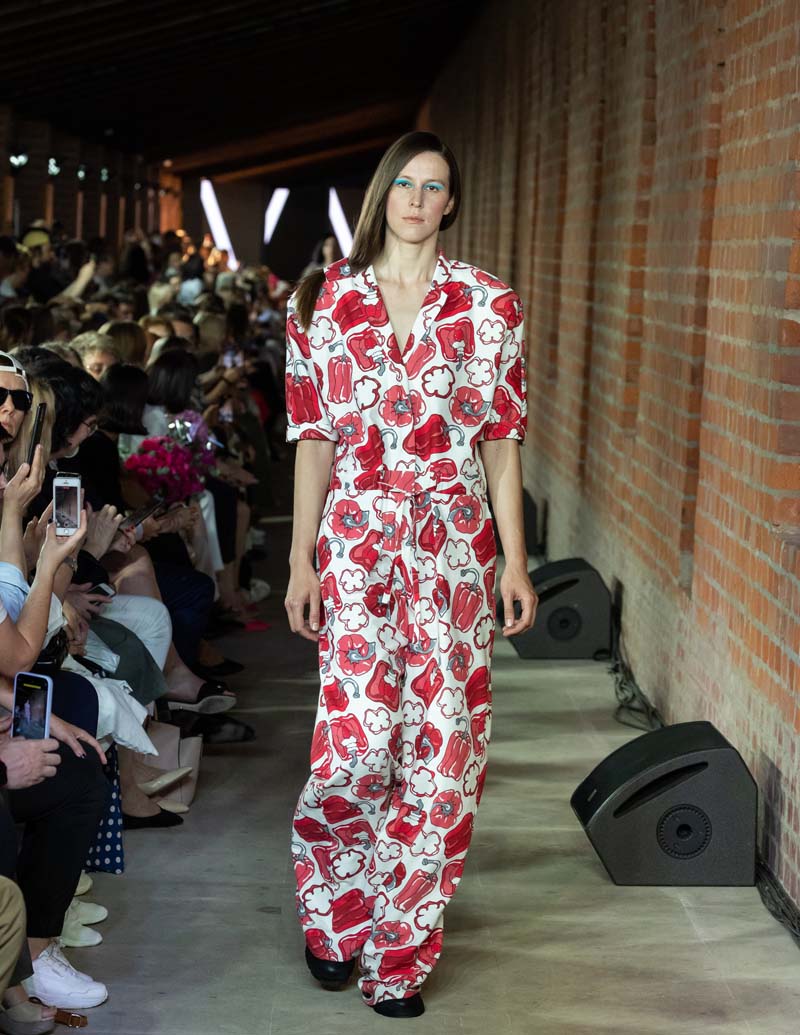 The new collection by Victoria Andreyanova was designed in collaboration with Shuysky Chintz, a major cotton producer with 200 years of history. Loose silhouettes, vivid prints, bright colors with touches of clear white – these were the keynotes of the new collection. Models walked down the catwalk demonstrating maxi dresses and oversize shirts, suits with belted jackets and widelegs, as well as short and long overcoats.
Sasha Gapanovich (Murmansk)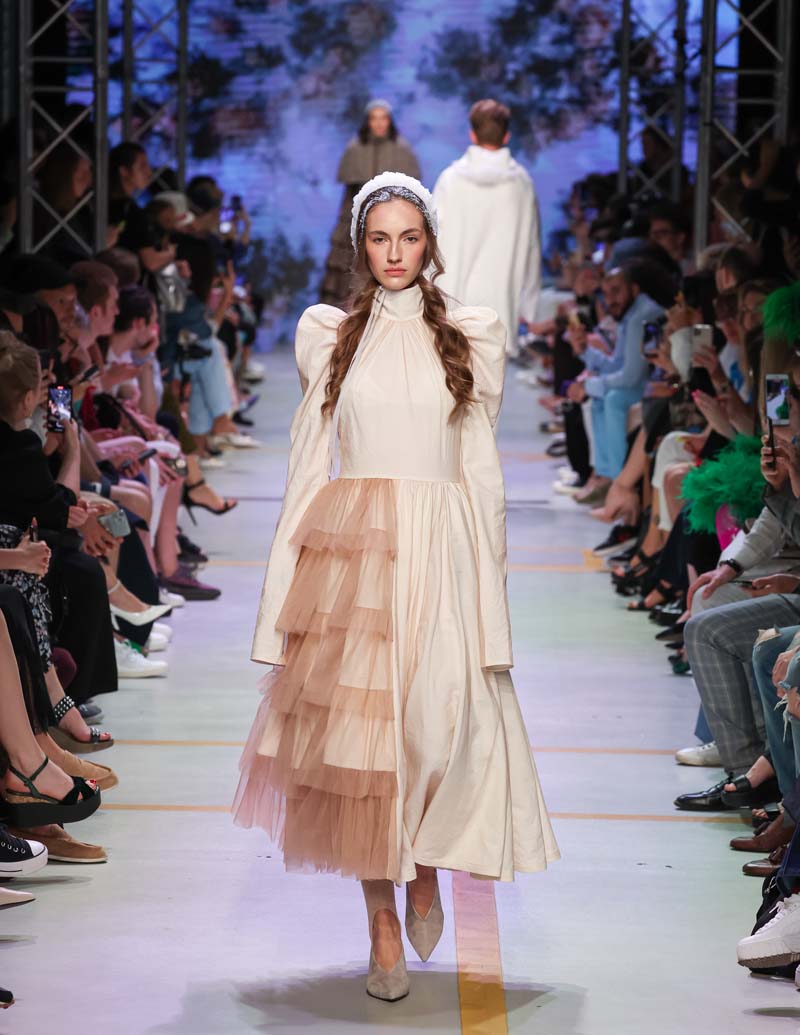 Sasha Gapanovich, the brand designer, presented her collection Unity, full of reminiscence about simple things and sincere feelings back from her childhood. Hand knitting, use of volumes and layers – these are the designer's distinction marks. To make the clothes look old and worn-out, Sasha used untreated seams and stone-washed cheep cotton. The collection comprised knitted pelerines, hoods, jumpers, quilted hypertrophied pieces, a down-padded vest, as well as sophisticatedly cut dresses and pants.
SHATU 1997 (Kirov)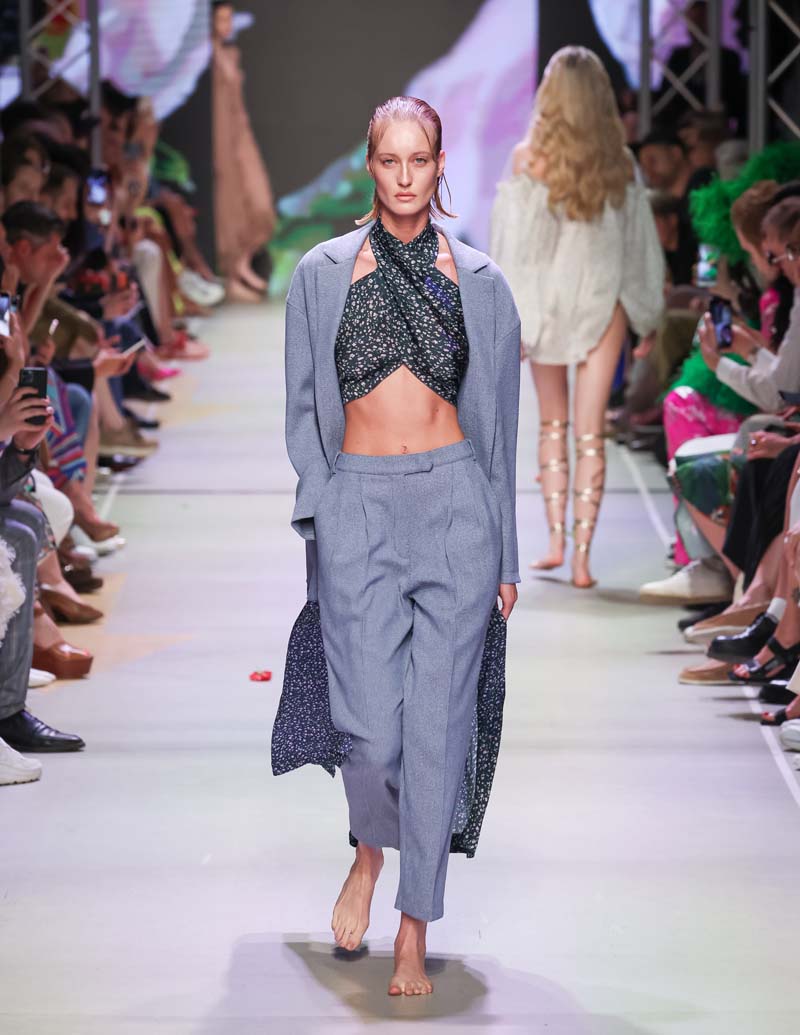 Designer Svetlana Shatunova presented a sea cruise like collection, inspired by Pre-Raphaelite paintings and her vision of a she-Muse. In her line, classic silhouettes were merged with airy fabrics and floral prints, granting the collection a light and easy spirit. Models walked down the catwalk in trouser suits, romantic dresses – laced and fringed, knitted bra and shorts, pajama-style sets, and a super-light organza trench coat. The final chord was the wedding look – a minimalist dress with a gentle veil.
June 25 (Zaryadye Park)
Dima Magny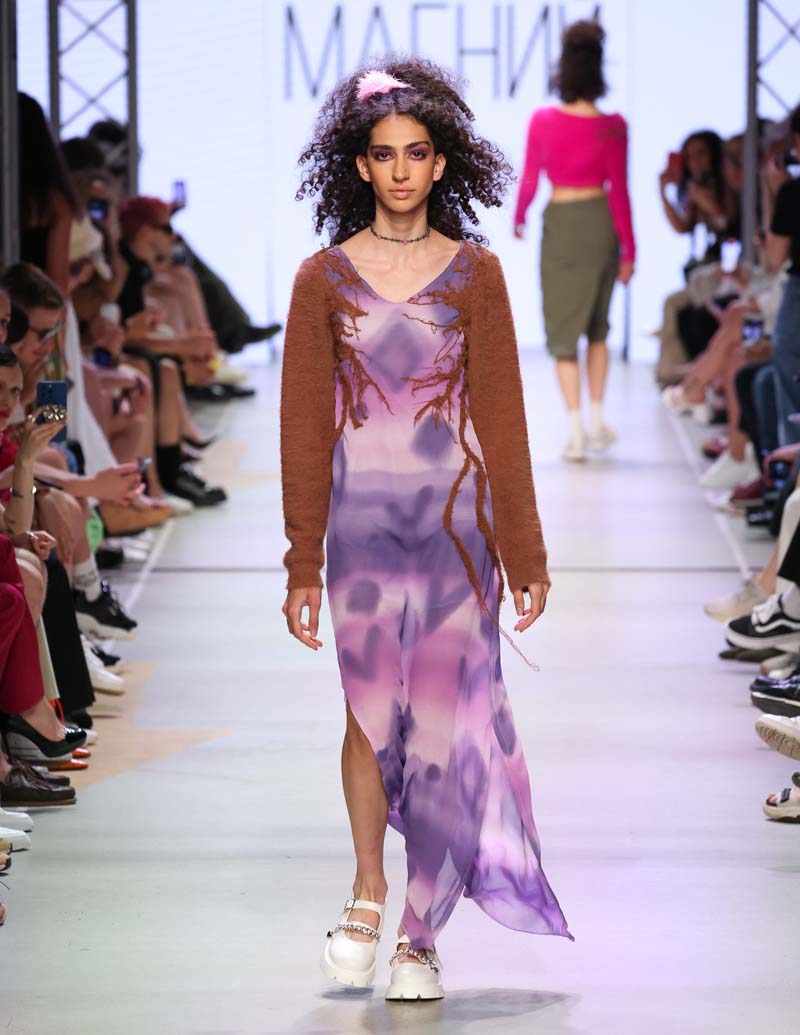 Emerging designer Dima Shapovalov presented the debut collection of his Dima Magny brand – Experiment 1.0. The basic concept of the collection covered upcycling, sustainable fashion, and garment merging. Dresses with different textures in every piece, mini skirts with abstract patterns, sweatshirts merged with denim coats, rollover skirts, floral boleros, tops, and jackets with unsymmetrical sleeves – these were worn by the models walking down the catwalk. Some of the garments featured natural colors, but then the designer added some spice of red, blue, turquoise, and yellow. According to the designer, every piece has its energy value. It might be the answer to why the collection looks so dynamic and diverse.
ABZAEVA (Ulan Ude)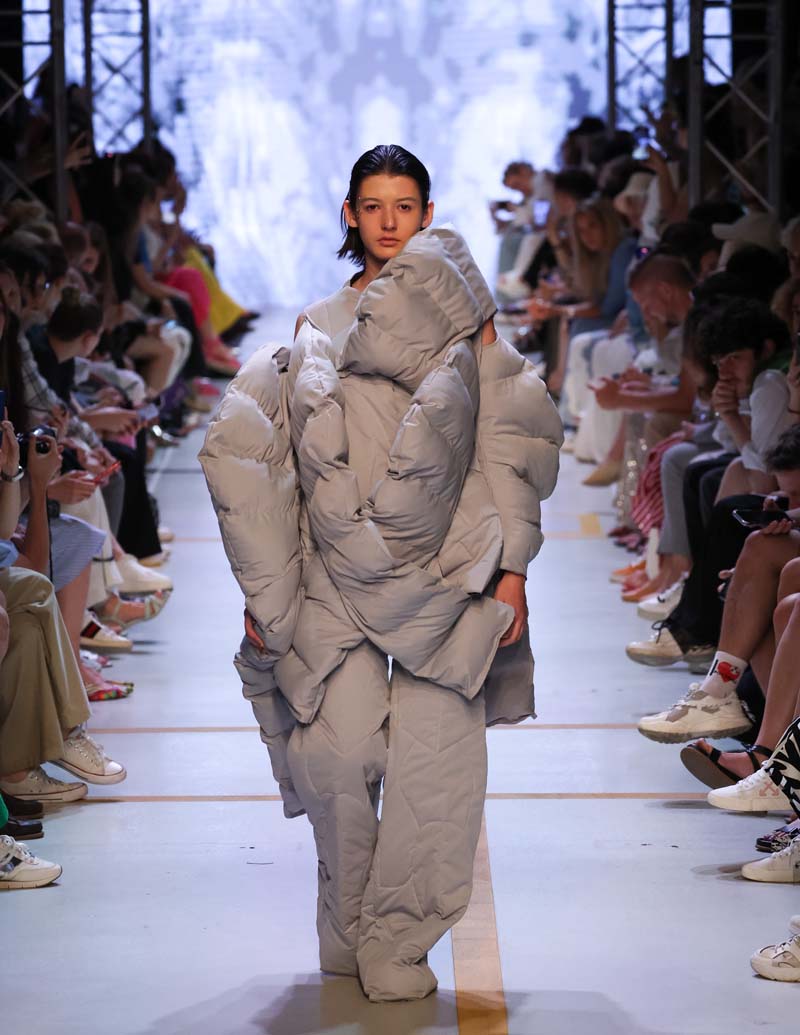 The brand from Buryatia established by Nadezhda Abzaeva, presented its collecting merging the real world and the 3D reality. The show started with some atmospheric video art, and then the 1st model wearing a floor-long overcoat and a balaclava hit the road. The collection comprised bomber jackets with extensive long sleeves, peculiar puffed tops, slim one-piecers, texturized jackets, cropped shirts, and asymmetric dresses. Carefully selected shapes of every piece had their part in making the looks refined. Basic colors of the collection were greyish beige and black. The prints were tie-dyed manually, and water for painting them was used in all its three aggregate states – fluid, ice, and vapor.
MASTERPEACE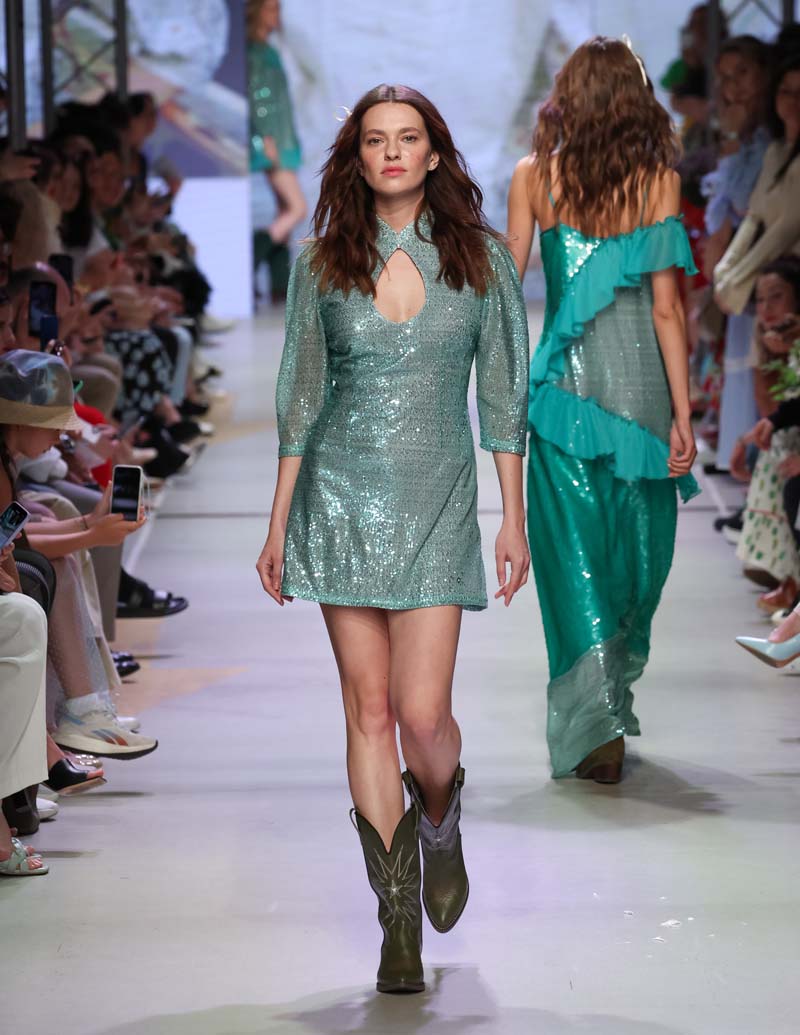 Designer Evgeniya Linovich states that there is always a reason to dress up, and she creates garments for special occasions. The show started with acapella performance of the Comets song (polnalyubvi) and continued with a smooth dancing sketch. Basically, the collection featured feminine dresses accentuating body contours, all of them light white, beige, menthol green, and pink. Sequins set up the mood, and the looks seemed perfect for any occasion. Satin, lace, flowing and airy fabrics were chosen to highlight elegance, shine, and easiness.
ESTER ABNER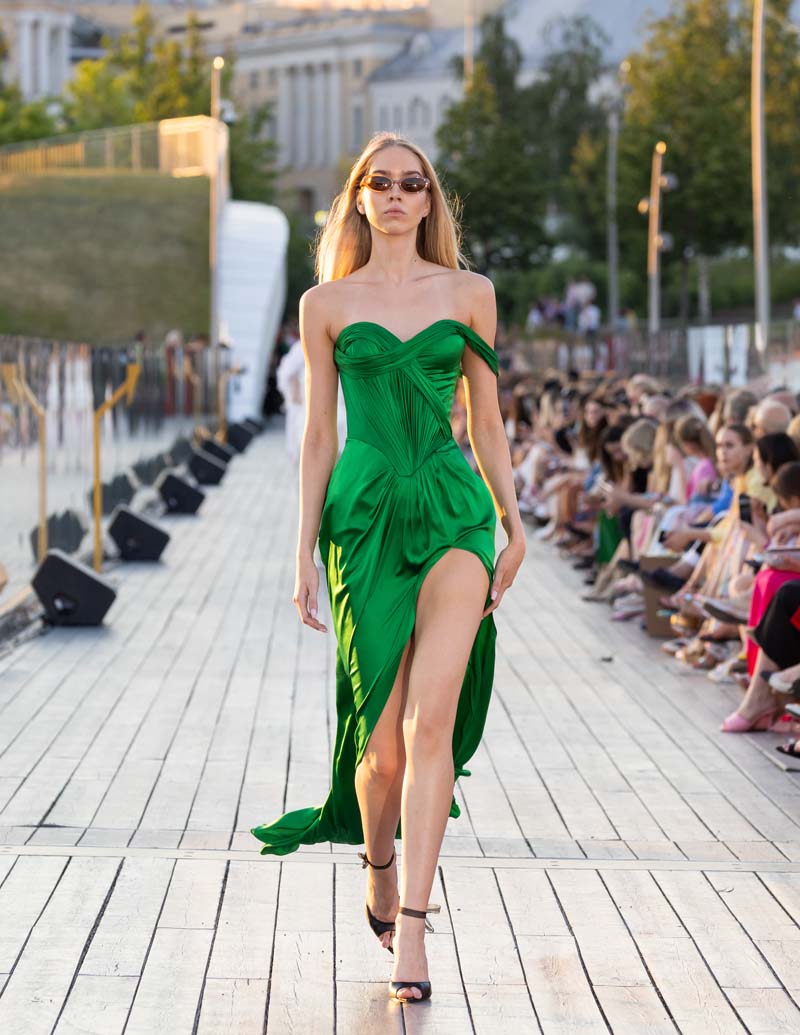 A whole universe in a single woman – the new collection by ESTER ABNER was dedicated to the symbol of life and love, which any girl is. The show was presented at the Floating Bridge in Zaryadye, and the main focus of the collection was on the game of contrasts and textures. Vivid hues of the collection – green, neon yellow, pink, peach pink, red, silvery, and blue – went so perfectly well with sequins under the rays of sun going down. Precise cuts, stability of shapes, and elegance – the collection followed the best traditions of the brand. At the catwalk, the show goers saw mini dresses, shiny evening garments, dresses with asymmetric hems and decollates, classic jackets with wide shorts and pants, and even some wedding looks. The list of accessories included extensive flowers and neckpieces, laconic chokers, as well as sunglasses. The show stopper was a model in electric orange semi-transparent dress decorated with feathers.
SERGEY SYSOEV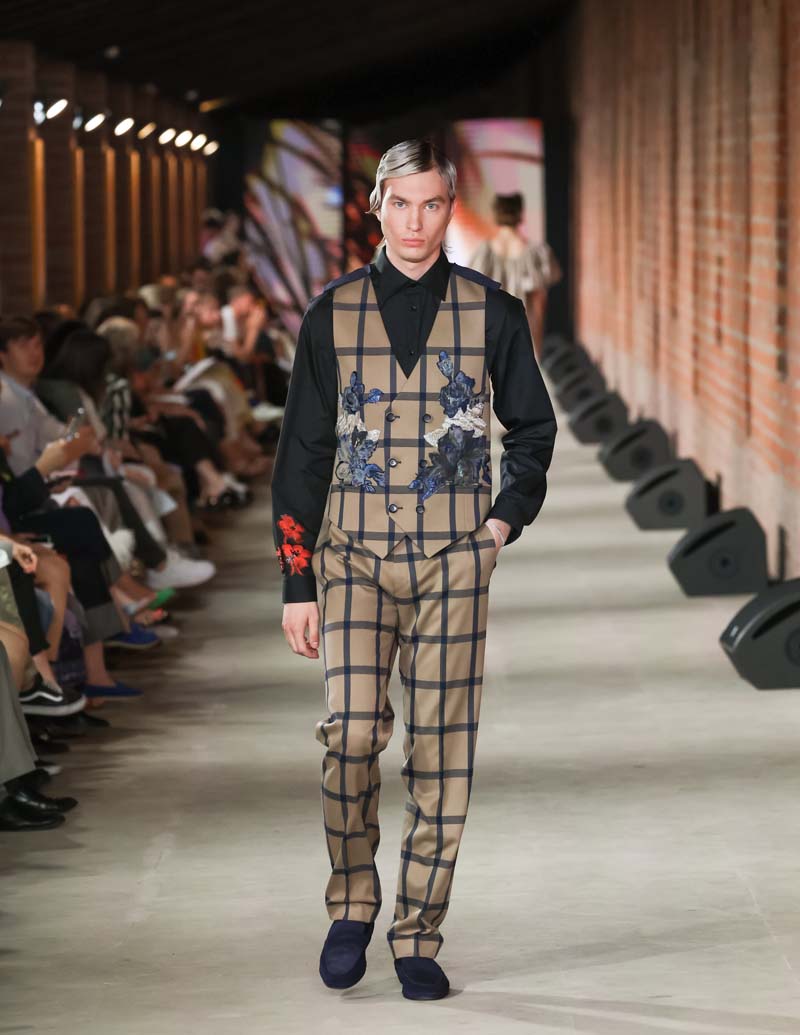 SERGEY SYSOEV presented their show at the Kitaygorodskaya Wall. Models walking down the catwalk presented vivid floral prints, dresses, skirts, and blouses embroidered, checkered pinafore dresses – natural-colored, overcoats, men's suits with large flowers, and shirts. The basic print and the keynote of the collection was large chequers in various configs and combinations. Sophisticated hairdos of the models – victory rolls – were quite remarkable and perfectly topped austere and elegant looks. The color palette was a somber one – brown, beige, black with some highlights added by red poppies and other blossoms.
TRUSTME STUDIO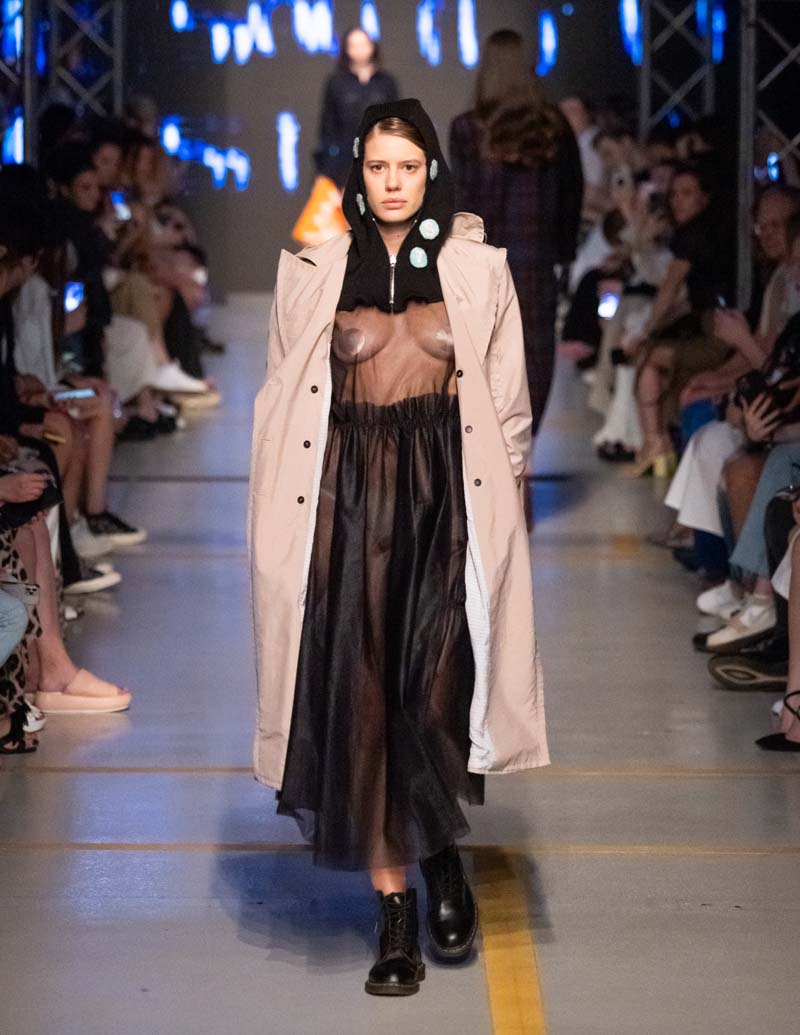 The Russian-Georgian brand founded by Arthur Vasiliev in St. Petersburg presents engineering accuracy and the best fabrics, contrasting and unique, a fusion of different arts, including design and architecture. At Moscow Fashion Week, the brand presented a collection featuring a suede fringed coat, leather pants, a dress that resembled a madman's tuxedo, cropped vests, skirts with asymmetric hems, a shirt with a printed human face, a dress with organza hem, and so many other things. Basic colors of the collection were black and white, contrasting with red and green prints – skulls or circles. The show was accompanied by offbeat flashing lights, and the opener featured the text 'Your eyes, your lips, your skin – I feel it, I love it, trust me'. The stopper of the show was a striking paper-like dress.
June 26 (Zaryadye Park)
JENESAQ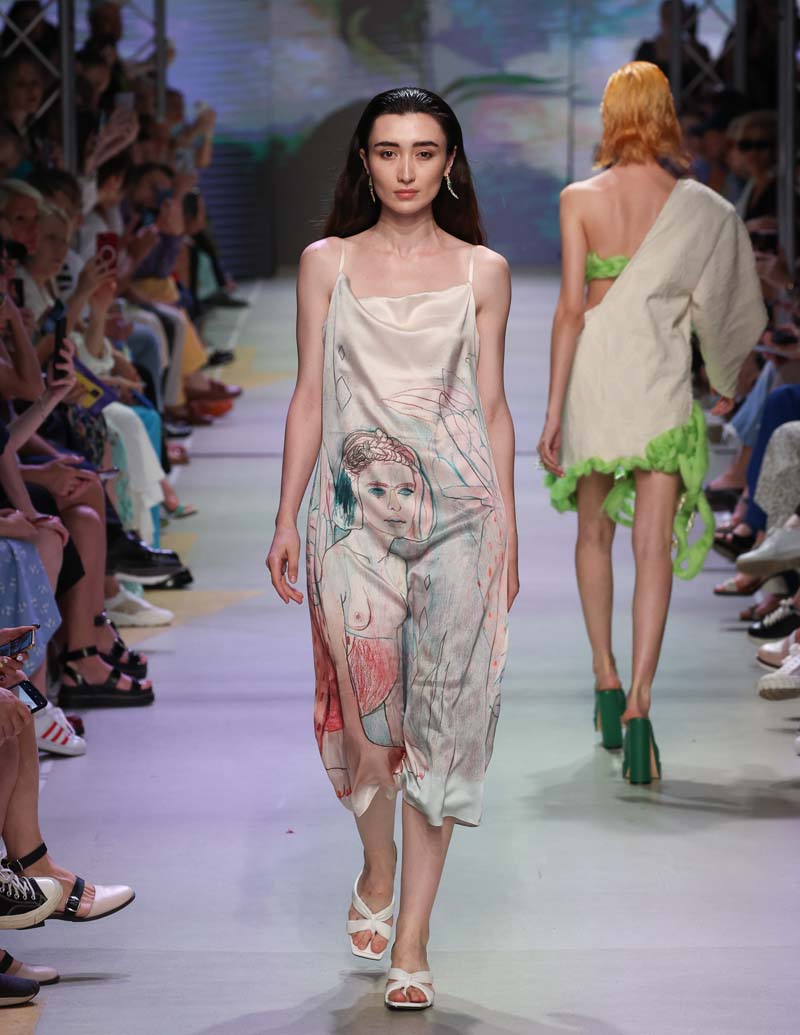 Elena Mezhova, the brand designer, had a go at showing a person's wish to be closer to natural harmony. This was why she named every piece after a plant or an insect. Moscow Fashion Week goers were presented OSTREIDAE one-suiter, which repeated aesthetic features of an oyster, Hymenophore sportive suit, and Amanita dress with a skirt. Besides these remarkable pieces, the visitors were demonstrated free-cut shirts, unique T-shirts, and texturized pants, cropped tops with extra-long sleeves, suits with designer prints, underwear-like dresses, a straightly cut overcoat, and some oversize jackets. The most remarkable look was an extensive black dress with its hem made of waste bags. During a dancing performance, announced before the show started, this gown became an elegant one-piecer. 70% of the materials used to make this collection were recycled.
VALENTIN YUDASHKIN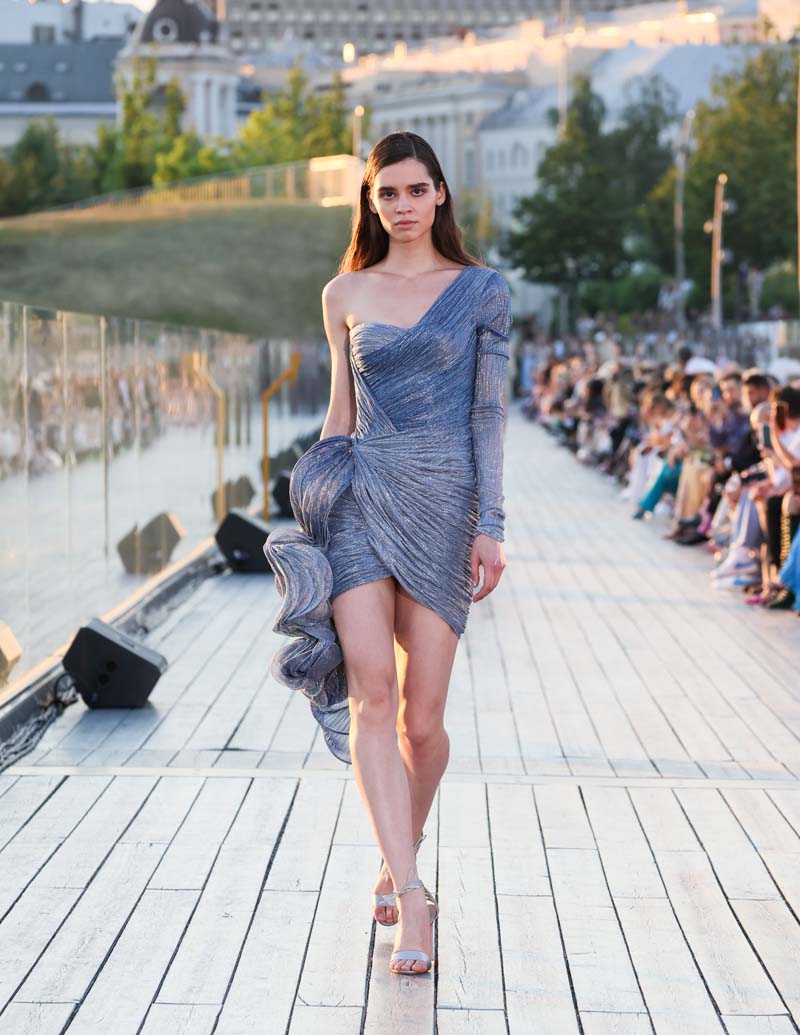 Valentin Yudashkin presented his Haute Couture 2022 collection at the Floating Bridge in Zaryadye Park. The fashion master was inspired by high jewelry art of Bvlgaru House which has been working for 130 years already. The overcoats with precious stones or extensive sleeves, shimmering jackets and suits, floor-long dresses, and jacket-dresses with prints, palazzo pants made of streamy fabrics, and tailed capes looked especially remarkable against the sunset lights. Some of the looks were topped with balaclavas and collars decorated with handmade embroidery. The highlight of the collection were dresses patterned with precious stones, decorated with natural pearls, embroidered with beads, all of these featuring black and gold. Draperies, sophisticated contours, impeccable shapes, careful work with fabrics, and production quality were – as always – best of the best. During this show, beauty, elegance, grace, and top quality ruled the day.
ANNPOLYAKOVA (Krasnoyarsk)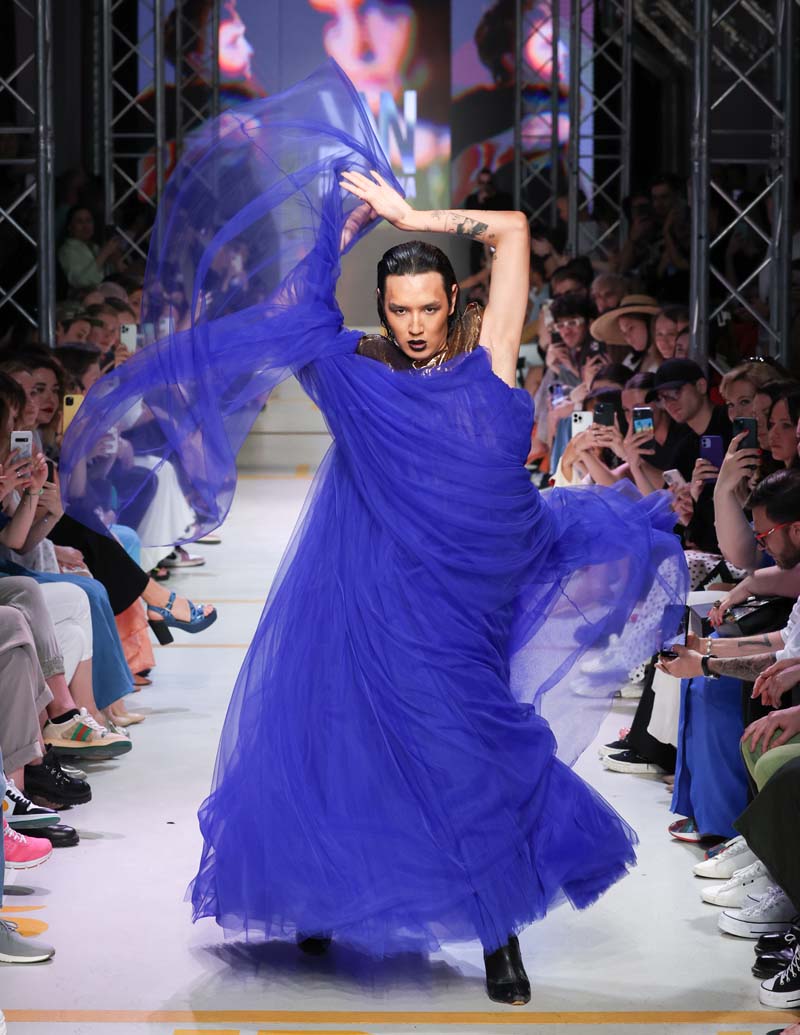 The show by ANNPOLYAKOVA, a Krasnoyarsk-based brand, closed the last day of Moscow Fashion Week. In her collection, the designer reconsidered Siberian historical codes and fused them with Avant-garde. The resulting garments were rich in architectural details, lots of layers, and abstract cuts. At the catwalk, the audience saw a true fashion show with posturing and a concept. Men joined the female models – although they also made appearance in women's wear. Extensive dresses, tops, and skirts looked well on men, too. All the garments featured 4 colors – the prevailing black with vivid accents of gold, khaki, and electric blue. Semitransparent straight dresses, high-waste pants, overcoats as if borrowed from men, straight jackets of noble fabrics – the designer believes that piece on the collection would do to conquer the world. The bright highlight of the show was a vogue dance in a bright blue dress with golden inserts.
June 21 (VDNH)
CHAPURIN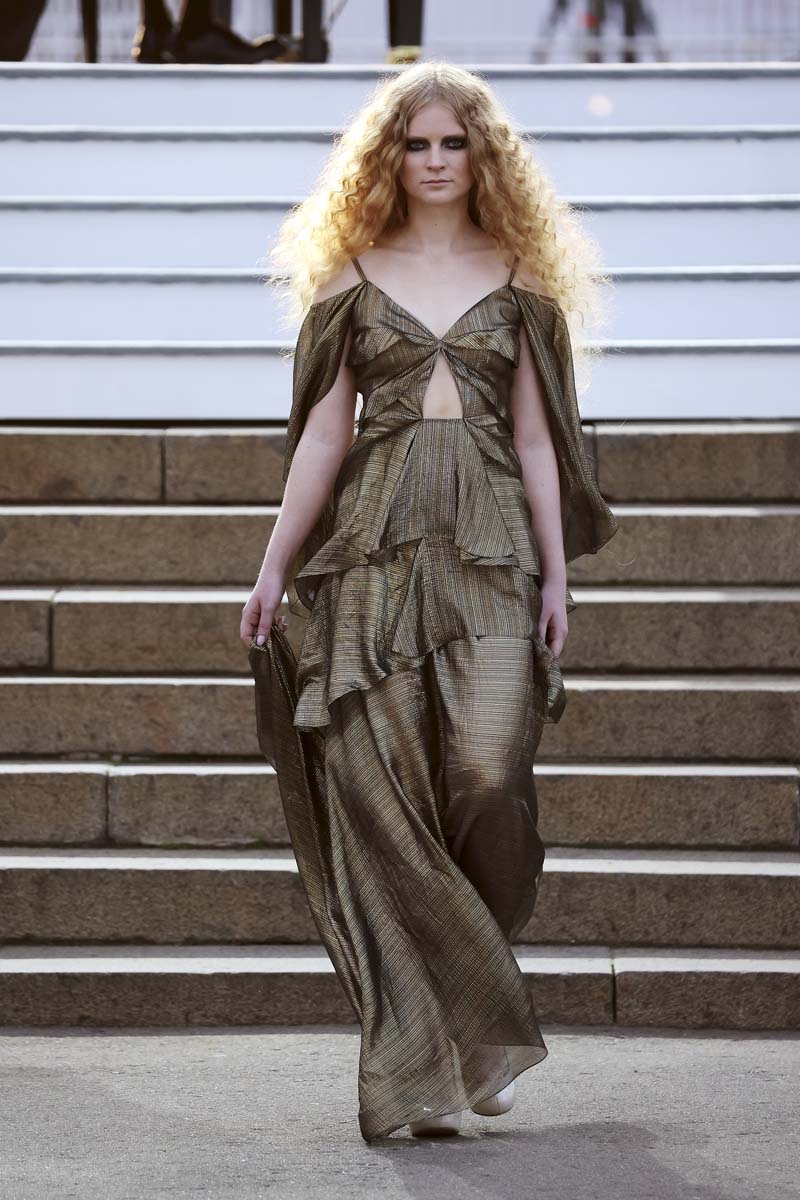 June 22 (VDNH)
BUGERA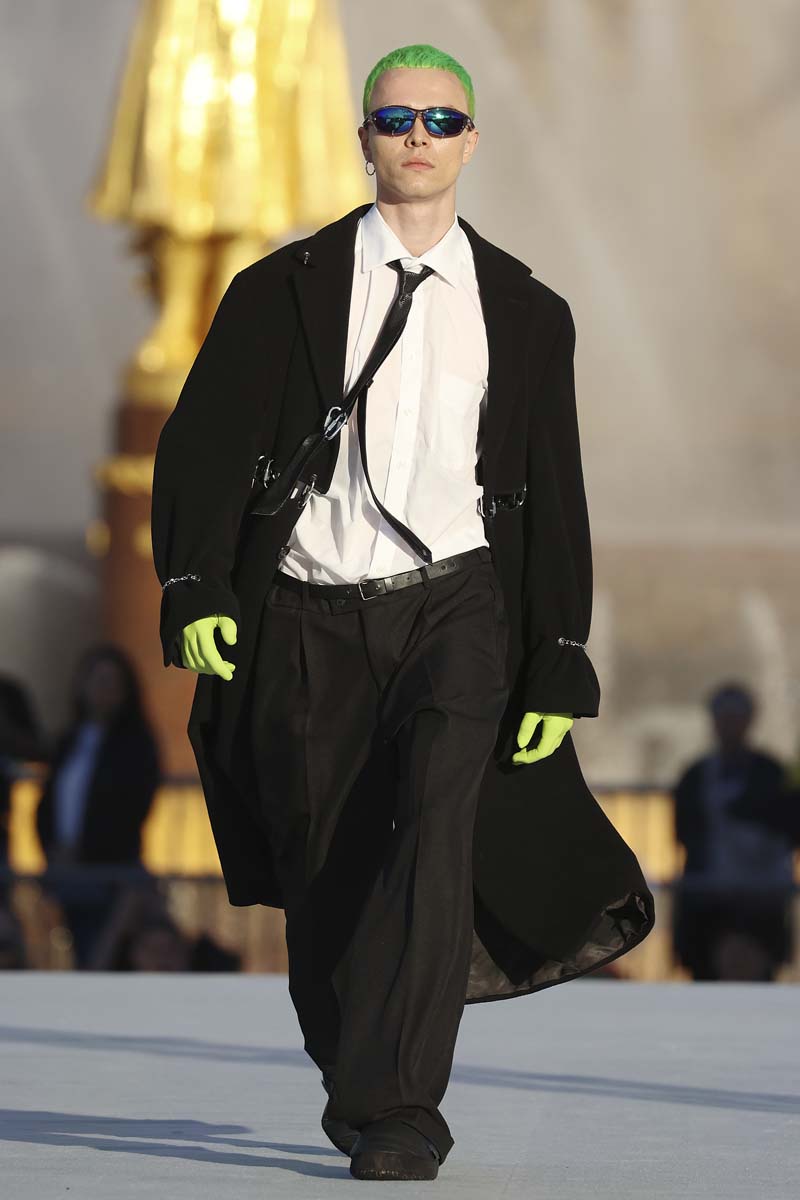 June 23 (VDNH)
ARKHIPOVA.MOSCOW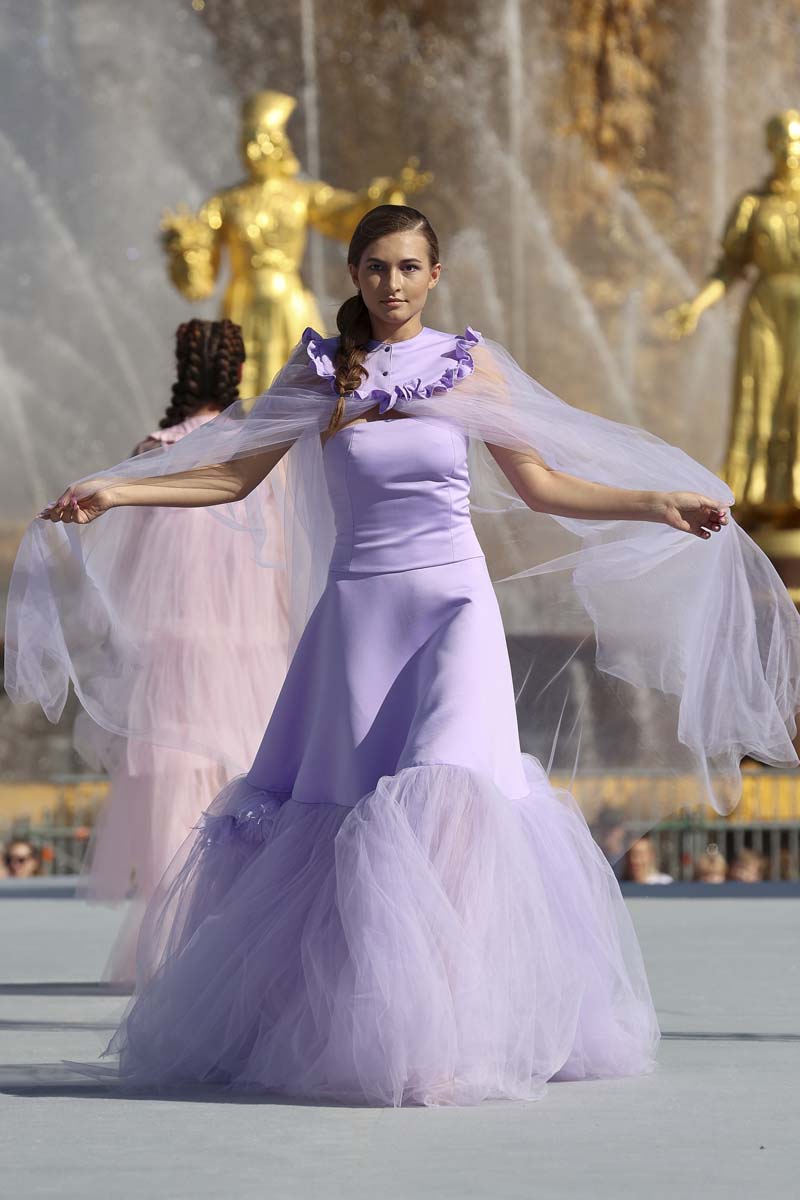 June 24 (VDNH)
Mila Anderst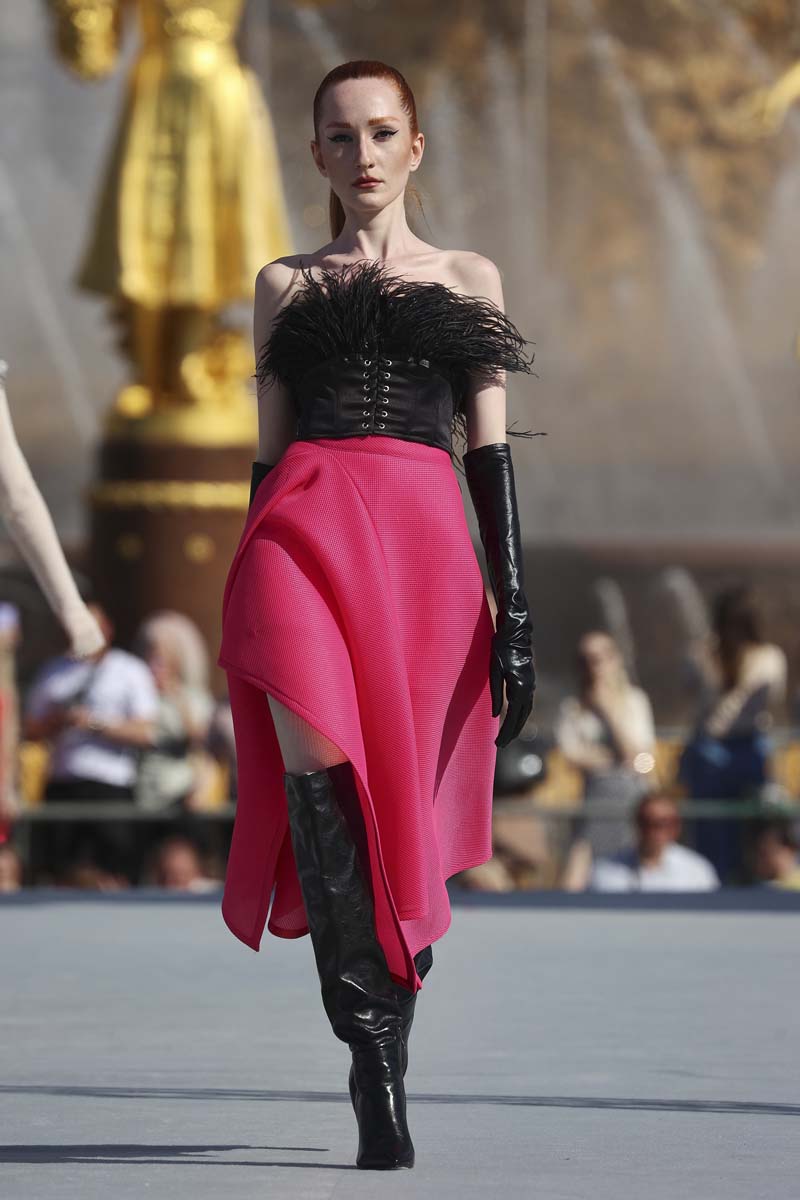 June 25 (VDNH)
CAREC.O (Rostov-on-Don)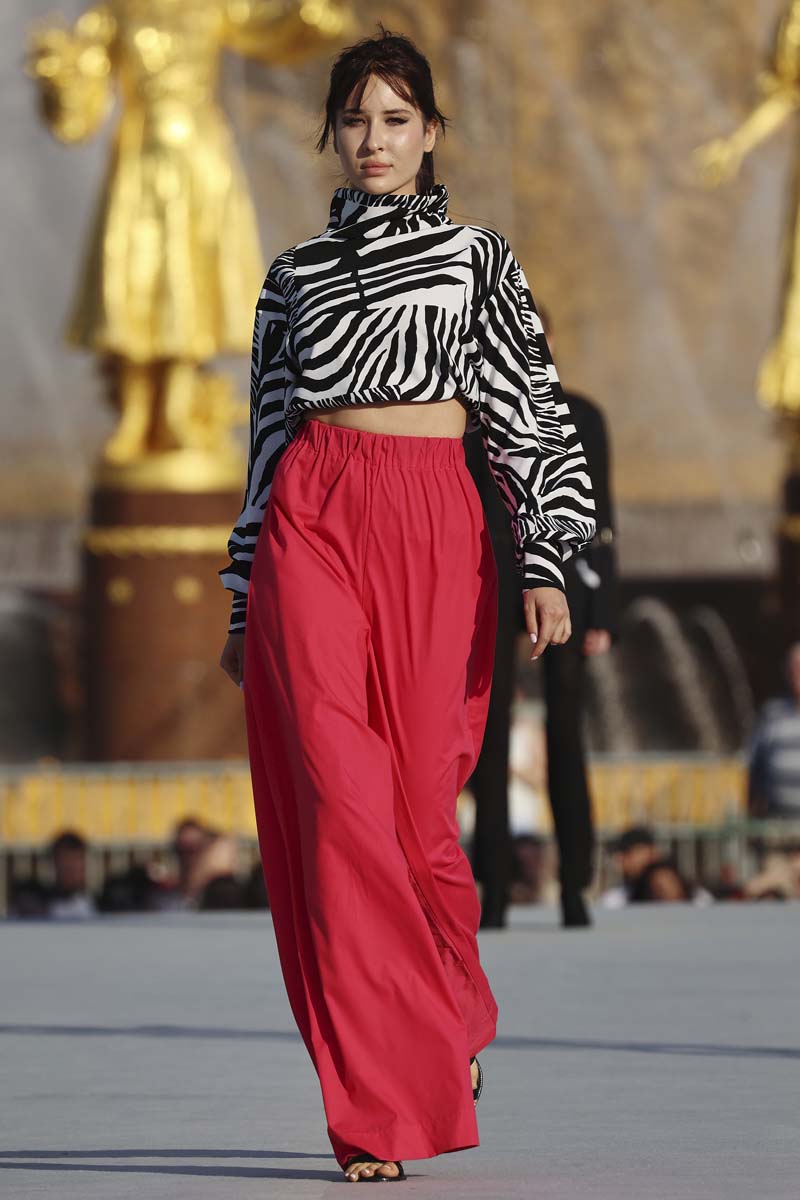 Lyubov Babitskaya (Saint Petersburg)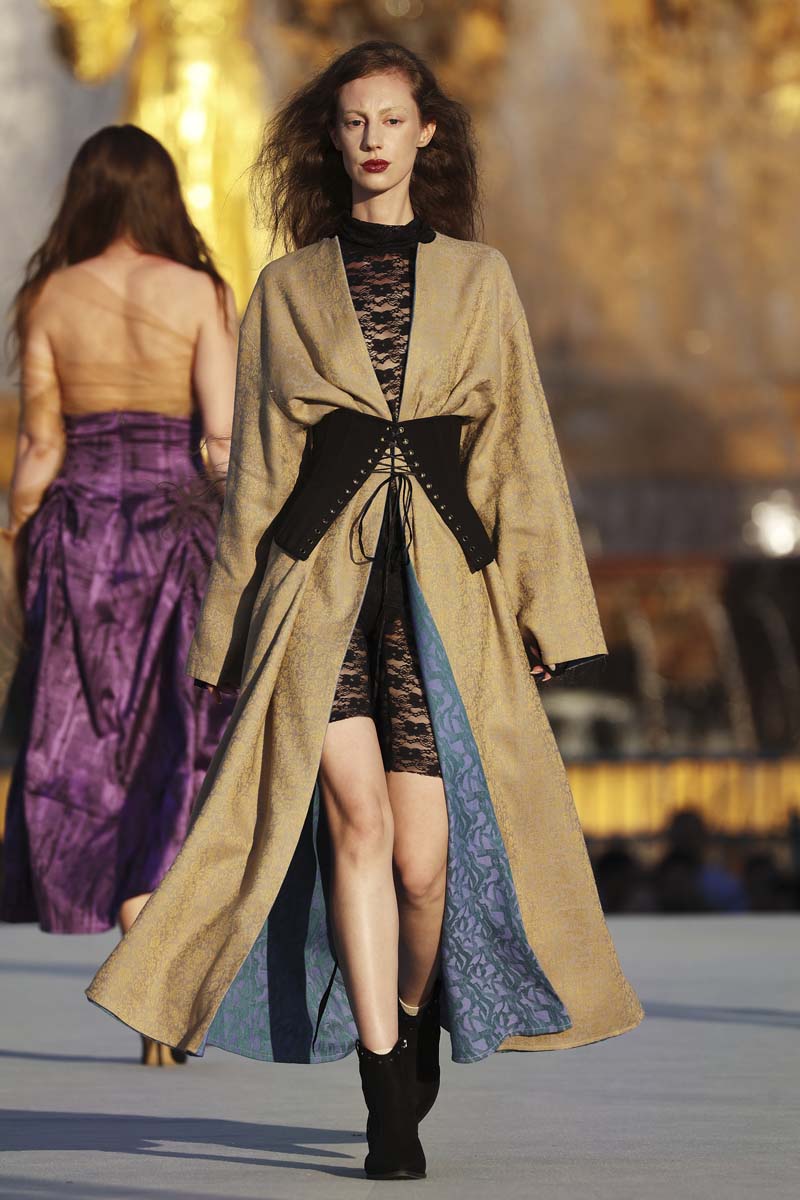 MARFAFEDOROVA (Yakutsk)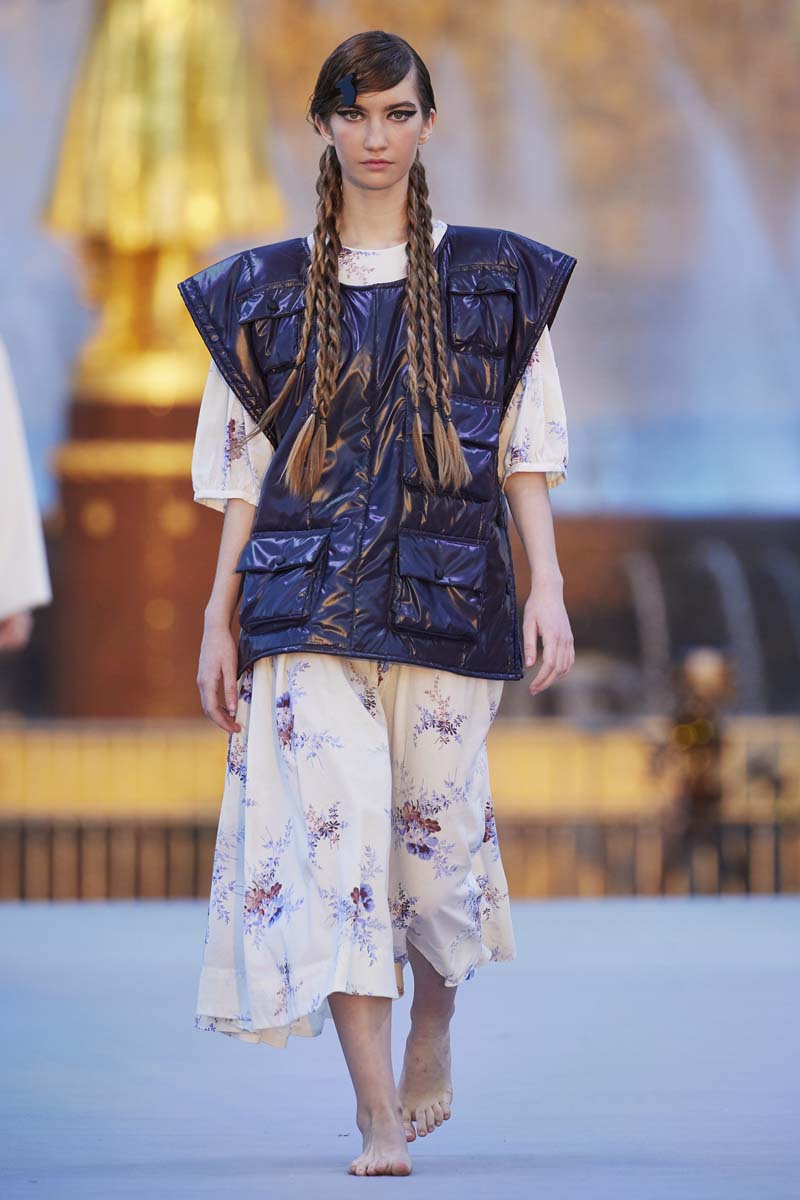 June 26 (VDNH)
SaiJamin (Nalchik)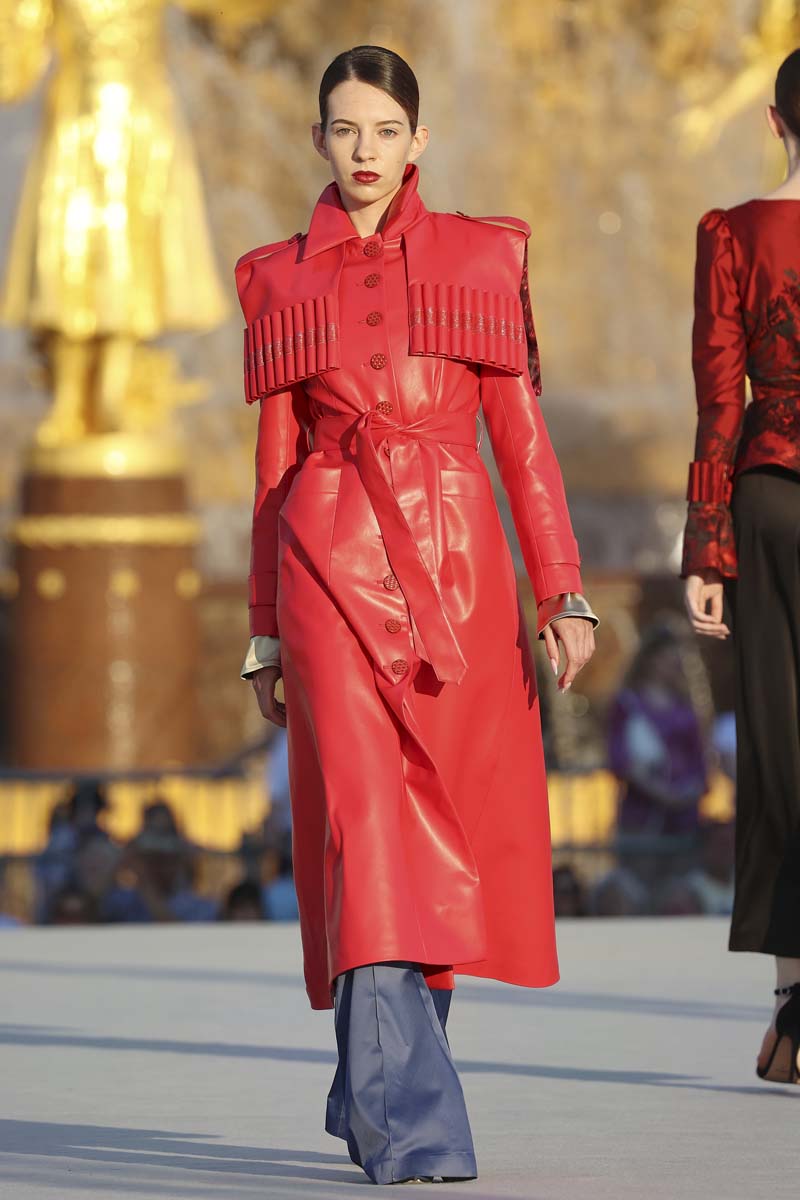 VOLEGOV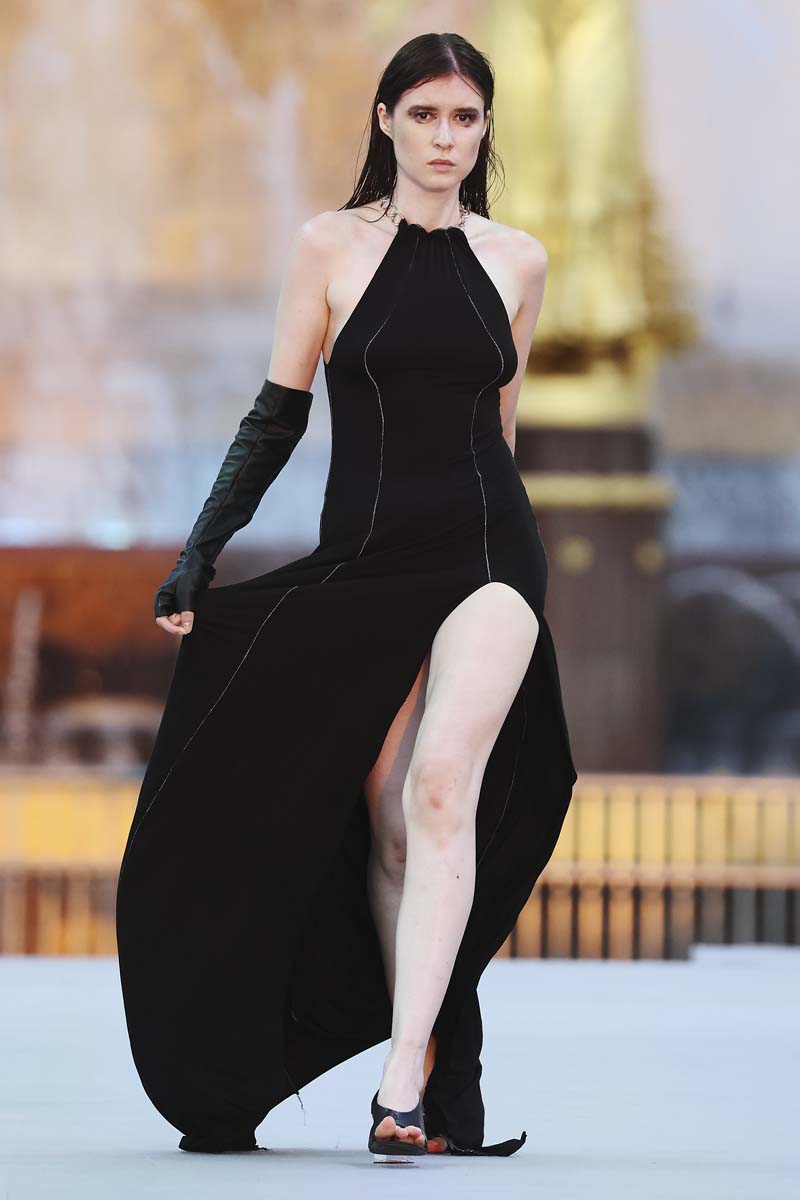 Hits: 9126 | Leave a comment