Modest Fashion Day shows in Kazan: a fusion of traditions and modernity from Indonesia, Kazakhstan, Senegal, and Russia
On May 20, Modest Fashion Day was held as part of the International Economic Summit 'Russia – Islamic world: KazanForum', organized by Russian Fashion Council and Digital Talents Dubai Milano. The event featured eight modest fashion shows from 15 designers from different countries and regions, such as Indonesia, Kazakhstan, Senegal, and five Russian cities. The venue was Korston-Kazan – a complex that includes a hotel, a shopping mall, and entertainment facilities.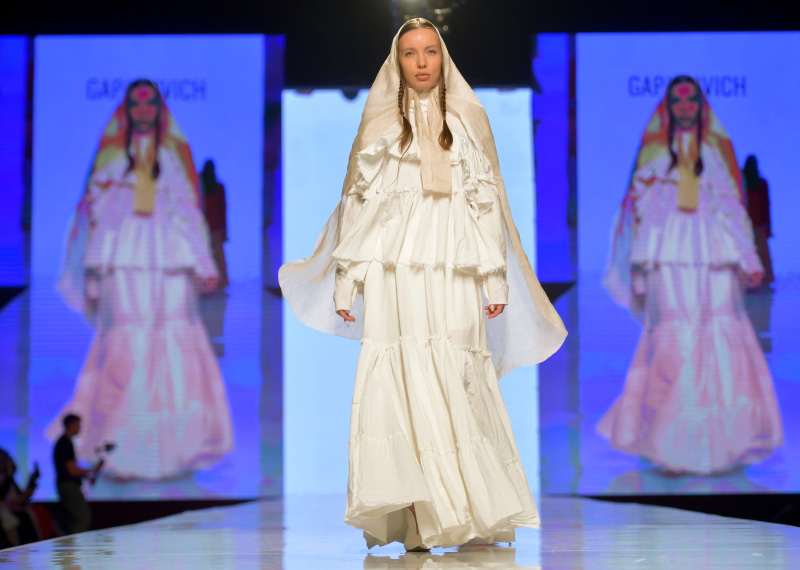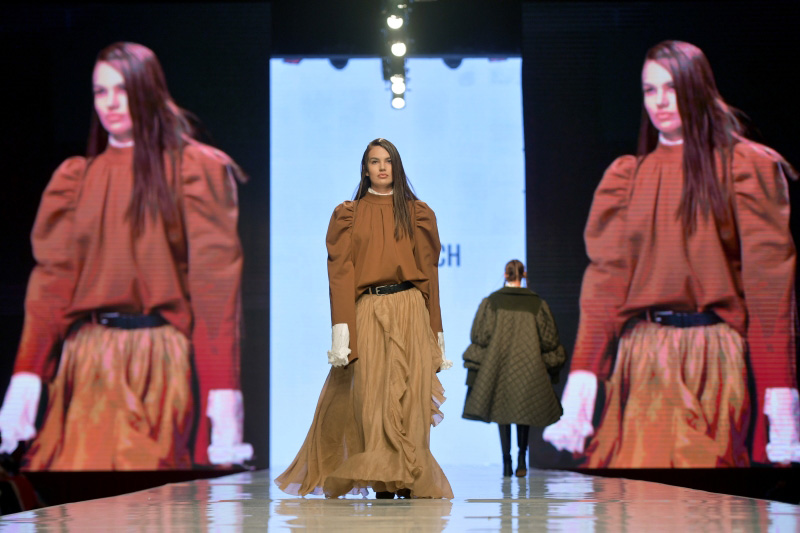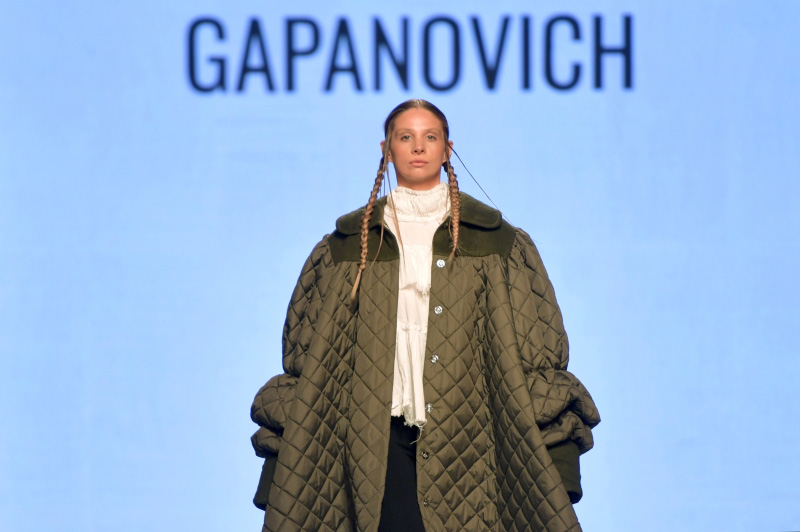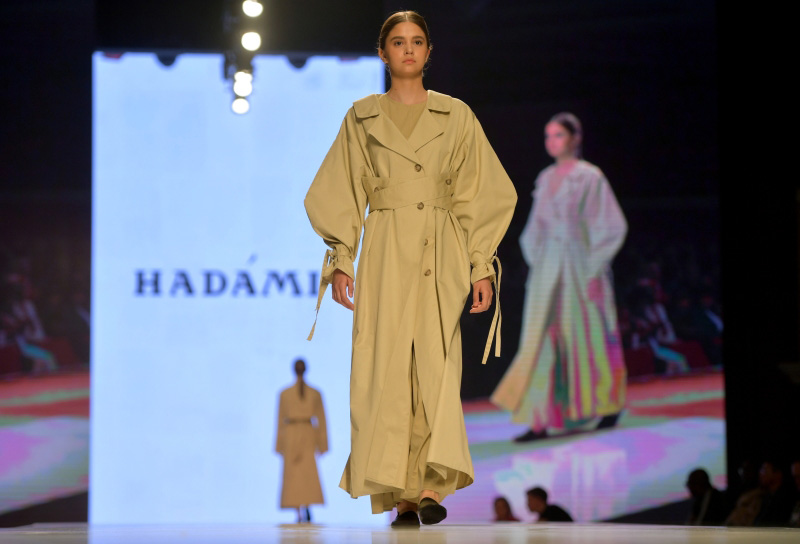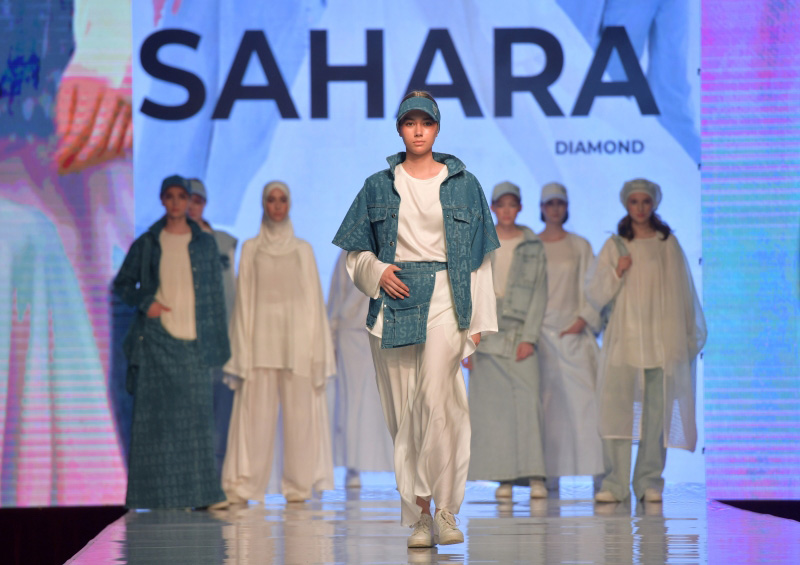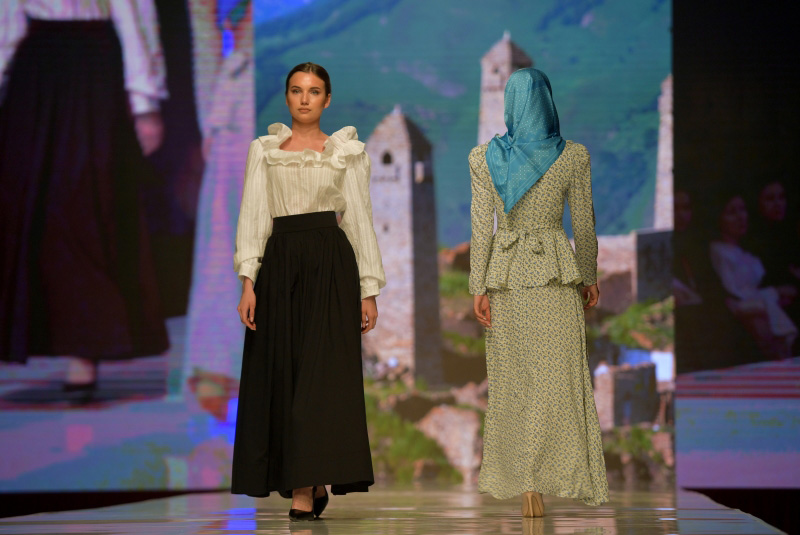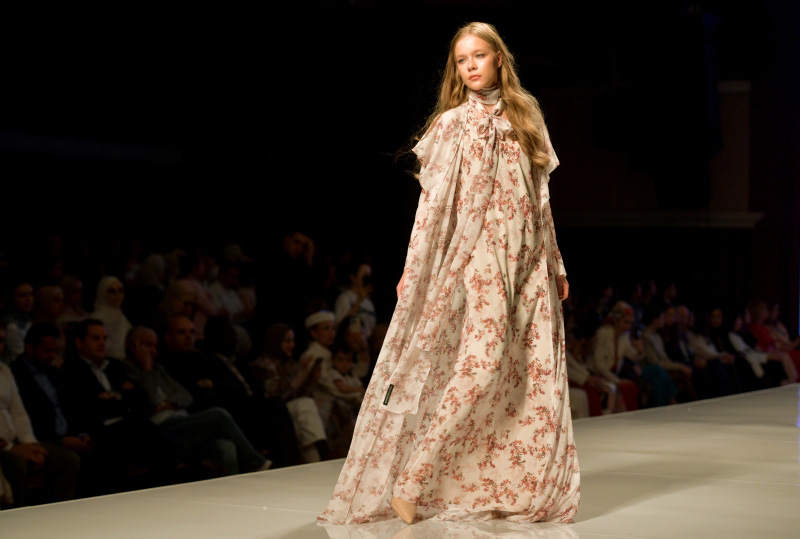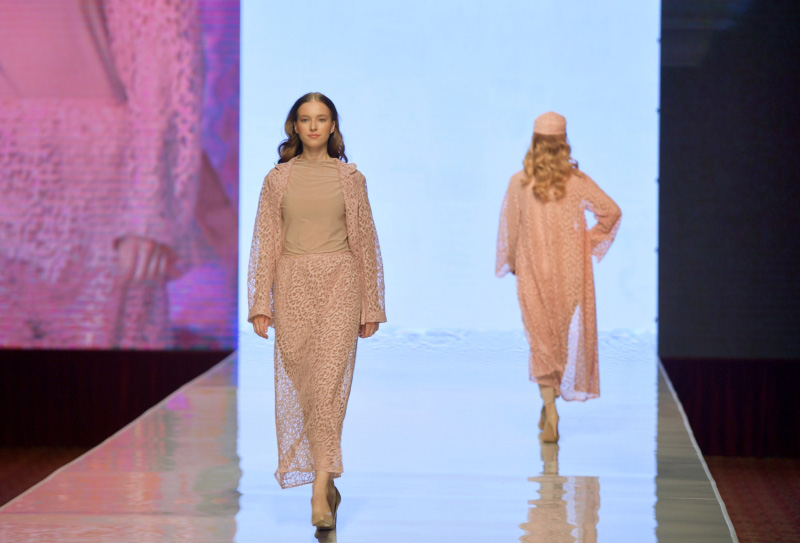 Senegal Fashion Show: Couleur Afrique, Touty, Kamal Raw, Edg.mery, Sidy Counda, and Al Gueye (Senegal)
Six designers from West Africa showcased their collections to the Russian audience for the first time, with the support of Kalinka, Russian culture center.
The designers from Senegal used natural fabrics that are common in West Africa, such as Bazin, Manjack, and cotton waxprint materials. They also drew inspiration from traditional African clothing, such as bubu, and bright-colored sarafans that are familiar to Russians, but with local prints.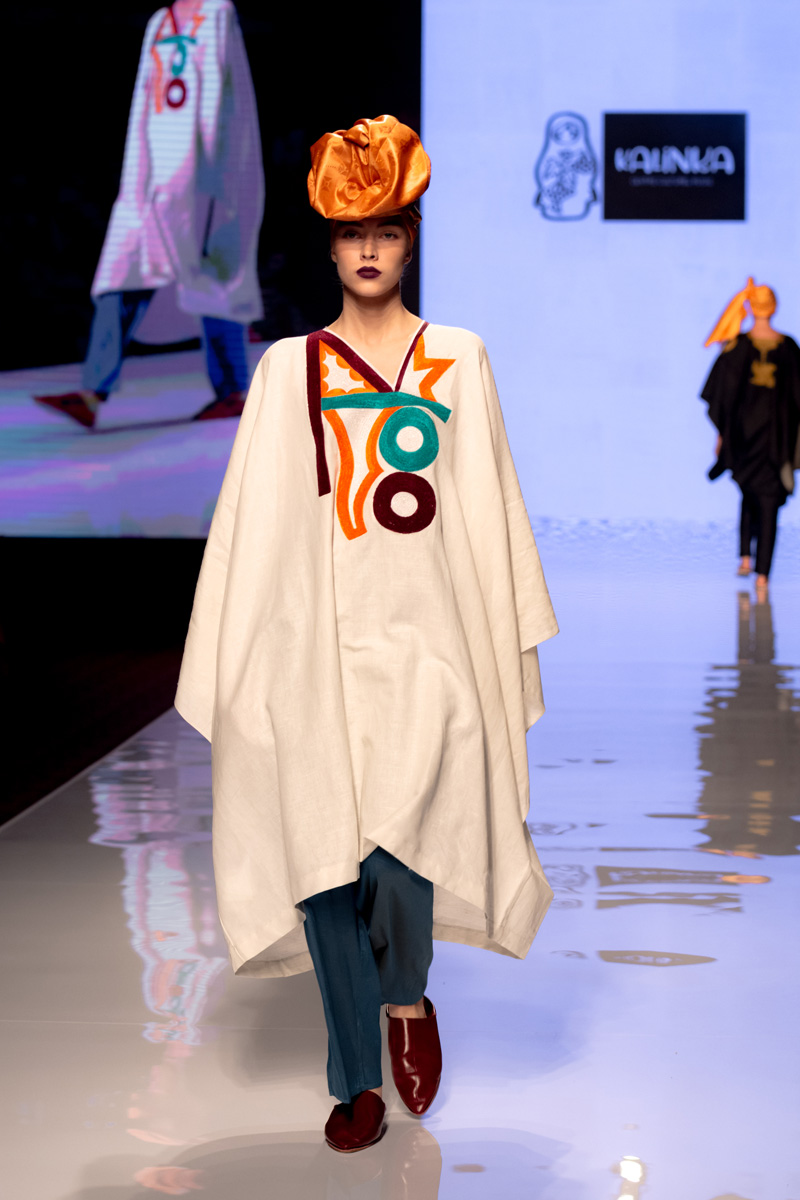 Su.Su (Kazan, Russia)
Su.Su is a Tatar clothing brand that presented a collection of dress-shirts, skirts, and bathrobes made of linen and cotton in pastel tones. The designer said that they used only fabrics that are breathable and hypoallergenic – cotton, linen, tencel, and nettle cloth. The silhouettes were simple and loose with some unique details for comfort and movement.
Aida KaumeNOVA (Kazakhstan)
Aida KaumeNOVA is a brand founded in 2007 by Aida Kaumenova in Almaty. The brand has four stores in Kazakhstan and sells its products in the CIS countries, Europe, America, and Asia. The brand produces Luxe, Pret-a-porte and Mass-market clothing.
The designer studied in Italy and returned to Kazakhstan with the intention of changing the perception of traditional clothing in her country. She wanted to show that it can be fashionable and suitable for modern life and conditions. She also believed that Kazakh ethnic fashion can find its place in a contemporary wardrobe.
The new collection that was shown at Modest Fashion Day included dresses, skirts, jackets, and suits in warm colors, from pink and terra-cotta to brown and blue. The fabrics used were lace, florals, gaugre, as well as plain textiles.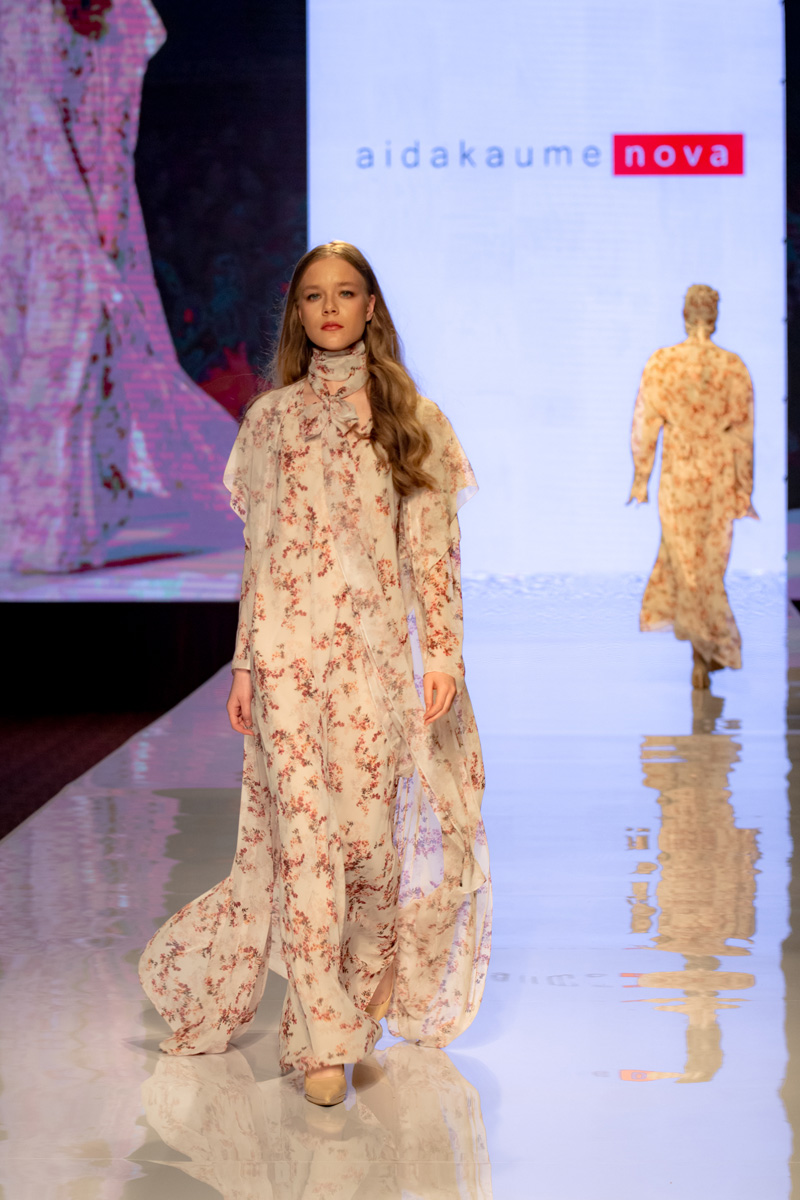 UMMAYA (Grozny, Russia)
UMMAYA is a fashion house created by designer Ummaya Akhmadova and her team in 2015 in Chechnya. Today, the brand makes its clothing in Moscow and at its own production site in Stavropol. Ummaya grew up in a traditional family and that is why she favors classic and feminine modest silhouettes.
The brand's goal is to preserve, develop, and promote Muslim culture and traditions. The designer prefers hand-made embroidery, 3D applique, and lace over mass-produced prints. Their collections also refer to some works of art, especially impressionists. For their show at Modest Fashion Day, the designer chose motifs of ancestral towers that are characteristic of the Nakh architecture and widespread in the North Caucasus to convey the local atmosphere.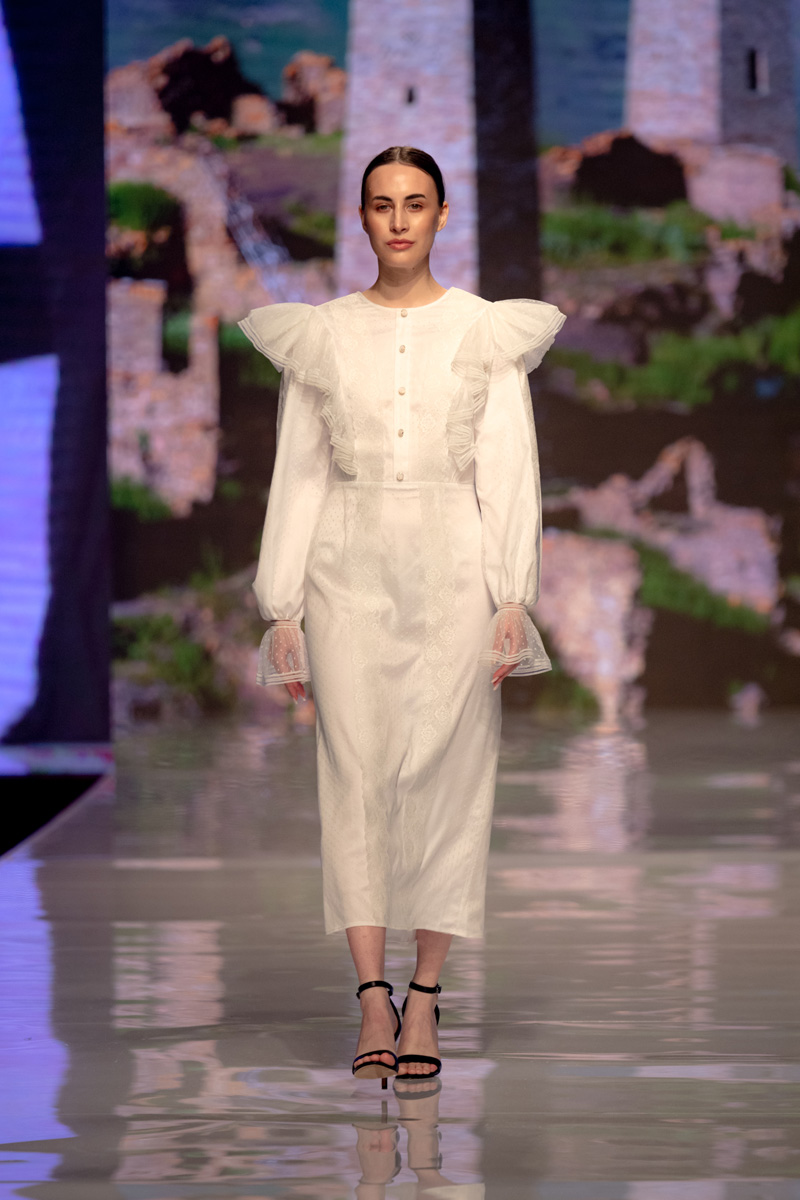 SAHARA (Ufa, Russia)
The modest fashion brand from Bashkiria SAHARA distinguished itself with smooth silhouettes, bold prints and combinations. It was a modern interpretation of traditional modest fashion clothing. The brand's collection consisted of traditional garments such as abayas, hijabs, mullet pants, as well as more modern pieces – dresses, skirts, shirts, pants, kimonos, and sportswear, including burkini swimsuits, accessories, and headwear. The designer experimented with denim and the casual style at the intersection with conventional fashion.
Designer Zainab Sitdikova, the founder of the brand, said that her brand aims to provide Muslim women with trendy and comfortable clothing that respects their values and is also suitable for modern life.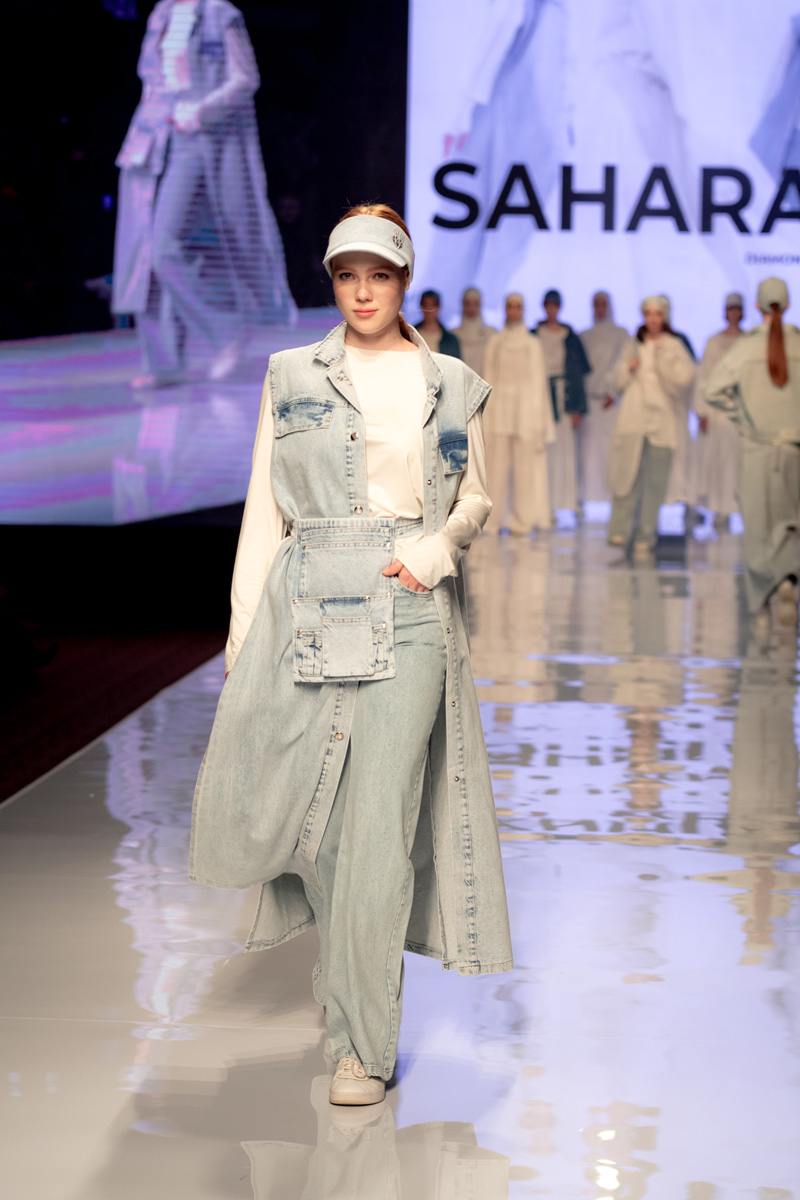 HADÁMI (Makhachkala, Russia)
The modest fashion brand HADÁMI was established in 2018 by two sisters – Khadizhat and Aminat Magomedrasulov in Dagestan. The concept of the brand is a new approach to modest clothing, which is no longer seen as austere clothing for Muslim women. Today, modest fashion is more than a tradition. It is a lifestyle that reflects one's connection to their historical roots, comfort, uniqueness and complexity as the foundations of modern life. That is why the brand's designs also attract secular women.
The collections are based on the play of local patterns. For example, the last collection was dedicated to the image of a Didoan woman. Didoans are one of the indigenous mountain peoples of Dagestan. For their new collection – 'Original Look' – the designers found inspiration in the poetry of Dōgen, a Japanese monk and philosopher from the 13th century. The collection included basic garments that easily complement each other and can fit into anyone's wardrobe – skirts, dresses, suits, and of course the unusually cut trenches, which have already become the brand's signature. To create this collection, the brand mainly used natural colors and fabrics.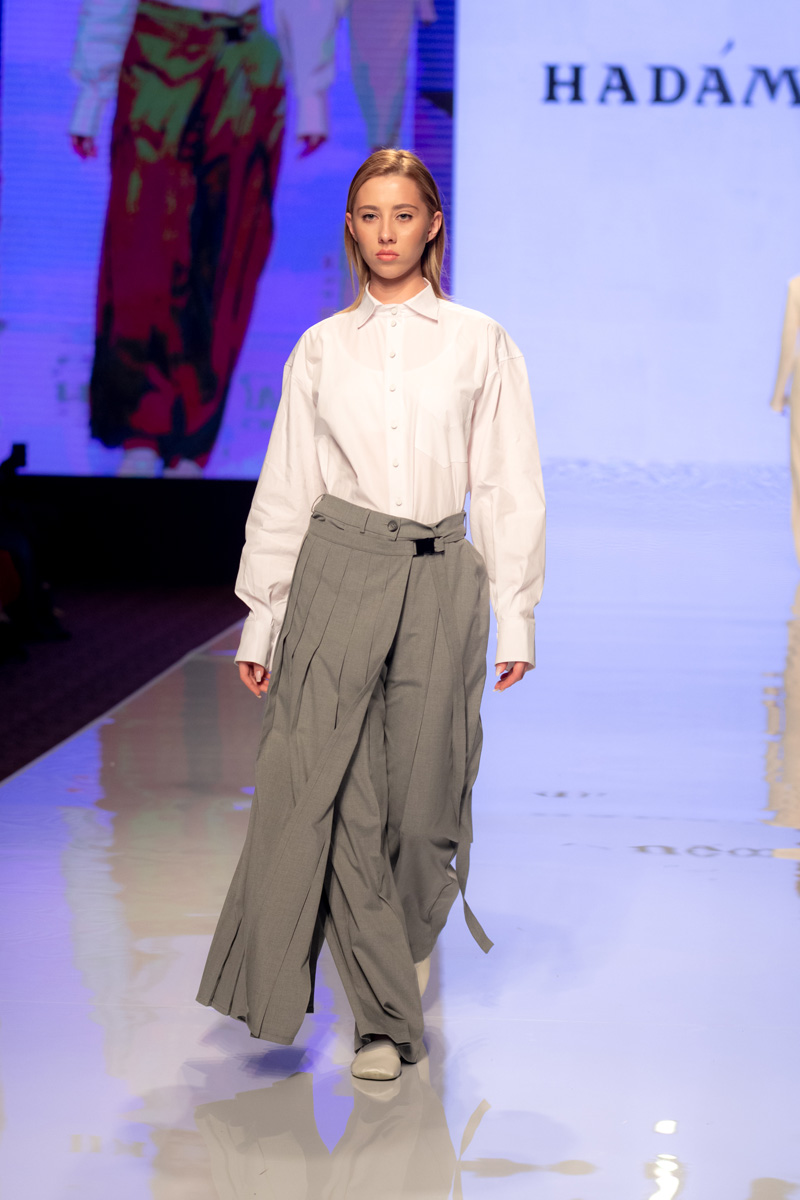 SANET / Keewa (Indonesia)
SANET SABINTANG, a designer from Indonesia, was inspired by the clothes worn by students from Muslim girls boarding schools – there were long mantles, sarong skirts, and oversize blazer jackets. According to the designer, today there are many Muslim boarding schools in Indonesia today, which help girls to build careers and take a more active part in politics. This is why their lifestyles change – and the fashion follows this change, too. At the same time, the existing ethical and cultural values remain in place.
The key highlight of the presented collection was layering. The textiles used were cotton, linen, viscose, as well as different fabrics treated with Shibori Japanese dying technique.
Footwear for the collection was brought by another Indonesian brand – Keewa.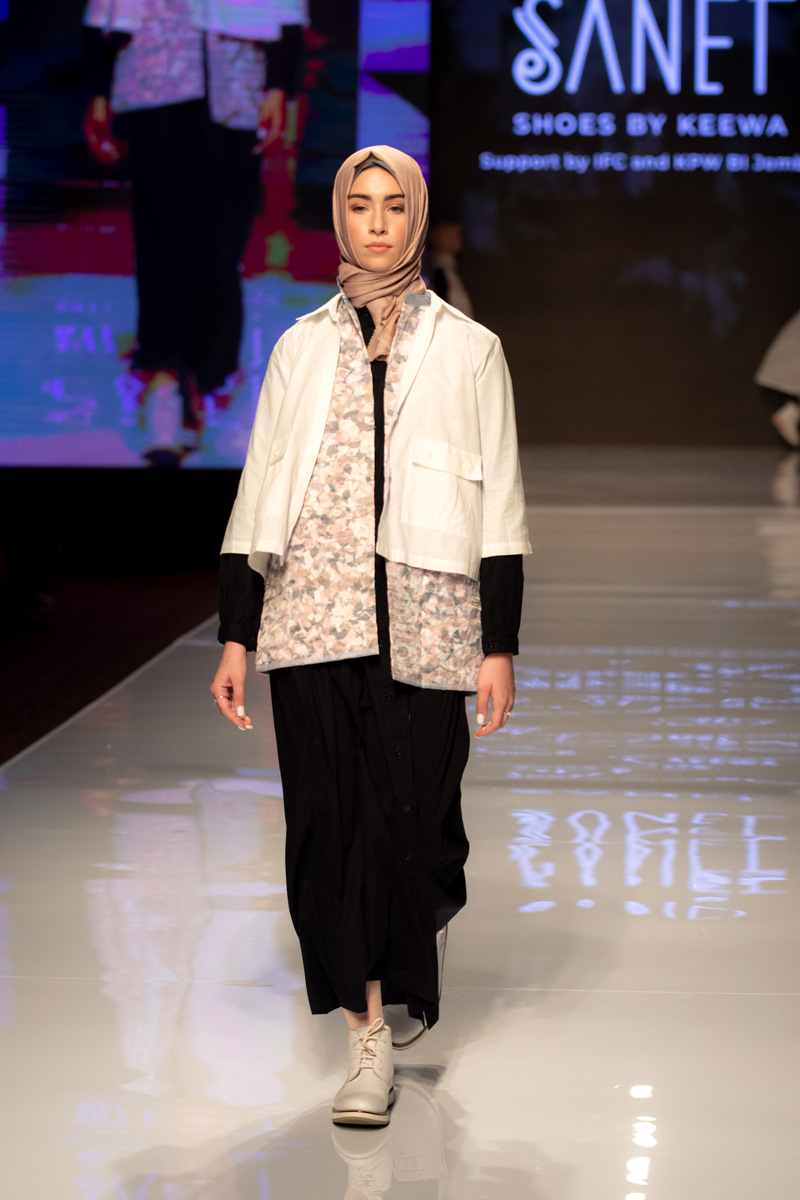 Abzaeva/Gapanovich (Ulan Ude, Russia / Murmansk, Russia)
Two Russian brands from Buryatia and the Murmansk Region brought to the catwalk of Modest Fashion Day some futuristic looks – extensive oversize puff quilted jackets complemented by balaclavas, as well as romantic rouches and skirts from streamy fabric.
Both brands work in compliance with the local identity of the region and traditional clothing, offering the audience a new creative take on these.
Designer Nadezhda Abzaeva came to Modest Fashion Day with her quilted vests, puffy corsets, as well as texturized jackets with extensive sleeves. Abzaeva prefers natural materials – cotton and denim made in Russia and China.
Designer Alexandra Kruchuk from Murmansk (Gapanovich brand) presents in her collections a contemplation over the traditional Russian folk costume related to the history of the people of the North. She uses lots of rouches, handmade knitting, extensive sleeves, and skirts. This collection included looks made of stonewashed cotton and nettle cloth, as well as feminine blouses with floral prints, floating skirts, and sundresses of batiste and rough veil.
Follow the latest news at the official web-sites:

https://kazanforum.ru/en/modest-fashion-day/

https://russianfashioncouncil.ru/en/


Hits: 1614 | Leave a comment