Zac Posen's New York Fashion Week show was accompanied by music from Mark Ronson
The US fashion designer showed his Spring/Summer 10 collection at The Altman Building at 9am, after being forced to move his showcase from its usual evening slot. Undeterred by the early hour, Zac had the building transformed into a nightclub, complete with curving runway, low lights and music from the renowned super-producer.
The clothes were created from an eye-popping pallet of pink, orange, lime, fuschia and colbalt, often mixed and matched to form clashing combinations. Off-the-shoulder dresses with pleated skirts , 60s-style macs, sweater dresses and knitted maxi-dresses all made an appearance.Jackets with structured shoulders were also a big look, along with draped trousers which emphasised hips. The finale - witnessed by celebrity stylist Rachel Zoe - included a series of beautifully made evening gowns in black, cobalt and silver mesh, with some boasting sequins.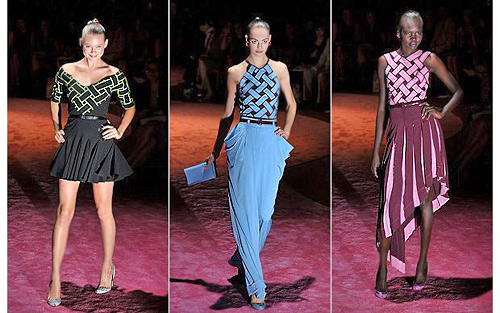 Also showing yesterday (14.09.09) was Caroline Herrera, whose new collection was inspired by Japanese basket weaving. Jackets were pieced together from silk raffia, bodices were laced together from linen and dresses boasted intricately woven belts. Britain's Daily Telegraph newspaper reports: "A basket-weave print was used for strapless cocktail dresses, featuring a body-con torso and, then, flaring out into a full skirt from hip to just-below-the-knee, over stiffened petticoats."

Colours were muted, ranging from ivory and beige to caramel and gold. Brazilian designer Carlos Miele's showcase was a more colourful affair, featuring carnival shades and animal prints. Wool tunics were beaded, while flared jeans and bubble skirts were coupled with T-shirts made of black lace.Mini-dresses were paired with boleros, and gold-sequinned shifts were presented as evening options.


Hits: 21137 | Leave a comment