Teresa Scanlan from Nebraska was crowned as Miss America 2011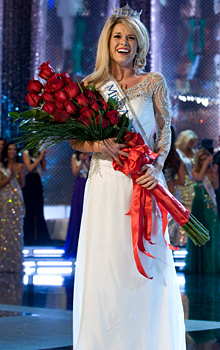 Miss Nebraska 2010 Teresa Scanlan was crowned as Miss America 2011 friday night at the Planet Hollywood Resort & Casino in Las Vegas. The final night of the 90th Anniversary of the Miss America Pageant presented by DSW Designer Shoe Warehouse was broadcast live from Las Vegas on ABC.
Teresa's triumphant walk across the stage was just the beginning of a journey that will take her to every corner of the country during her year of service as Miss America 2011. She will travel approximately 20,000 miles each month speaking to audiences about her platform of "Eating Disorders".
In addition, Miss America 2011 will be the official spokesperson for Joseph Ribkoff International Clothing Company, who will provide Teresa with a full wardrobe for the year.
17 - years-old Teresa will be a student at Patrick Henry College. Her scholastic ambition is to attend law school and she ultimately hopes to become a judge and eventually a politician. Along with the title of Miss America 2011, Teresa won a $50,000 scholarship sponsored by Artistry exclusively by Amway to continue her education. For the talent portion of the competition, Teresa performed  Calvin Jones's "White Water Chopped Sticks" on the piano.

The first runner-up was Miss Arkansas Alyse Eady who earned a $25,000 scholarship, and the Second runner-up honors and a $20,000 scholarship were awarded to Miss Hawaii Jalee Fuselier.
As the world's largest provider of scholarship assistance for young women and one of the nation's leading achievement programs, the Miss America Organization last year made available more than $45 million in cash and scholarship assistance.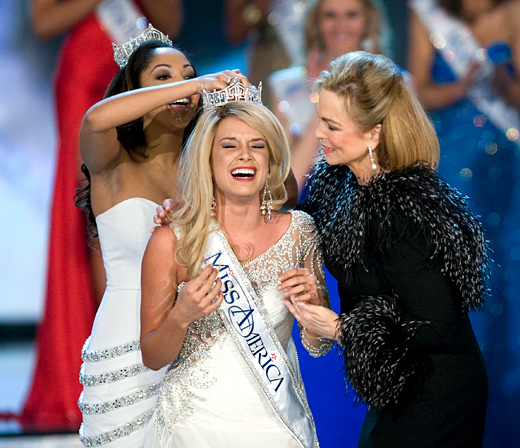 Hits: 9001 | Leave a comment