Bar Rafaeli is the new face of Piaget Rose Jewelry Collection
Super model Bar Rafaeli has been named the new face of the 2012 Piaget Rose Jewelry Collection. The collection includes watches, cuffs, necklaces, rings and bracelets, as on each of one has a rose.
At Piaget, the rose is first and foremost the expression of a natural environment that is interpreted in a stylized rather than naturalist fashion. For the House of Piaget, the rose is a talisman. A message of eternity and renewed love that pulsates daily. A generous, joyous icon mirroring the rose of which it is the muse: the Yves Piaget rose.

"The rose is the most universal flower. For me, it brings to mind childhood, and my first love for the wild roses called Sweet Briars, which grow wild at 1,100 metres", said Yves Piaget.

"I have always been in love with roses, fascinated by the work done by breeders, whose imagination is matched by their absolute discipline. They seek only beauty and performance. In 1982, when the rose peony was christened the Yves Piaget rose, it was an extremely emotional moment for me", Piaget said too.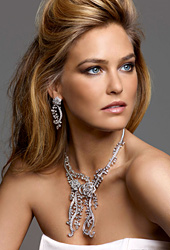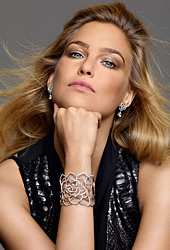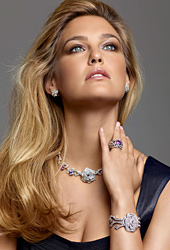 Photos: Piaget


Hits: 15354 | Leave a comment