Timeless and classic pieces in Julian Chang's collection at the 15th annual Miami Beach International Fashion Week
On March 20, designer Julian Chang showcased at the 15th annual Miami Beach International Fashion Week at the Miami Beach Convention Center. This year, the event was the center of attraction for all fashionistas with the arrival of more than 60 designers, who presented their exclusive designs and over 100 celebrity guests in attendance. Chang received the Humanitarian Award on the opening night.
"The collection was inspired by a French girl who moved to Miami, she wants to continue with her glamour and own fashion but at the same time she is been influenced by the sexiness of Miami," says Chang. "There was a canvas of black and white with splashes of magenta and royal blues - the silhouettes were classic and timeless," he adds.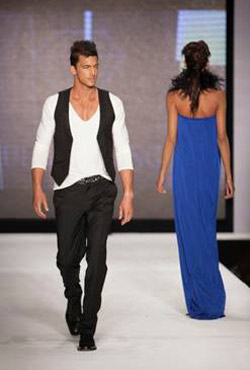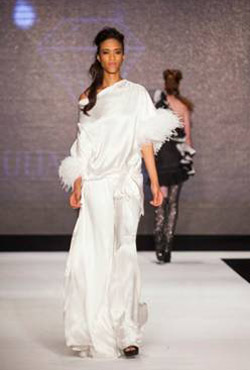 Receiving the Humanitarian Award has not been the first award Chang has received at the grandiose event - as he was awarded for his Ready to Wear collection after opening Miami Beach International Fashion Week in 2010. Aside from this accolade, he's received awards including: MIFW "Prêt-a-Porter Designer of the Year", Prêt-a-Porter Style Award, Ebenzer Award of Honor World Fashion in Korea, Florida International's Designer Star Winner, Vogue En Espanol "Designer's Choice Award", Cadillac Luxury Lifestyle Award, Women's Wear Daily selected Chang as the "Up and Coming Ready-to-Wear Designer to watch", Gen Art Fresh Faces Award, recipient of The Key to the City of Miami Beach, Vox Out Award and AI Alumni Wall of Fame.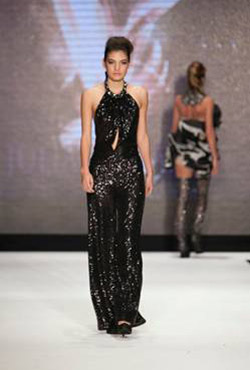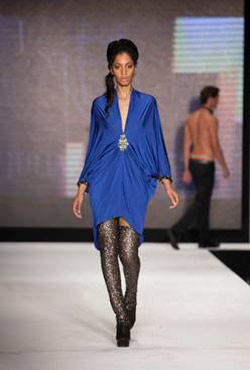 Chang joined designers from around the world such as Carlos Miele, Nicolas Felizola, Petit Pois by Viviana G, Itala Testino, Erin Healy, Cynthia Rodriguez, Lisu Vega, Kaynce Armstrong, Lola Kids, Finicky Stitches, Tiffany Chimere, Lauren Adams Ken Wrony, Violet Luck, Duski Orascanin, Jessica Decata, Obeemaa on the runway at this spectacular event.

Adriana Barraza, Michelle Salas, Lili Estefan, Kika Rocha, Fabian Rios, Maripily Rivera, Ximena Duque, Diego Di Marco, Fernando Carrillo, Barbara Bermudo, Maritza Rodriguez, Rashel Diaz, Karent Sierra, Jorge Bernal, Gabriel Valenzuela, Felicia Mercado, Rebecca Jones, Liannet Borrego, Michelle Vargas, Mauricio Henao, Alexandra Pomales, Adriana Cataño, Silvana Arias, GustavoLeone and Danell Leyva attended the event.


Hits: 14865 | Leave a comment