Accessories' trends for Spring/Summer 2014
We selected for you, the newest Spring/Summer 2014 collections of the most famous designers. Enjoy with the selection.
The choice of the color palette of the Alexander McQueen shoes and handbags Spring/Summer 2014 collection is just as resourceful and cool as the shapes. The accents of the collection are the platform type heels, super cool cross body handbag options, and clutches, the colors being mixed within black, red, navy blue and yellow shades. One of the most frequently met elements among these pieces is the tassel fringe. Another popular design, which is often met among the looks, is the snakeskin, which seems to be an extremely popular fashion trend for the coming Spring/Summer season.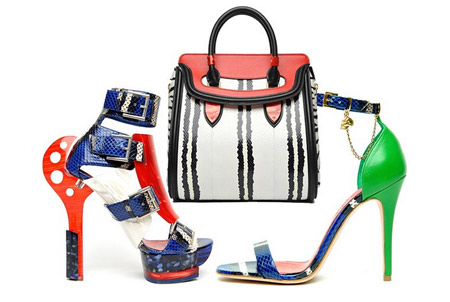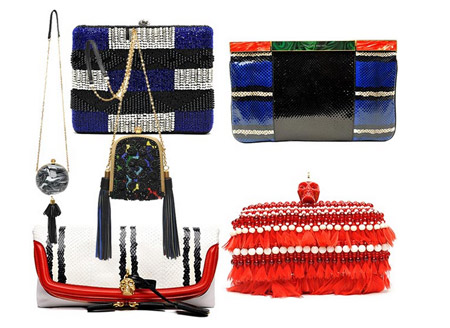 The Chanel shoes and handbags Spring/Summer 2014 collection catch your imagination and get you into an utterly different world of diversities. Chanel also has a unique way of introducing these powerful and contemporary drives, doing it not via blending similar styles in one piece, but presenting each style taken purely, and just demonstrating different styles with unique and different pieces.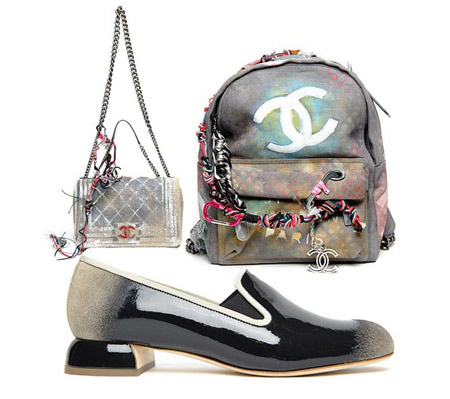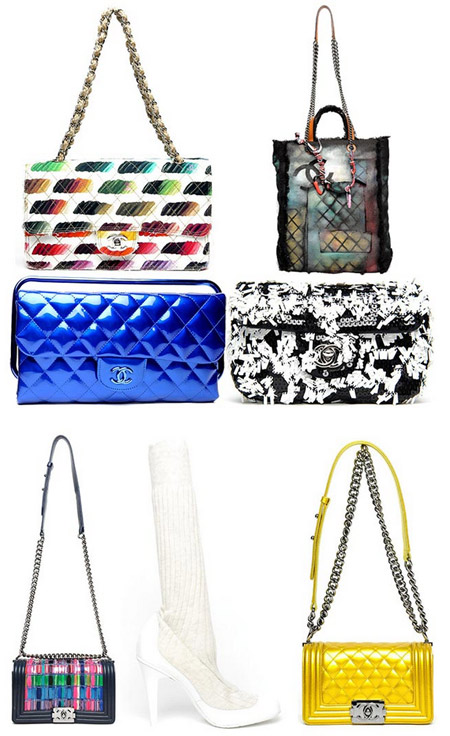 The top popular Christian Dior's snakeskin motives just overwhelm the looks next, put literally everywhere from iridescent clutches, strappy handbags, and monochrome options with shiny yellow and greenish shades, navy blue, and black and white compositions. The latter is the next craze of this line, taking the control of the looks in the end, and mainly represented via spectacular bijou pieces, having yellow, green, red, and Bordeaux tones.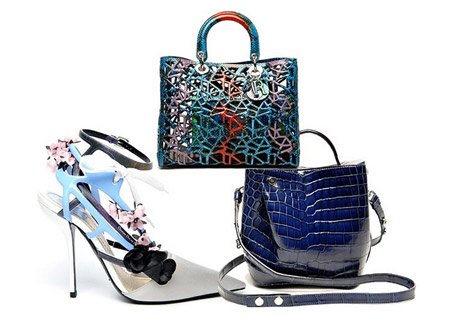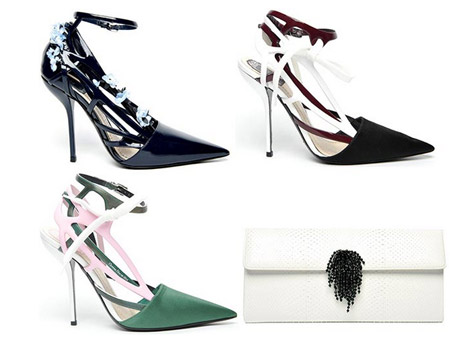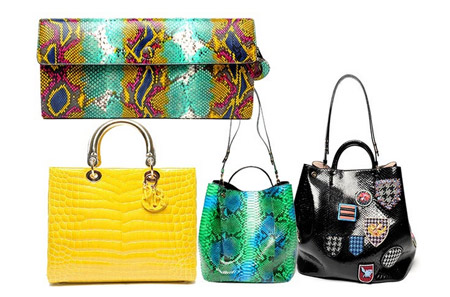 The Gucci's shoe variations, presented as cone heel, open toe, ankle strap pairs, first introduced as green, brown, and blue, and later extended to velvet, golden, and bronze types. The other versions of ankle boots with some stripy patterns and changing color combos from red and black to orange and black, and finally monochrome black, are no less eye catching. The suede is a key fabric.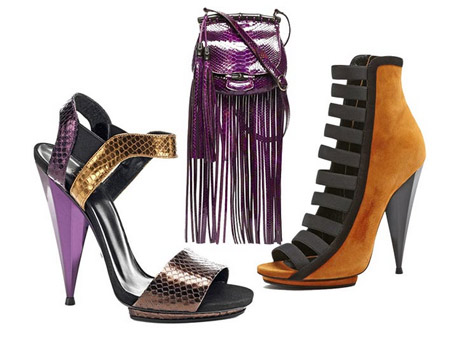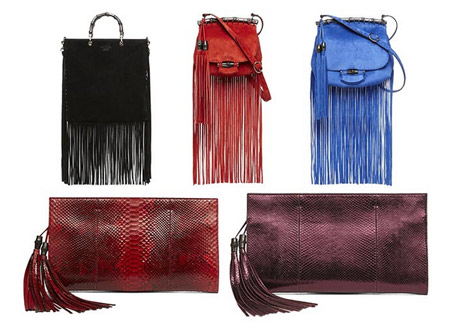 The breathtaking Saint Laurent's shoes and handbags Spring/Summer 2014 collection appears to be exclusive in a great number of ways. First it's the black, which comes in a huge variety of faces and acting as a principal element in the greatest part of the pieces. Secondly, it's the metallic trend, which is exposed via metallic shine and some metallic particulars like studs and chains. Finally, the amazing cone heel looks seem to be the most interesting of this line.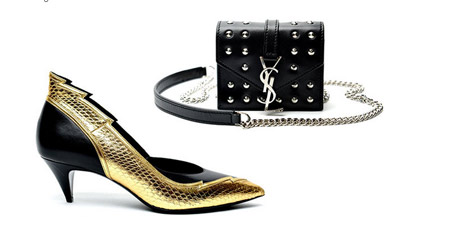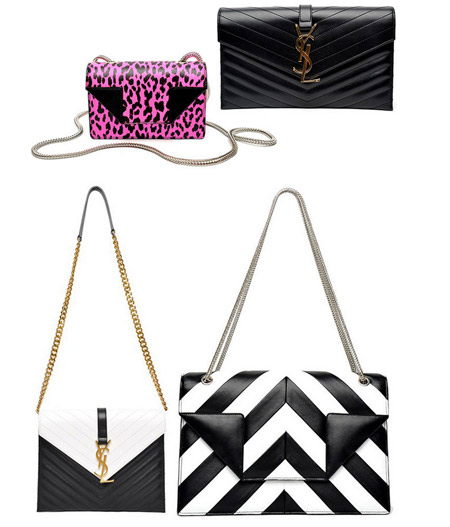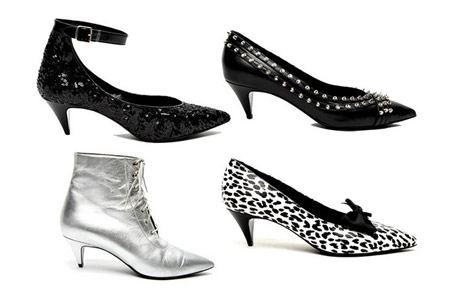 Valentino's shoes and handbags newest collection is a perfect source for having these iconic shapes around you all the time. Valentino is quite famous for its elegant, a bit bohemian and at times retro looks, but this time, these concepts are found in an utterly different framework and categorically unique backgrounds. We've seen very many interpretations of creative images and nice choices of ways to be unique in looks, but this collection is a real reminder of Valentino's being an expert of surprising and creating to-die-for looks.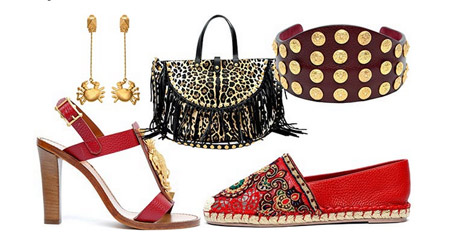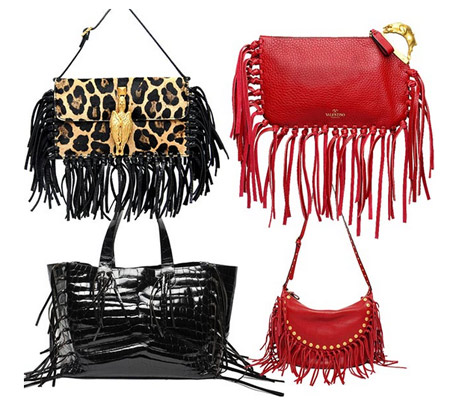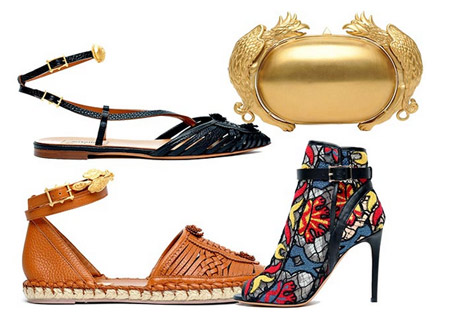 Belts are what make the magnificent Versace's shoes and handbags - so lively and wonderful this time! Looking through the pieces, we can clearly see that it's all about the belts primarily, and only then can we turn to underlining the other focuses of this line. Versace has always been a big supporter of innovations, at the same time bringing in the traditional and timeless designs, gifting them with contemporary faces and a thoroughly modernized interpretation. So this time, it's again the specific Versace designs that have been put forth as transformed and fresh variants, having a proportion of experimental aspects as well.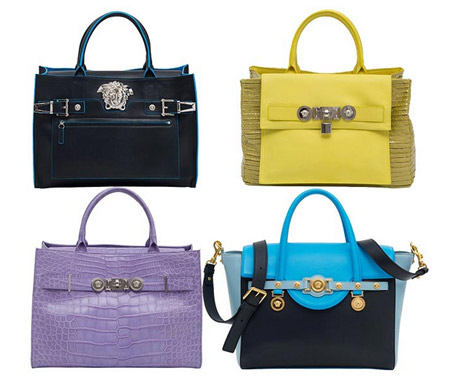 Photos:

1-2. Alexander McQuinn Spring/Summer 2014

3-4. Chanel Spring/Summer 2014

5-7. Christian Dior Spring/Summer 2014

8-10. Gucci Spring/Summer 2014

11-13. Saint Laurent Spring/Summer 2014

14-16. Valentino Spring/Summer 2014

17-19. Versace Spring/Summer 2014


Hits: 12485 | Leave a comment