Chanel Haute Couture Spring/Summer 2014 collection
Minimalist staging set the tone for the Chanel Spring-Summer 2014 Haute Couture show. Beneath the domed glass ceiling of the Grand Palais, a stage consisting of glowing white walls and polished steel panels revealed a large staircase from which models emerged at the show's opening. Within this nightclub atmosphere musician Sébastien Tellier, dressed in a blue and pink suit, was accompanied by a white-clad orchestra.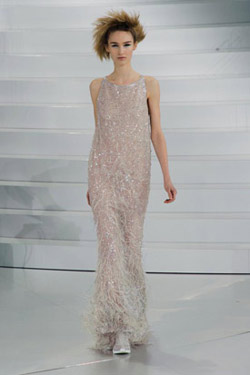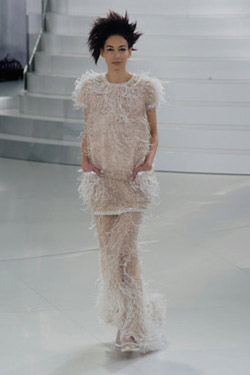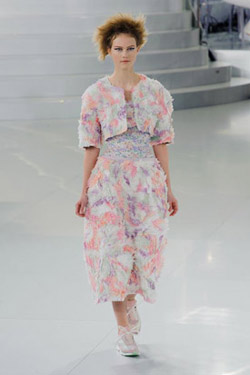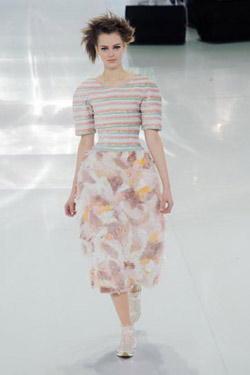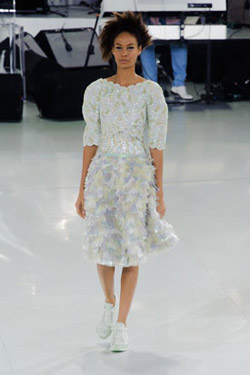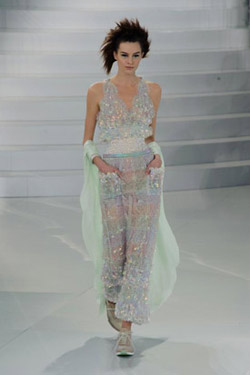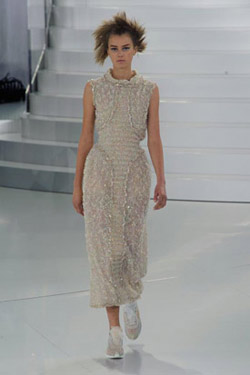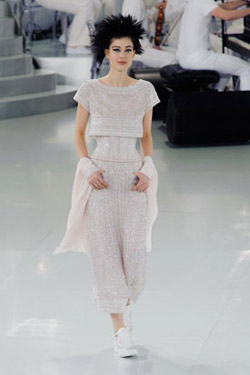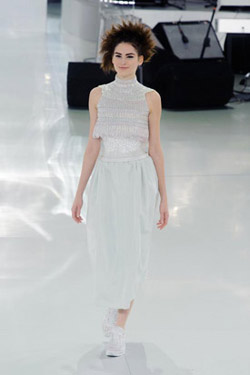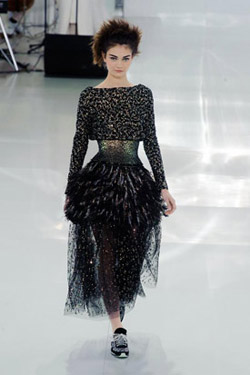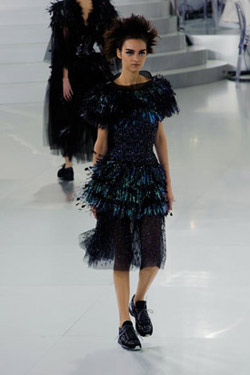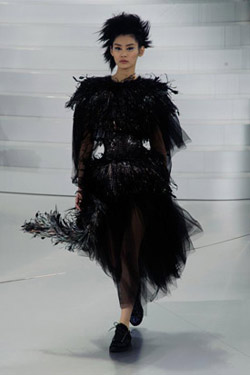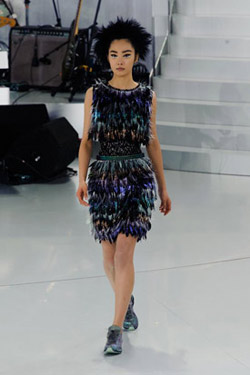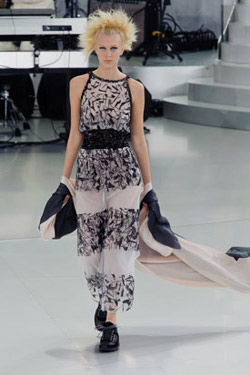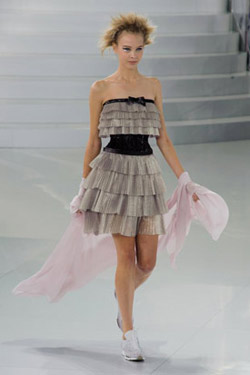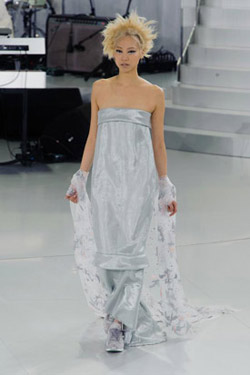 Karl Lagerfeld excels in the art of giving Haute Couture a modern vibe. Conveying a feeling of youth, freedom and lightness with a collection free of superfluous details, its luxury lies in its exquisitely refined materials and elegant clean cuts. Although pure lines are already an essential part of Chanel's vocabulary, they were enhanced by the freshness and fluidity reflected in each one of the collection's 64 looks.
Karl Lagerfeld revealed new proportions for the Chanel suit. Silhouettes were corseted and cinched at the waist, accentuated by boleros or cropped jackets and drop-waisted skirts. Accessories took center stage with this structured yet relaxed line, which featured elbow pads, knee pads and fanny packs exuding an urban chic spirit. Woven and sometimes embroidered tweeds, light tones (ranging from pure white to ivory, powdery pink to orange-pink and cotton candy, pearly or iridescent grays, mauve and lamé) softened the graphic silhouettes by adding a fresh touch. From flowing gowns to long narrow jackets worn with skinny cropped trousers, Karl Lagerfeld lightened the mood of this collection even more by pairing each look with matching sneakers, evening wear included.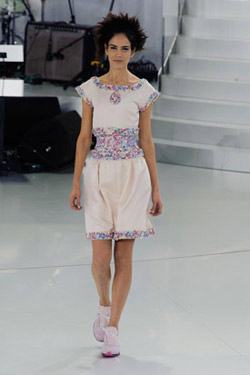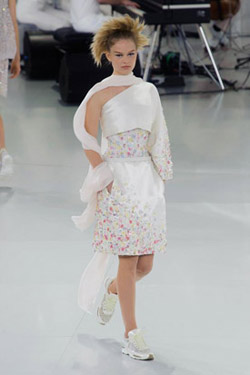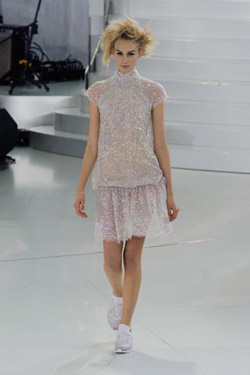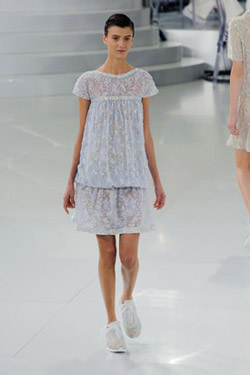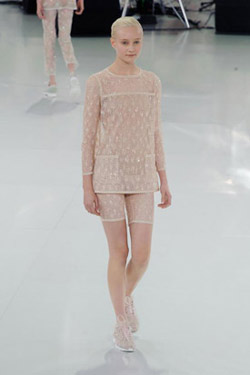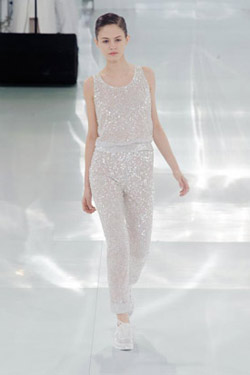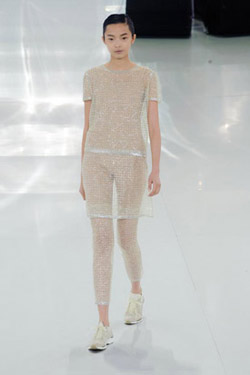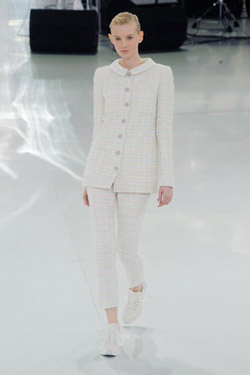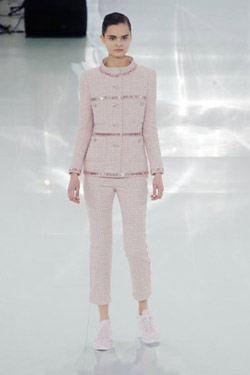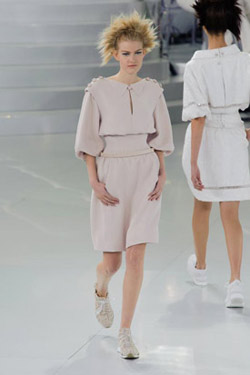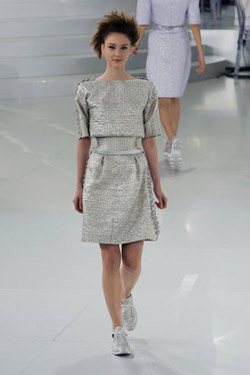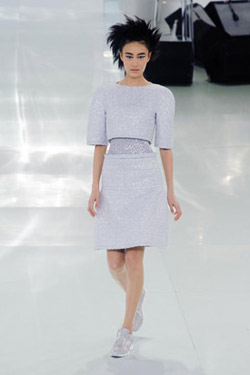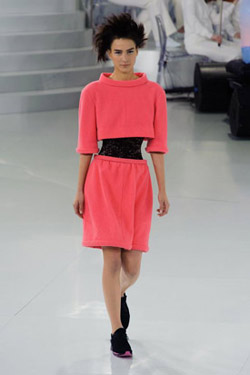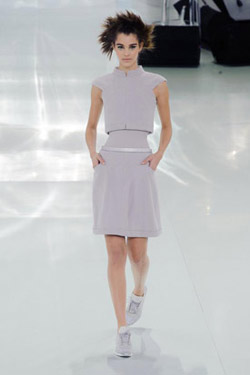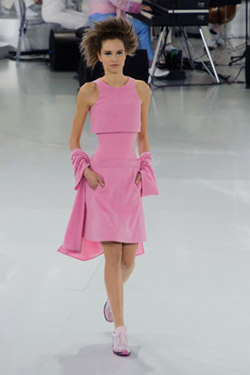 This sublime footwear reflected the same fluidity, a simplicity of lines showcased by the lightness of transparent materials such as chiffon, lace and tulle, as well as airy fabrics sometimes embroidered with sequins or adorned with feathers studded with metallic details. Evening gowns rose to new heights by revealing the ankle. Once again, Karl Lagerfeld selected fresh colors for his gowns in shimmery or iridescent tones that reflected light, with dramatic black making a few select appearances.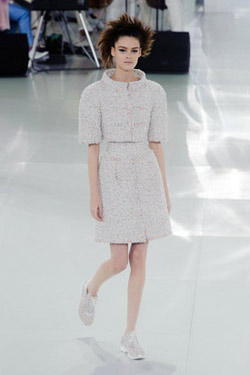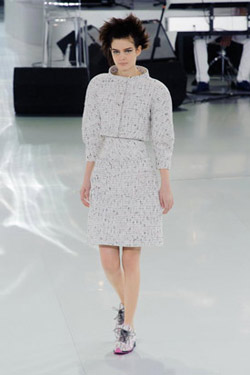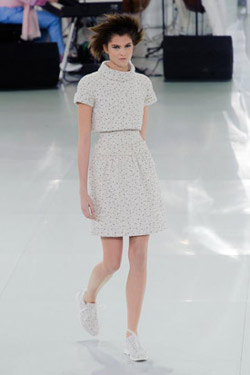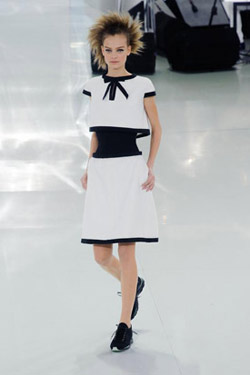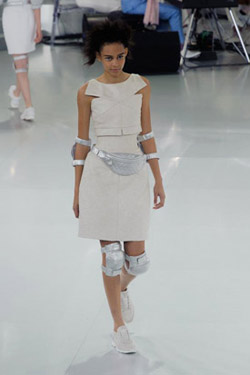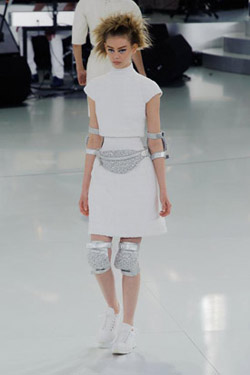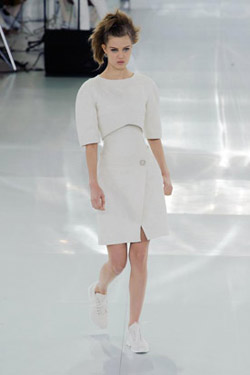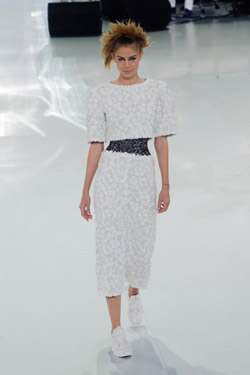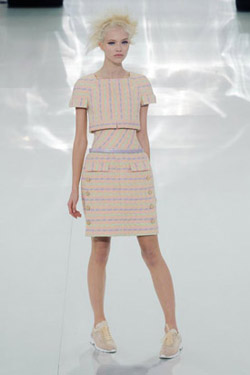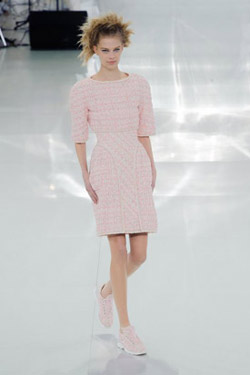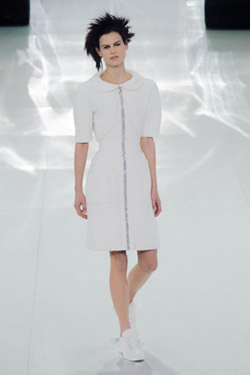 Photos and information: chanel-news.chanel.com


Hits: 6367 | Leave a comment