Naomi Watts, Nicola Bulgari and Veronica Bulgari celebrate the opening of BVLGARI
The Houston Museum of Natural Science hosted a celebratory gala in honor of BVLGARI: 130 Years of Masterpieces, an exhibition of approximately 150 pieces created by the renowned Italian jeweler, chronicling the jeweler's evolution back to its beginnings in 1884. The exhibition – the most substantial Bulgari retrospective to feature the Heritage Collection - highlights jewelry that defined a pivotal period in Italian design, and includes many pieces from the personal collection of Elizabeth Taylor. There are also pieces in the collection on loan from local collectors Lynn Wyatt, Joanne King Herring, and Christina Girard that have never been seen before. The exhibition explores the cultural context in which the pieces were created, including innovative uses of sketches, photographs, and other archival materials that help to reveal a fascinating intersection of celebrity, design, and fine craftsmanship. The exhibition's highly interactive technology allows visitors to experience the designs in an exceptional way.
"The exhibit has came to Houston for 130 years of the company because Houston is a mirror of Bulgari values – it's a bold, powerful, daring entrepreneur city, always forward thinking in exactly what Bulgari stands for in the world of jewelry, so it's a great match," said Bulgari CEO Jean- Christophe Babin.
Approximately 220 guests gathered at the Houston Museum of Natural Science for cocktails and hors d'oeuvres, while they admired the stunning jewelry on view in the exhibition. The Italian dinner with Mediterranean influences, was served in a room designed to evoke the Spanish Steps piazza, with floral chandeliers and an abstract representation of Rome through mirrored and framed images surrounded by terracotta pots with colorful azaleas. Guests enjoyed dinner at crystal candlelit tables set with pink-hued flowers with a live performance by modern pianist Elizaveta in the center of the room. Opening remarks were given by the Houston Museum of Natural Science's Windi Grimes, Chair of the Board of Directors, Joel Bartsch, President and CEO and from Bulgari's Jean-Christophe Babin, CEO and Nicola Bulgari, Vice Chairmen. Among the evening's notable guests were actress Naomi Watts, Veronica Bulgari, and a bevy of glamorous women decked in Bulgari jewels, including Lynn Wyatt, Joanne King Herring, Sima Ladjevardian, Greggory Burk, Isabel David, Becca Cason Thrash, and Christina Girard. Others in attendance include former Chairwoman of the Houston Museum Of Natural Science Board of Directors, Windi Grimes; Joel Bartsch, President and CEO and Curator of Gems and Minerals of the Houston Museum of Natural Science; Nicola Bulgari, Vice Chairman of Bulgari; Jean- Christophe Babin, CEO of Bulgari; and NFL superstar JJ Watts.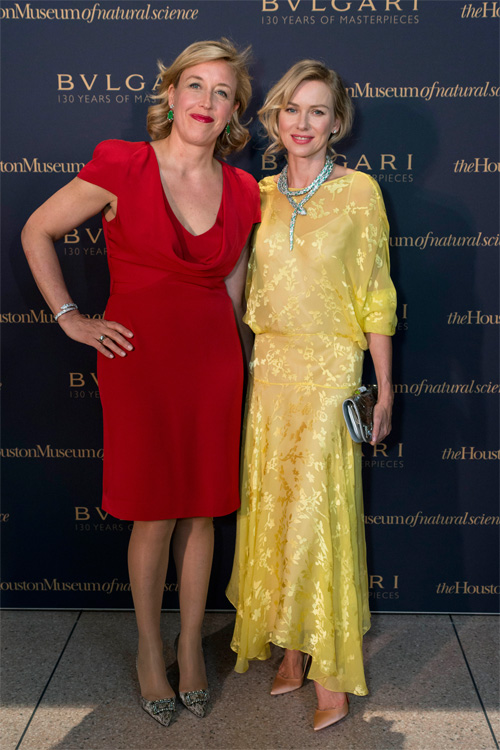 Naomi Watts wore a stunning one-of-a-kind Serpenti necklace from Bulgari's High Jewelry collection (a sleek double-coil diamond Serpenti in white gold with two pear shaped diamonds (1.04 cts), emeralds (48.67 cts), and pavé diamonds (170.50 cts)), and carried a Bulgari cocktail evening pochette in palm embroidered silver and gold. Texas Grand Dame Lynn Wyatt wore an 8kt white gold necklace (29 emerald cut diamonds (57.45 cts) and 567 round brilliant cut diamonds (44.22 cts)), as well as an 18kt white gold bracelet (12 emerald diamonds (16.95 cts) and 374 round brilliant cut diamonds (23.51 cts)), and an 18kt white gold diamond bracelet (28.92 cts). Exhibition Lender and former freedom fighter Joanne King Herring, dazzled in an 18kt white gold necklace with sapphires (93.64 cts), peridots (161.85 cts), milky quartzes and round brilliant diamonds (21.29 cts) and matching earrings.

image.net


Hits: 10072 | Leave a comment