Y-3 Spring/Summer 2015
Pure in its pursuit of escape and athleticism, surf subculture inspired a bold direction for Y-3 Spring/Summer 2015. Shown once again during Paris Men's Fashion Week at the Couvent des Cordeliers on Sunday, June 29, 2014, the collection explored an energetic fusion of surf and punk.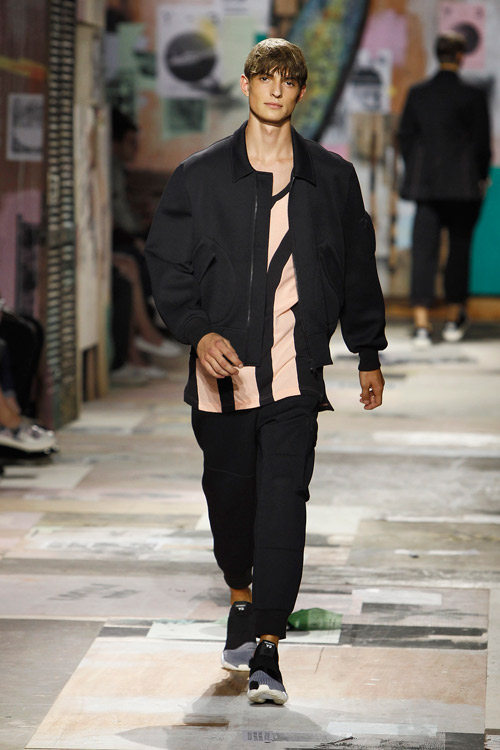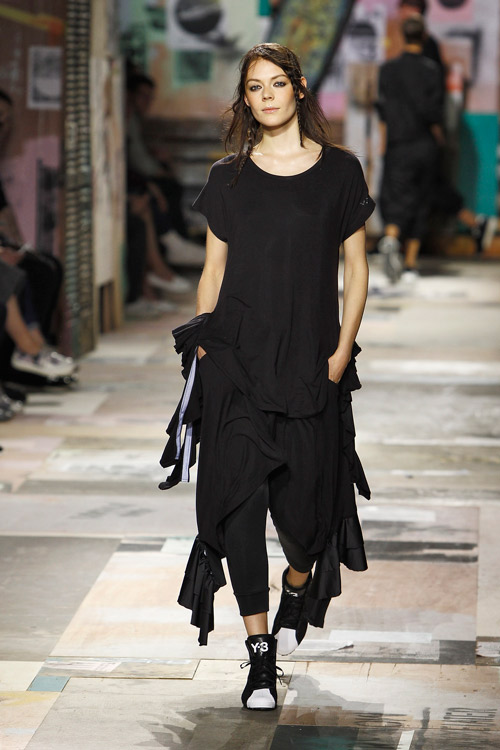 Men's and women's pieces debuted together in a vibrant, colorful, and technically accomplished aesthetic influenced by the past but set firmly in the future. Tailored sportswear in shimmering coated fabrics remained true to Y-3's history of sport-style, which was set against a conceptual staging of colorful wooden fences and repurposed industrial materials. Models cruised the runway to the music of Jiro Amimoto, watched by a front-row crowd including Clemens Schick, Alexander Ludwig, Joe Dempsie, Juliette Gernez and Leslie Kee.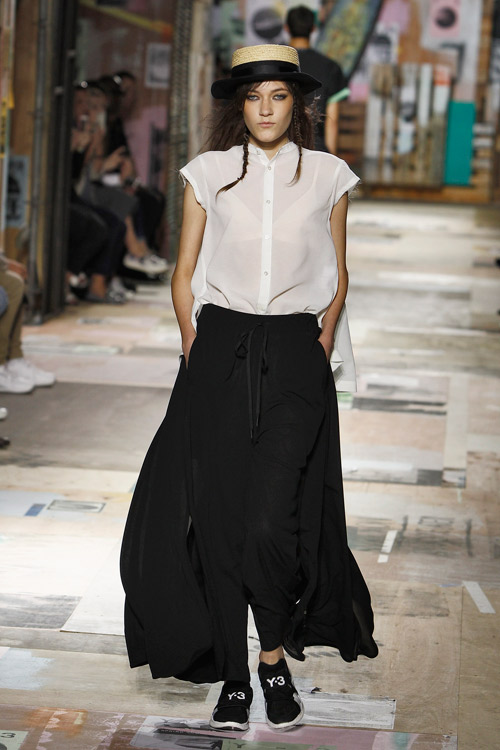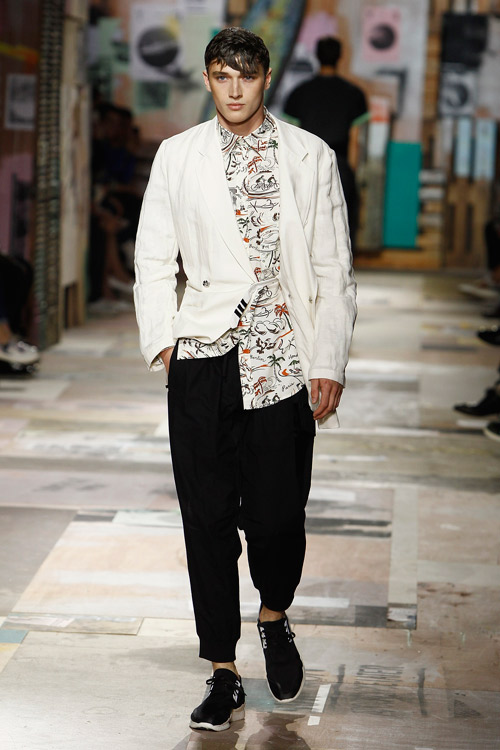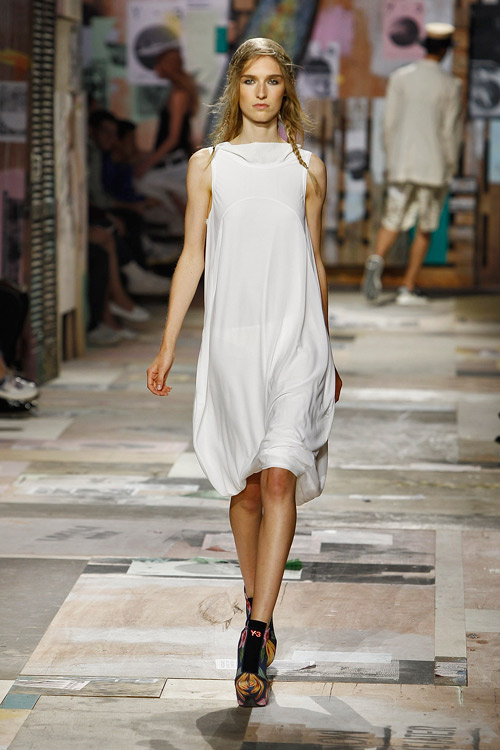 At its origins, surf culture was unique in its challenge of the mainstream, eschewing convention and the status quo in favor of the next big wave. Similarly, Yohji Yamamoto has consistently pushed boundaries. For Y-3 this season, he envisioned slim-fit futuristic sportswear detailed with bright pops of color and playful prints - all of them finished with unique surf-inspired details and Y-3's own take on traditional Hawaiian prints: lush, modern, and intoxicating.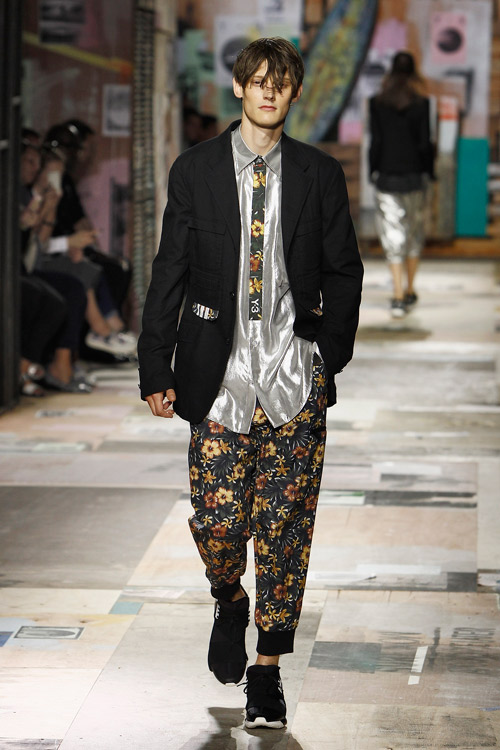 Such prints served as the driving force of the women's collection, emblazoned across everything from voluminous frock dresses and easy sweats to zip-up blousons and oversize parkas. The surf inspiration was also interpreted in acid-bright ombré separates that faded from eye-popping tones of turquoise and peach to charcoal gray. Black serves as an enduring touchstone for Yamamoto and this season was no different as the non-color showed up on sharply cut coats and billowing jumpsuits and skirst showcasing an interplay of bold volume and strict tailoring.
Menswear similarly explored dichotomies of printed and solid, tailoring and volume, hard and soft. Neat polos and T-shirts came trimmed with this season's bold Hawaiian motifs. Suit jackets featured a subtle tone-on-tone version of the print, while button-down shirts introduced a playful pattern of seaside iconography from Paris to Honolulu.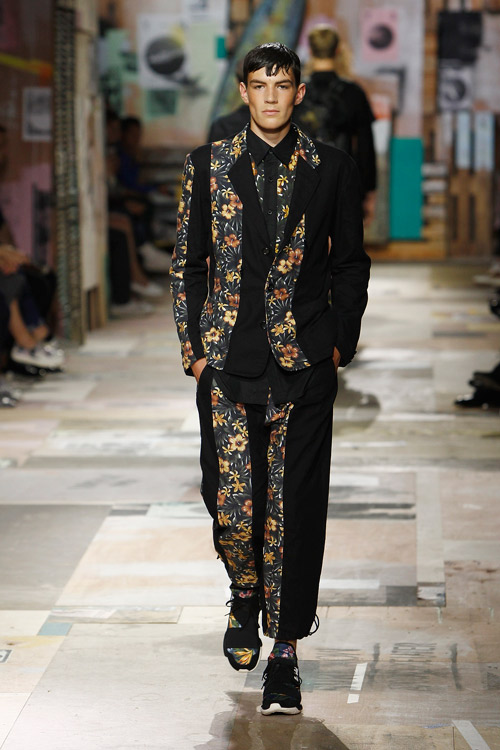 On the footwear front, technical neoprene came adorned in flower prints, most unforgettably in the form of a sky-high women's wedge boot with a bold zip tracing its silhouette. adidas' breakthrough Boost foam technology returned to the collection alongside a new range of essential trainers and slip-ons. Each piece underscored the brand's unquestionable technical prowess while serving as a powerful ode to a pioneering surfer spirit.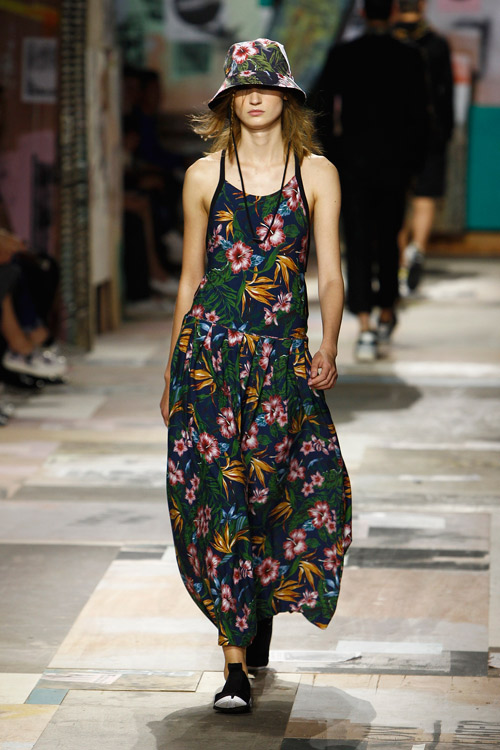 Photos and information: image.net


Hits: 10124 | Leave a comment