Lubomir Stoykov presented his new book at his 50-th anniversary
The Bulgarian president Georgi Parvanov and US ambassador James Pardew's wife Mrs. Kathy Pardew sent kindly wishes to the jubilarian
An exclusive participation of Lilly Ivanova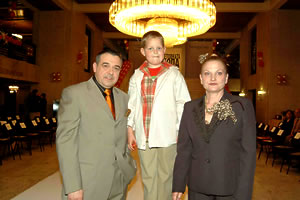 On May 11th 2004 in House 2 of Boyana Residence was held the charity premiere of Lubomir Stoykov's new book "World Fashion. Part II: USA". It was under the patronage of Mrs. Kathy Pardew – wife of US ambassador James Pardew. Mrs. Pardew wrote the introduction of the book and specially attended the event and greeted Mr. Stoykov. The Bulgarian president Mr. Georgi Parvanov send a special greeting letter to the jubilarian: "In all your initiatives you are demonstrating a notable working capacity, creative prolificacy and high professionalism, which deservedly makes you real sculptor and herald of refined criteria. Your nearly 30 years creative work is no doubt an excellent basis for spiritual and aesthetic upbringing, that we all need so much today". Exclusively was the appearance of the Bulgarian variety prima Lili Ivanova. At the supreme moment she sang "Happy birthday to you" to Mr. Stoykov.
Bulgarian fashion houses like Agressia, Tani Fashion, Irida, Mon Amour, Enita and Miro presented their latest collections, as well as the representatives of world famous fashion labels like Sonia Rykiel, Carolina Herrera and Paco Rabanne eyewear, Golden Lady and many others. For the first time in Bulgaria was shown a collection of the Italian fashion giant Valentino. It was a happy coincidence that Lubomir Stoykov and the Italian designer Valentino were born on the same date – May 11th.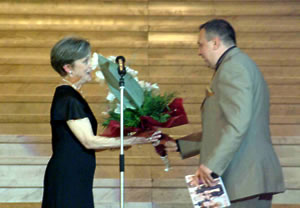 The latest fashion trends were demonstrated by Visage Model Group models and Vania Peicheva, Ivaila Bakalova, Gergana Guncheva and Elena Tihomirova – all Miss Bulgaria.
"World Fashion. Part II: USA" is an unique edition of "Ot Igla Do Konetz" Consulting House and is dedicated to the contemporary American style and to the development of the fashion design in USA. Basically the book presents the meetings and interviews with American topdesigners, fashion journalists, topmodels and celebrities, as well as Lubomir Stoykov's personal impressions from the fashion status and dynamics in USA during his travelling there as a journalist at the time of 7th on Sixth New York Fashion Week.
The new book is a sequel of "World Fashion. Part I: England and France", published in the year of 2000. "World Fashion. Part II: USA" has the ambition to reveal in a maximum popular way the phenomenon, called American Fashion and to analyze the future growth of the world fashion design. This book is accessible, interesting and emotional.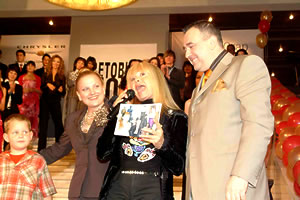 What is the difference between American and European dressing style? What makes the American design and casual and club apparel, comfortable and practical dresses so popular? What is the connection between creative and commercial principle?… The author gave the answers of those and other questions after his long standing analyses of the American fashion design history and with the help of his famous interlocutors: Betsey Johnson, Bill Blass, Oscar de la Renta, Lloyd Klein, Wolfgang Joop, Stan Herman, Linda Allard, Carmen Marc Valvo, Ivana Trump, Liz Hurley, Maria Schneider, Elsa Clench, Nicky and Paris Hilton. Before him (which means before the readers) have made their confessions Marithe and Francois Girbaud, Randolph Duke, Ron Chereskin, Marcus Schenkenberg, Stephen Baldwin, Michael Madson, Zang Toi, Leon Hall, Hal Rubinstein and many others American celebrities. Lubomir Stoykov is trying to tell the stories of the most renowned American fashion creators – Ralph Lauren, Donna Karan, Calvin Klein, Tommy Hilfiger, Geoffrey Been, Carolina Herrera (they are presented in an individual portrait articles) and also to describe the conclusive the connection between fashion, image-making, marketing, advertisament and popularity.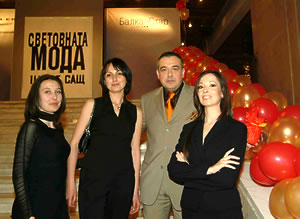 "World Fashion. Part II: USA" is bilingual edition – in both Bulgarian and English languages. The book is luxury, coloured and with many original photos. It's premiere coincided with the 50th birthday of Lubomir Stoykov. Over 300 guests were invited for the show – friends, colleagues, relatives, representatives of the diplomatic, state and political elite. Among them were Anna Sendova, Mrs. Julia Bul, world famous producer David Varod, professor Ivan Slavov, Nikolai Sotirov, Neli Topalova, Stavri Kalinov, Gredi Assa, Nikolai Panaiotov, Borislav Dionisiev, Stanimir Ilchev, Vesela Draganova, Evgenia Zhivkova, Liliana Lazarova, Miroslav Pechev, Minyu Staikov, Sasho Dikov, Radoslav Jankulov, as well as many journalists. Jordan Georgiev – Dancho Stulbicata was the DJ of the show who took care for the guest's good mood. Catwalk show choreography was made by Amalia Tincheva and the evening was specially hosted by Nevena Vasileva.
The book "World Fashion. Part II: USA" was sold out with charity purpose during the show and the funds were donated to the children at St. Ivan Rilski establishment, whose traditional contributor is "Ot Igla Do Konetz" Consulting House.
The charity premiere was held with the co-operation of: BALKAN STAR – executive representative of CHRYSLER and JEEP in Bulgaria; SAVOY SILVER CLUB; LAVAZZA; BOYANA RESIDENCE; DOWNTOWN HOTEL; THE BULGARIAN BUSINESS CLUB; NEDELIA CONFECTIONERY; MUNICIPAL INSURANCE COMPANY; BONA DEA HAIRSTYLE SALOON; TORNADO FIREWORKS; NEW IDEA XXI CENTURY FURNITURE; KIRIL CHALUKOV; CLINIQUE AND ESTEE LAUDER; KRAFTSDESIGN COMPANY.
PHOTOS:
1.Lubomir Stoykov with his family.
2.Lubomir Stoykov giving as a present his new book to Mrs. Kathy Pardew.
3.Lili Ivanova singing "Happy birthday to you" to the jubilarian.
4.Lubomir Stoykov together with his work team (from left to right): Zdravka Kardjanova, Julia Atanasova and Nevena Vasileva.
PHOTOGRAPHER:
© Ivan Vasilev
© Lubomir Stoykov
All rights reserved!
Hits: 29105 | Leave a comment