A Look Back at the Evolution of Women's Lingerie
The Museum at the Fashion Institute of Technology in New York is hosting a new exhibition called Exposed: A History of Lingerie. It traces the developments in intimate apparel from the 18th century to the present, featuring more than 60 lacy, racy exhibits from the Museum's permanent collection. The exhibition is running from June 3 to November 15.
There are two types of lingerie, hard and soft. Hard lingerie includes corsets, bustles, and structured bras, while soft lingerie consists of unstructured garments, such as slips, nightgowns, and panties. As the relationship between dress and the body has been redefined over time, so too have the function and appearance of lingerie.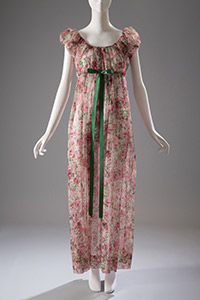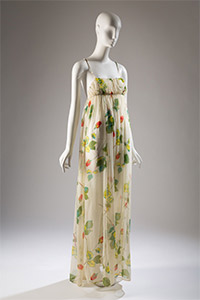 The concept of underwear-as-outerwear is most commonly associated with the 1980s, but the look of lingerie has long served as inspiration for fashion garments. Exposed opens with several pairings of objects that underscore that connection. A nylon nightgown by lingerie label Iris is shown alongside an evening gown by Claire McCardell, created in a similar fabric and silhouette. Both date from the 1950s.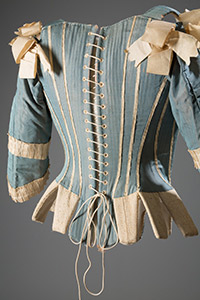 A corset from circa 1770, made from sky blue silk, is the earliest object on view. While corsets were essential to maintaining both a woman's figure and her modesty, they also held an erotic allure. Many 19th-century undergarments were characterized by their modest designs and humble materials, but by the early 20th century, intimate apparel was often as beautiful and seductive as it was functional - a concept that was epitomized by colorful petticoats and opulent tea gowns. Meanwhile, many styles of underclothing were becoming more streamlined, corresponding to the slimmer silhouettes of outer garments. Elasticized girdles had replaced constricting corsets by the 1920s, while bras, slips, and even lounging apparel also took new, modern forms.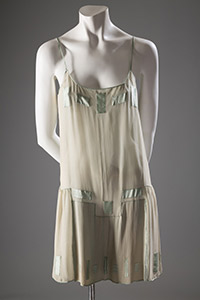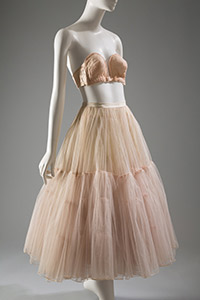 During the 1950s, the return of the hourglass silhouette demanded more rigid foundation garments, such as corsets and stiff tulle petticoats. These styles were directly contrasted in the following decade, when unstructured lingerie in featherweight fabrics was worn to complement revealing, youth-driven clothing styles. The 1980s saw a return to luxurious undergarments, such as lacy teddies and provocative bustiers, which were often inspired by designs of the past. While sexy, high-end labels such as Agent Provocateur and La Perla thrive in the 21st century, the expanding lingerie market offers styles for every woman, from classic to fashion-forward, comfortable to overtly seductive.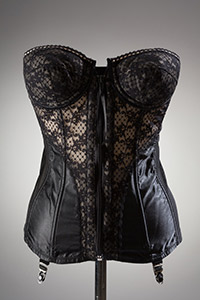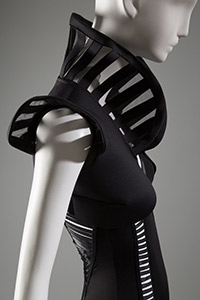 Photos: The Museum at FIT


Hits: 7443 | Leave a comment