Designer Mariela Gemisheva creates Luxury in Motion and Peace
Holiday mood and a lot of smiles went along with the spring ball of "Roca Bulgaria". The event, which became a tradition, binding the philosophy of the company to the artistic world of fashion and luxury, took place on 30th of May 2005 at the Arcaeological museum.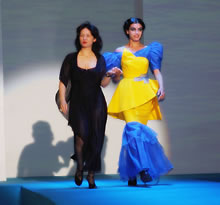 For fourth time "Roca" gathered its partners, architects, contractors, business and political elite and friends, united in "Roca club". Among the invited showed up the names of Prof. Gredi Assa, Prof. Chavdar Popov, Prof. Emil Konstantinov, Silvia Vasileva – vice-premier Nikolai Vasilev's wife, Milena Milotinova, the actress Janet Ivanova, baroness Mariana Gendovich, Yavor Tcakov, Dimitar Tconev, Dimitar Schumnaliev and tens of representatives of massmedia. The attendants enjoyed the colourful collection and the lovely performance of the jazz – folk duo Stoyan Yankoulov and Elitca Todorova.
The guests of the ball "dived" into the blue world of water through an artistic performance, in which models from "Xground" agency took part. Tcveti Hristova did the make-up and the hair-styling, and the multimedia was made by Kalin Serapionov.
The collection of the advanced – guard designer is inspired by the water theme and the brand's newest offers in the sphere of sanitary porcelain. The models are emphatically feminine and fairy, contaninig references to the 50s "new look style". Through interaction between light and fabtics, the designer achieves vivid suggestion in the rich shades of the water.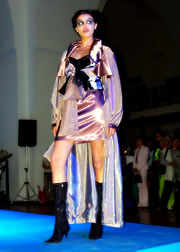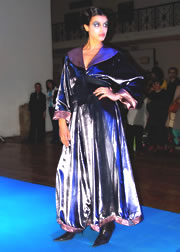 "I chose plush, which devours light, I chose organza, which reflects light and simbolizes the luxury and peace of water foam and I also used the sumptous taffeta. I think the collection is a feminine budoir in the colours of water", shared Mariela Gemisheva, twice winner of Fashion Academy's "Golden Needle Award".

© Lubomir Stoykov
All rights reserved!


Hits: 12011 | Leave a comment