Bond Street launches heritage-inspired illumination scheme for 2014 festive season
10 Million Shoppers from Over 100 International Countries to be dazzled by new Illuminations
Thursday 13th November: London's Bond Street takes centre stage to host a spectacular illumination scheme that celebrates the colourful history of the world's most illustrious luxury destination.
To provide a source of inspiration for the 2014 new festive illuminations, the New West End Company's Bond Street Development Group delved deep into the archives to explore the heritage of the street, established in 1686 and now home to over 125 of the world's leading luxury stores including more than 80 designer flagships which sees £1billion of spend annually.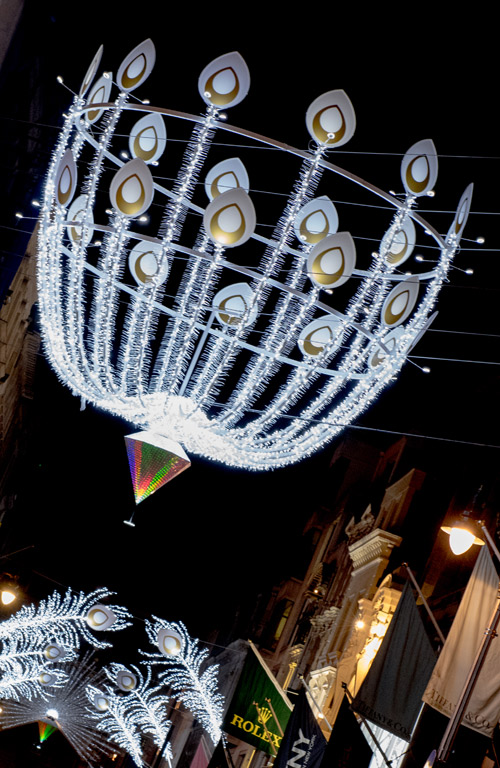 In the late 1700s Bond Street was the favourite haunt of 'The Bond Street Loungers'; dapper men who promenaded the street and became the early fashionistas or 'peacocks' of their day. They were depicted in literature and art and immortalised in a cartoon by James Gillray (1796). Beau Brummell and "Poodle" Byng were the most notorious.
The 2014 £1million scheme has been dedicated to the gentlemen of this era, with over a quarter of a million elegant lamps [LED] displayed as glorious white Peacocks. The display, which will be viewed by over 10 million visitors from more than 100 international countries spending over £400 million in the next seven weeks, is set to lead the thousands of lighting displays to take place all over the world in that it is designed and rooted in genuine historical fact.
To support the design decision for the scheme, Bond Street's Managing Director, Beverley Aspinall, established a panel of experts from brands that have graced the pavements of Bond Street since 1911; Asprey, Cartier, Charbonnel et Walker, The Fine Art Society and Fenwick. The 2014 venture reflects back to the first time that Bond Street was liveried in one scheme which was supported and established by the Bond Street brands. In 1911, brands came together to fund a £1,800 scheme for the Coronation of King George V.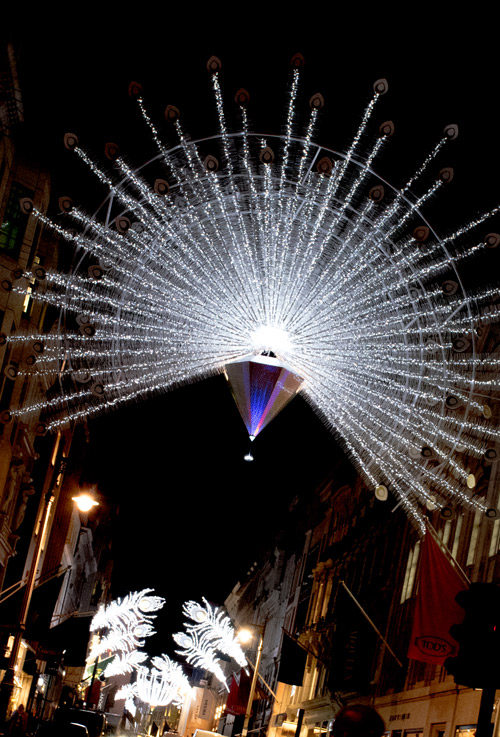 Bond Street Illuminations: The Facts:
- A multidisciplinary team of 12 people developed the project in a total of 1,300 hours
- More than 5,000 hours were spent on the construction phase and a task force were responsible for the installation over 10 nights
- Almost 13km worth of cabling was used, which is equivalent to 14 times the length of Bond Street
- More than 250,000 LED lamps
- 10 million visitors will see the Bond Street illuminations
- The scheme is a £1 million project, which will continue for four years
TOP THREE INTERNATIONAL HIGH SPENDERS:
CHINA
- China is the largest non-European international market for Bond Street representing 28% of international spend
- Chinese shoppers spend an average £1767 per transaction on Bond Street, significantly higher than the average across the UK of £738
- Spend by Chinese visitors is dominated by watches & jewellery, followed by department stores, fashion and clothing, and then leather and travel accessories
- Chinese shoppers favour luxury powerhouse brands but have also developed a recent taste for unique bespoke items from high end discovery brands and quintessentially British products
MIDDLE EAST
- Middle East represents 20% of non-European international spend on Bond Street, the second largest shopper market for the street
- Average transaction by Middle Eastern shoppers on Bond Street is £1,393
- Middle Eastern shoppers particularly enjoy the sense of British heritage from brands such as Smythsons, Asprey and Mappin & Webb
- Favourite Bond Street brands – British heritage including Burberry, Mulberry, Smythson
- Brands such as Dior and Chanel are popular with Middle Eastern shoppers as they promote themselves as brands with historical, classical and conservative values
- Shopping is the favourite activity for visitors from the Middle East when they visit the UK, with 56% of them including shopping as part of their trip
- Visitors from the Middle East appreciate British architecture, for example Fenwick was designed by Aukett Fitzroy Robinson, a British architectural company, which is prominent in the Middle East
AMERICA
- America represents 5% of non-European international spend on Bond Street, the third largest shopper market for the street
- Average transaction by American shoppers on Bond Street is £1,145
- American culture is reflected in Bond Street's architecture in the form of US architect, Peter Marino's creations: the Louis Vuitton town house at 17 New Bond Street and the Chanel boutique across the road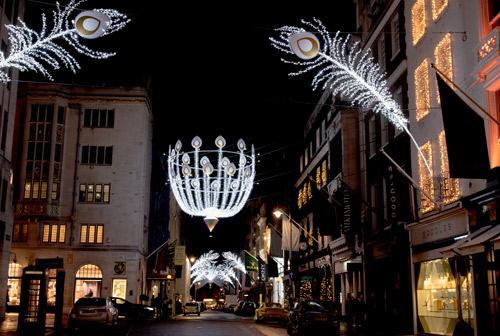 Photos and information: image.net


Hits: 4653 | Leave a comment