Tag: Alexander Amosu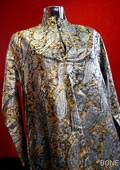 Fashion collections
A suit made from "the world's most expensive wool", designed by Alexander Amosu, has been sold to a mystery buyer for £70,000.

It took more than 80 hours to make the suit from Arctic wool, qiviuk, and rare South American wool, vicuna.

"I firmly believe that in the wake of the recession, there is still a demand for uncompromising quality", said the designer Alexander Amosu.