Tag: Almanah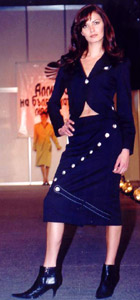 Fashion magazines and books
As we promised, in several articles we present you the most interesting fashion moments from the charity premiere of "Almanac of Bulgarian fashion 2003-2004". The premiere was held on November 26th in Inter Expo Centre under the honourable patronage of Mrs Zorka Parvanova.

ALBENA ALEXANDROVA AND THE MIRROR COLLECTION

The Mirror is an autumn – winter – spring collection of the prize-winner of "Golden Pin 2002" and "Roshavata Garga" designer - Albena Alexandrova.
A real mix of designs and materials – wool, silk, leather and satin with sparkling ornamental studs, beads and crystals on dresses. Colors made sense of a high spirit and brought beautiful desires.