Tag: American idol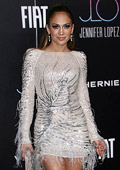 Lifestyle chronics
Jennifer Lopez has scoffed at claims she makes outrageous backstage demands and insists she doesn't ask for anything out of the ordinary on her tours.

Jennifer Lopez insists she isn't a diva when it comes to her rider demands.

The singer-and-actress has earned a reputation as a demanding star, but Jennifer is adamant she doesn't ask for anything extraordinary backstage, she is just particular about the things she does want.