Tag: Atame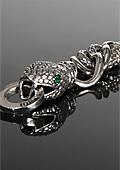 Accessories
Snake is the base motif in the new jewellery's collection of Barbara Bui, alias Átame ("Bind me").

One of the most interesting jewellery in it is a silver bracelet, engraved with snake's head with illuminated emerald eyes. It is a seduction that no one can give under.

The snake is also a symbol of wisdom, rebirth and renovation, which makes her perfect companion in the first days of the new year.