Tag: Bar Raffaeli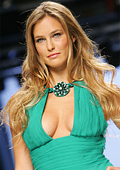 Models and photomodels
The Israeli model Bar Raffaeli was chosen as the best model in the past year.

With 449 votes given "for" the Israeli top model, she grabbed the title best model in 2009.

In 2008 the crown best model wore the Russian model Natalia Vodyanova.

This year's second place in the rankings, arranged on the Internet, is the Australian Miranda Kerr with 419 votes.