Tag: DVB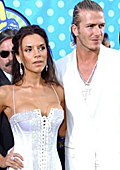 Lifestyle chronics
The Former Spice Girls star, Victoria had turned her back on singing to concentrate on her design label, which includes her Victoria Beckham couture dress collection, as well as jeans and sunglasses which were previously launched under her DVB brand.

Now, the 34-year-old LA Galaxy midfielder is set to follow suit with his own menswear range, The People reported.

"David has been consulting the same people who have worked with Victoria on her extremely successful fashion ranges, and there are big plans," a source said.