Tag: Denyl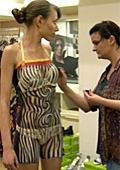 Fashion shows
The Bulgarian fashion brand Denyl presented its new collection in a non-standard way. The clothes were painted on the bodies of the models.

We have used to see the new designer collections at traditional fashion shows, where nice models pass on the catwalk and show the new trends. Yesterday in Sofia took place a non-standard event. For the first time the models did not wear the clothes, they were painted on them. "Our aim was to make the clothes live. Everyone can dress a model and make it walk back and forth. But not everyone can make the clothes live", explained the organizer of the event and author of the idea Mariana Germanova.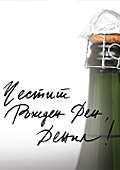 Business news
his autumn Denyl Fashion house will celebrate its 18-th birthday.

Denyl was founded in 1991 in Sofia. It is Bulgarian 100% privately owned company. From the very beginning the company is managed and controlled by Emil and Mladen Arabadjiev.

At first the house was specialized in men's shirts manufacturing. Later the company started manufacturing everything about men's clothes. In 2008 is the first promotion of Denyl's women collection. Denyl is the first Bulgarian brand that made their own internet fashion magazine.