Tag: Dita Von Teese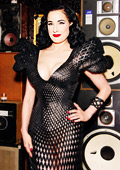 Business news
Queen of burlesque Dita Von Teese dressed a 3D apparel. The famous beauty who loves burlesque as much as fashion appeared in an amazing three-dimensional dress, which caused envy in Lady Gaga.

She presented a dress, which was made by using the latest technologies. Its creators are the designer Michael Schmidt and the architect Francis Bitonti.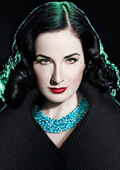 Fashion magazines and books
Genlux Magazine is providing us again with fashion photoshoot of American burlesque artist, model and actress Dita Von Teese for the Fall 2010 issue, photographed by BarkhaX2. This issue of the magazine is described as Green Issue, titled "A Shady Green" and Dita is posing for the same. Each shoot unravels a story of the superstar siren and her involvement with two necessary greens-plants and money.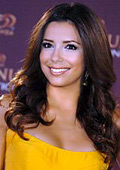 Lifestyle chronics
The stars donated their favourite bags to help raise money for victims of April's earthquake in L'Aquila, Italy.

'Entourage' stars Adrian Grenier and Debi Mazar hosted a glamorous cocktail party at the LA Salvatore Ferragamo boutique to kick off the sale last night (02.06.09), where celebrities including John Legend, Rosanna Arquette, Rose McGowan and Melissa George got to view the articles listed in the sale.