Tag: Donald Trump
Fashion Guide
In politics, optics matter. As the 2020 presidential race heats up, we're diving into the psychology of fashion to uncover what the top candidates are trying to convey.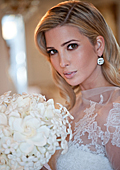 Lifestyle chronics
The daughter of the American multi-millionaire Donald Trump got marred with her friend Jared Kushner on Sunday afternoon, October 25.

Jared works as the publisher of the New York Observer, since 2007.

The ceremony took place on the grounds of the Trump National Golf Club in Bedminster, New Jersey in front of 500 family and friends. Ivanka worn a Vera Wang dress, inspired by Grace Kelly.

Among the VIP guests were Regis Philbin, Russell Crowe, Natalie Portman, Rudy Giuliani, Barbara Walters.