Tag: Eva Herzigova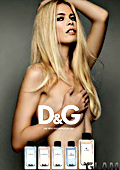 Models and photomodels
A picture with Naomi, Cladia and Eva is cool and the commercial campaign will cause a furore. The three fashion icons postured naked on a simple photo for Dolce an Gabbana's scent "Anthology".

The great topmodels are still on top. The beautiful star trio from the 80's and 90's still looks magnificent without any wrinkle.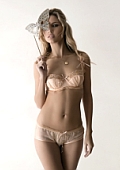 Underwear and Swimwear
When you think about the bra your mind conjures up an array of images. Who can forget Jean Paul Gautier's creation for Madonna's Blonde Ambition Tour? A fashion defining moment where the bra was transformed from underwear to outerwear.

There is no doubting we have come a long way since throwing off the constraints of corsetry a hundred years ago but British women still haven't got the right support from their bras or from their men! New research reveals half of British men have no idea what size their women wear in the bra department and over 600,000 ladies want a remote control bra to help their boyfriends' pinging power during a night of passion.