Tag: Extravagant winter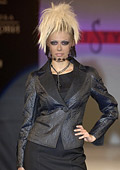 Fashion shows
Jeni style fashion house with designer Evgenia Jivkova will present its newest collection autumn-winter 2009/2010 called Extravagant winter on September 16, 2009 at Hall 3 of the National Palace of Culture. The 14 years old daughter of Mrs. Jivkova – Andrea Stefanova will take part in the fashion show.

Evgenia Jivkova says: The name of my newest collection is Extravagant winter. Through my clothes women will be confident and sexy without showing off these qualities. At the same time women wearing Jeni style will demonstrate their new and different appearance and will look braver and independent.
<>br />The new collection of Jeni style consists of 50 clothes, divided in 10 themes. Volumetric shoulders and asymmetrical flared coats and dresses are among the fashion news.