Tag: Geneva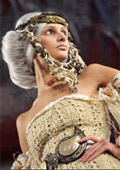 Fashion shows
On January 21 in Geneva, Switzerland was held the EcoChic Geneva fashion show at the European headquarters of the United Nations. Julia Jurevich showcased the creation from the Bulgarian designer Evgeni Petkov.

Key fashion and government figures met in Geneva for a two day seminar during this international year of biodiversity to support the world's biodiversity and sustainable fashion.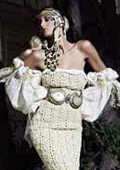 Models and photomodels
During the new photo session Julia was dressed in amazing knitted bridal dress. It is designed by Evgeni Petkov, who will present Bulgaria at the Eco Chic forum – a world fashion exhibition, which will be held in Geneva. 43 fashion designers will take part in this forum. Among them will be the famous designers Rick Owens and Diane von Furstenberg.

Evgeni Petkov's models are inspired by Bulgarian folklore. The dress, which he will present, was specially made by 100% natural fabrics. The knitting dress is unique because it was made by natural wool with linen lining. It is arranged with Eco-cotton tracery from Germany.