Tag: IXTYS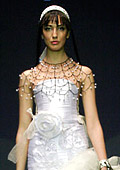 Fashion collections
The collection consists of 15 models and it is resolved in the so modern for Autumn /Winter 2007-2008 graphic combination of black and white.

The main characteristic of "Faith" is the incorporation of the jewelry into the dresses. Accessory and garment become a whole.

The abundance of strings of beads aims to provoke the notion of an open old Bulgarian chest.

The embroidered crosses hung from the dresses express and underline the concept in a subtle contemporary way.