Tag: Judith Leiber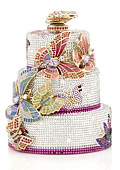 Accessories
Can the bag look so tasty that you might want to eat it? It is quite possible. This question have may be asked the designers of the brand Judith Leiber, creating the clutch called Butterfly Kisses Crystal Cake.

The cake designed as a tier to tier cascading rainbow of color crystals is embellished with enamel butterflies.
Trends
2011 Golden Globe Awards captured every heart with eye catching, colorful gowns, seen everywhere on the red carped. One of the most repeated trend, that was everywhere was the green dresses fashion trend. Emerald green is coming back as we saw on the night of the awards, some of the celebrities in green includes Angelina Jolie, Catherine Zeta-Jones and Mila Kunis. Beautiful Angelina Jolie, sparkled in a sequined emerald green Versace gown, with long sleeves, bold shoulders and glittering beads.